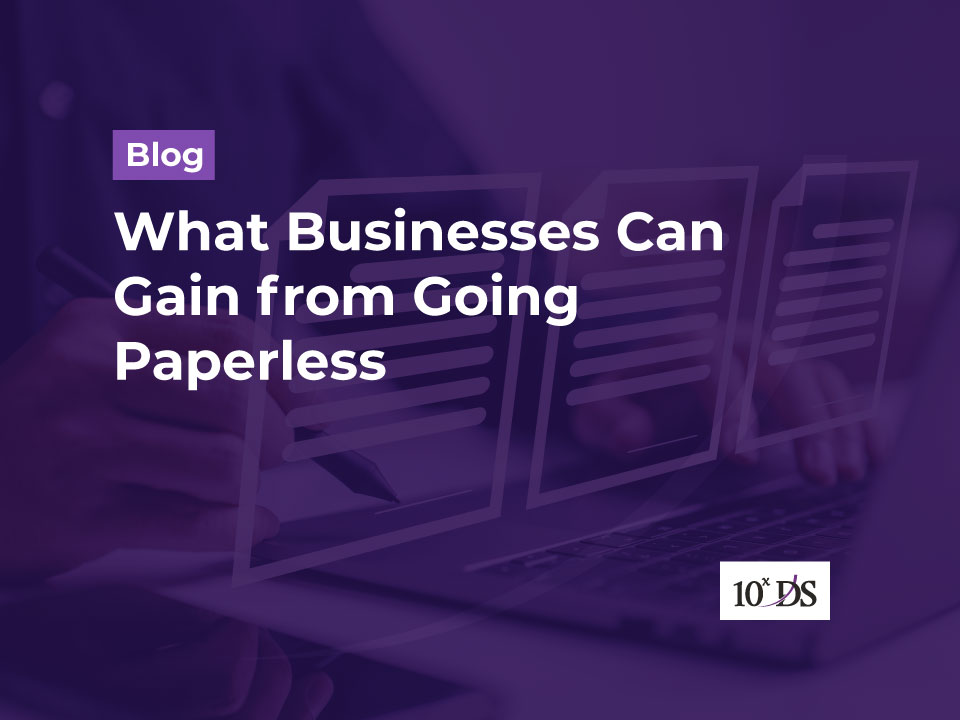 What Businesses Can Gain from Going Paperless
Businesses and other organisations that aim to make the most of the digital revolution are both aided and hindered by the proliferation of new technologies they must use if they are to remain competitive in today's cutthroat business environment. One common strategy for achieving this goal is to "push the boundaries on efficiency" by cutting out unnecessary steps and speeding up any other procedures that could benefit from the change. The increasing trend toward paperless operations is a critical component in realising these savings.
One of the most critical factors in reaching your professional goals is how you approach your regular responsibilities at work. If you run a business, one of those daily activities is handling paperwork; the more you rely on paper, the less effective you will be. Manual data input is still widely used by many businesses, despite the fact that it significantly reduces office efficiency by forcing workers to repeatedly enter the same data. It's also important to note the massive amounts of paper required for some tasks.
Going paperless, a word that typically has automation at its core, has many advantages for organisations of all sizes, and we'll discuss some of them here.
Key process automation provides the proper support for your business to alleviate these stresses.
1. De-cluttering Your Workplace of Bad Processes
It's important to recognise that a big issue for every company is having processes that are too convoluted. It distracts them from work that adds more value to the company. However, automating a process that has given you so much trouble in the past won't solve the fundamental issues you're facing. In most cases, it exacerbates an already problematic circumstance. A different approach is needed in that case.
To begin automating, it is important to identify which steps can be skipped entirely. It's better to get rid of the problematic part and replace it with an automated replacement.
In this way, your essential jobs are simplified, and your time is freed up, as the redundant ones are eliminated. Ultimately putting you in a position to do even the most fundamental task in your area.
2. Enhanced Efficiency
Getting your work done might be a source of stress at times. You're not following a simple procedure, but rather dealing with ever more challenging issues on a regular basis. Manual data entry and other paper-based tasks make it difficult, if not impossible, to complete the rest of your work on time. This is especially annoying when you're trying to keep track of many tasks at once.
If you automate certain routine tasks, you'll have more time to devote to those that truly matter. You'll be able to focus more intently on time-sensitive, large-scale initiatives. In a similar vein, everything you've simplified will be easier to control and maintain.
Technologies like Robotic Process Automation, Intelligent Automation and hyperautomation are adaptable and scalable, and can be applied to many different industries and functions. Robotic process automation (RPA) bots can serve as a company's virtual agents, doing away with tedious and monotonous repetitive tasks so that humans can focus on higher-value activities like strategy, creativity, and innovation.
Here are some processes that when automated can enhance efficiency:
1. Invoice Processing
When invoices are received, Intelligent Automation or RPA can be set up to process them immediately. Data automation, error reconciliation, and the resolution of thorny invoicing-related decisions can all be handled by the solution automatically. Human labour can be reduced, and invoice tracking can be simplified.
2. Procure to Pay
To improve efficiency, accuracy, and productivity throughout the entire P2P process—from maintaining a Vendor Master to Sourcing and Contracting to the Purchase Order process to Receiving Goods to Making Payments—RPA can be used.
3. Accounts Payable
Intelligent Automation or RPA can automate scanning, filing, and paying invoices in the finance department. Financial operations might be complex, yet they usually require repeating the same actions. This enables RPA tools. Invoices, distribution methods, and physical locations are automatically sorted.
4. Data Queries
A system query collects data for a transaction across many apps. RPA solutions can be used to restructure data integration across apps and portals, giving staff instant access to needed data. RPA may also retrieve data from network servers by conducting a specified query.
5. Payroll Automation
The HR department calculates payroll monthly using the same rule-based algorithms. This simplifies RPA integration for payroll management and reduces manual work. Automation will simplify data entry and guarantee consistency across many systems. Automate paycheck generation and manage payroll activities accurately.
6. Sales Order
Sales operations are another important aspect of all firms and involve responsibilities like CRM and accounting data entry. RPA automates sales order entry and invoicing. This will help you arrange the database and reduce time-consuming complications. This improves client experience by generating sales orders quickly.
3. Tools for Collaboration: Streamlining Information Exchange in the Workplace
Companies that thrive require their workers to be on the cutting edge of everything, including strategy. Given the propensity of fallible humans like us to misplace or misinterpret information written on several notecards, this approach is doomed to fail. The paper can be easily misplaced, stolen, or destroyed, and it's easy for a busy worker to forget to pass it along to a co-worker who needs an update right away.
By eliminating the need for paper and boosting teamwork and information sharing, digital collaboration platforms have become an indispensable business tool. Forbes recently stated that online technologies allow staff to share documents, folders, and projects utilising an efficient approach. Instead of passing over paper files, workers can share and edit documents on the cloud.
Microsoft offers Microsoft 365 Suite having numerous plans that each include Word, Excel, PowerPoint, Outlook, and a slew of other productivity and collaboration apps for everything from online meetings (Teams) to file sharing (OneDrive) and Document Management (SharePoint). It has a built-in calendar, a commenting and note-taking system, document generator, reports and analytics, and a variety of document and task templates.
4. Cost Savings
There is no need for small businesses to worry about the high price tag of becoming paperless. Automating tasks can help businesses save money on labour, time, and consumables like paper and ink, as well as capital expenditures like replacing or updating office equipment. Software bots can save anywhere from 25 percent to 50 percent on operational costs, according to some estimates. When opposed to humans, who work 8–5 and have a set number of annual leaves, robots can work around the clock and never need a break. The company may see tangible benefits if robots are used to replace humans in performing some of the more labor-intensive tasks. You can often recoup the initial investment in automation in a relatively short amount of time,
How Emerging Technologies can help companies go paperless
Companies now have the tools to deal with unstructured, scanned, and even handwritten documents thanks to developments in artificial intelligence (AI), Intelligent Automation, Optical Character Recognition (OCR), and Intelligent Character Recognition (ICR). Data extraction is now possible with the use of AI and OCR-based techniques, with the context being determined based on dynamic criteria. With automation, businesses may combine business decision engines with sophisticated OCR engines and use human oversight to rein in the inevitable deviations and outliers.
Automating what used to be a tedious and time-consuming process, Intelligent Document Processing (IDP) streamlines the procedure. Document processing using digital technologies such as Machine Learning, Natural Language Processing, and Intelligent Character Recognition replaces the need for human intellect in processes that were previously performed on paper. This makes it easier for firms to process data from the many sales orders, invoices, and customer correspondences they get on a regular basis. Any company with a regular need to manually process papers can benefit from using IDP.
Faster and cheaper workflow automation is now possible thanks to Microsoft Power Platforms. Streamlining workflows can help companies save time, eliminate errors, and concentrate on more strategic and meaningful work, in addition to digitising and optimising paper-based business processes. Low- or no-code automation tools are used by power platforms to design robust processes. The platform's premade connectors make it easy to integrate various applications into standard workflows in companies.
Conclusion
The transition to a paperless office is not something that many companies tackle all at once. Instead, they can take baby steps, and then experience the time and money benefits that come from automating processes for themselves. Rather than spending time and resources on labor-intensive, manual data entry and stacks of paper, consider the benefits that automation can bring to your company.
Talk to our experts to help your enterprise go paperless, as its time for you to bring your business onboard and join the biggest change ever!