Exponentially Enhance customer experience with
AI-Powered Chatbots
Reduce customer support costs, deliver key information, generate more leads, and transform your business using Conversational AI Chatbots.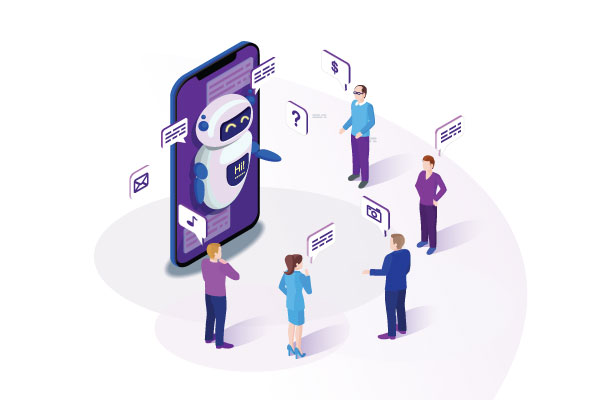 Potential Benefits of Chatbots
Create Powerful Bots with our advanced features and benefits, and Revolutionize user experiences

Improving Customer Experience

Increasing Customer Satisfaction Scores

Increasing Sales & Retention

Improving Volume Handling

Lowering Operational Cost

Answers to complex questions

Complaints resolved quickly


Friendliness and approachability

Our capabilities
Your Business Runs Round the Clock. Build intelligent virtual assistants to work for you 24/7 to cater to a range of operations.
Use Cases
Our chatbots deliver best user experiences across a diverse spectrum of industries for multiple services such as customer care, booking, information services, legal advice and more.
Customer Support
Customer Support chatbot can ensure 24/7 assistance to enable an immediate response, replacing live chat agents. They can act as the first layer of interaction with the users to help with onboarding, reply to FAQs or provide timely information. These chatbots can be integrated seamlessly with ERPs to enable hassle-free customer onboarding or processing of requests.  Customer Support chatbots offer improved experience, efficient instant response to support requirements, update of information and more.
Sales and Marketing
Intelligent chatbots can engage prospects, create lead generation opportunities, manage existing customers, or new ones. For instance, a prospect can compare products from different brands engaging with IDAs to understand various pricing options. These chatbots can gather prospect contact details for future sales team engagements to convert the leads to customers. Hotels can leverage this 24/7 dedicated AI Assistants to manage bookings, promotions and upsells. Healthcare institutions can use them for preliminary diagnosis and booking appointments with physicians for consultation.
Backend Functions
Chatbots can be very useful internally for users, agents, and employees for automation in functions, data extraction via conversational/queries, raising feedback or even updating information. For instance, 10xDS developed chatbot based IT assistant solution to help users with resetting password during account lockout issues. Our IT support BOTs can verify the identity of the requestor, understand, resolve the issue, and update the request without any manual touchpoints.
Informational Services
Chatbots for informational services offer a convenient mechanism to resolve employee queries related to an organization's IT, Information Security, Data, or any other policies. Such Intelligent Digital Assistants (IDAs) enable wider reach of these Policies to employees. IDAs can act as a self-service digital agent interacting 24/7 with the employees and registering any IT or security incidents or requests. Cyber Security team can then gather the latest threat updates from employee conversations.
Personal Banking Assistants
These chatbots offer functionalities assisting bank customers such as Account Balance check, Spend Analysis, New Credit Applications, Inline Credit Scores, Product Clarifications, ATM Locator, ATM Cash Status, ATM Features, among others. Chatbots can also engage in free-form text conversations with NLP and location-based responses. These chatbots are integrated with Core Banking, Analytics, Credit Bureaus, Branch & ATM Directory and other bank services, enabling them to efficiently assist customers.
Legal Assistants
Legal Assistant Chatbots works 24/7 to provide clients with legal assistance whenever they need it. These assistants can be as beneficial and agile as a human lawyer consultation, with faster responses. The bots can offer price quotes, several different types of legal advice to people based on their needs and more. Legal advice such as the legal requirements for starting a new business, those who already running a business, among others.