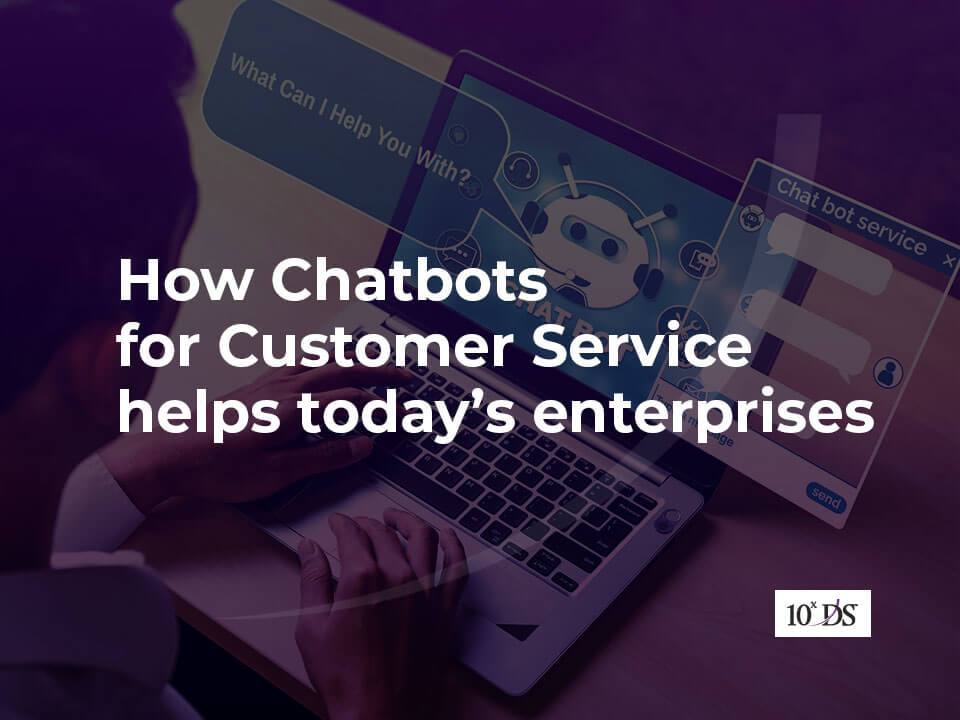 How Chatbots for Customer Service helps today's enterprises
Chatbots have become an integral element for implementing business strategies and planning for businesses spanning across different industries and sizes. After realizing the importance of utilizing chatbots in achieving better customer engagement and process efficiency, businesses are exploring more and more ways in integrating Chatbots as a means of conversational solution.
Apart from providing customers a faster turnaround time in seconds and being effective in performing redundant and repetitive activities, Chatbots play an important role in improving business availability without having any impact on productivity and efficiency of the work.
Following are the reasons why Chatbots should be considered for Customer Service:
1. Chatbots reduce Customer service Costs
It is estimated that by implementing chatbots, businesses can save up to 30% or more in terms of customer service team salaries and other related costs which translates to substantial savings per year by eliminating the routine and redundant work that consumes a major portion of the time that the support team will be spending on. This would also result in better employee morale and satisfaction.
2. Faster resolution of service requests
Customer Service teams cannot afford to take too much time to respond to queries given the risk that customers may want to try out a competitor who can provide quicker support. Chatbots help customer service teams in providing immediate and accurate responses in seconds or minutes which is what the clients want.           
3. Large Percentage of repeated requests can be answered
It is estimated that customer service representatives spend around 75 to 80% of the time attending repeated queries and the time that the chatbots save by automating repeated simple queries can be used by the representative for performing complex tasks.      
4. Catering to Multichannel and Multi-language support    
In order to provide a great customer experience, businesses should be flexible enough to provide customer support via multiple channels like social media, phone, email, etc. and chatbots fulfil this requirement by running in different channels and platforms and providing a swift and consistent response.
Additionally, when there is a requirement to service multiple countries, chatbots can also be trained to speak and understand close to 100 languages to support customers from these countries.
5. Providing 24/7 support 
It is necessary for businesses to be available 24/7 in order to provide superior customer service. Having customer support resources available for the entire duration of a day is not possible and that is where chatbots bring a lot of value by responding to the queries of clients when the customer support team is unavailable. Businesses can also save on effort and costs by reducing the night and holiday shifts and only employing the minimal resources that are required.
6. Providing more details of Customer
There are situations when businesses need to attend to tricky and complicated customer requests which require the intervention of multiple departments and there are always chances of the current or previous conversations being lost. Businesses do not want to end up asking the customers to repeat their issue or concern multiple times to different agents. Customer service Chatbots fulfil the need here by serving as the first contact point, collect the required information from the customer, consolidate it in report format and route the call to the right agent and at the same time maintaining the end-to-end history of the communication with the customer.
With the help of speech recognition, chatbots can also understand the emotions of the customer and take appropriate action. For example, if an irate customer contacts the customer support team, the chatbot can understand the emotion and connect to the support agent faster.                               
Conclusion
Chatbots have become an integral part of the customer service tool kit of all businesses for enhancing business outcomes by streamlining support and Sales processes and exponentially increasing the reach of the business by Customer engagement through apps and other channels.
10xDS has been delivering chatbots for numerous clients and catering to different business requirements. If you are looking for help to develop an enterprise chatbot or to know more about the advantages that it can bring to your business, talk to our experts.