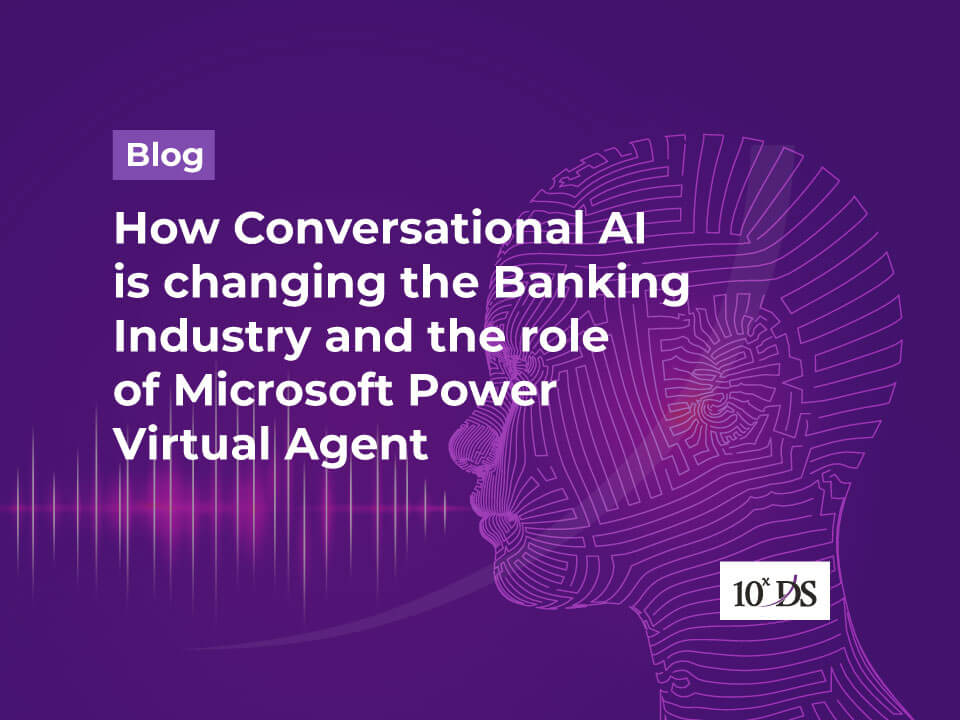 How Conversational AI is changing the Banking and the role of Microsoft Power Virtual Agent
NICE in Contact Customer Experience (CX) Transformation Benchmark suggests that consumers expect seamless omnichannel experiences and are willing to buy more from companies that deliver it. Consumers are most satisfied with an online chat, compared to the ten other channels evaluated. While Artificial Intelligence (AI) is making waves in Customer Experience it still has a long way to reach the objective. While industries are across the globe and are providing multi-channel and chat experience for the customers, banking sector needs more focus as people trust them with their hard-earned money. They expect convenience, personalization as well as security. Banks also realise that technological innovations should be aimed toward the aspirations of the customer and society. Such an open environment, sufficiently secured, will drive innovation in the coming years for banking.
In the recent past, AI has made some significant advancements in transforming how banks engage with customers and now AI technologies have become more available and within the IT budgets, AI-based solutions are expected to be fundamental to the next wave of conversational banking innovation. Banking industry is looking for enhanced customer service, efficiency, and broadening the reach of both the client and the company by using AI conversational agents. Enabling conversational AI can also help boost efficiency, satisfaction and minimize employees' workload. Banking industry is looking to save money and time by investing in AI to tend to customers' inquiries. Major benefits that the Banks are striving to achieve are:
24/7 availability to enable customers reaching out any time at their convenience
Multi-lingual capabilities to support customers
Speech recognition and natural language processing to understand the customer queries and serve them better
Less to nil waiting period on query resolution
Major use cases in practice at Banks are as below:
1. Customer Support
Checking account balances, reviewing transaction histories, transferring money between accounts, paying bills to blocking/activating cards chatbots can do all with sufficient security in place. OTP-based authentication is generally enabled for these chatbots. Integration with backend systems (CRM, ERP, HRMS, Ticket management, etc.), ability to handle unstructured data and search at scale using document cognition and automate legacy systems and processes through RPA integration helps them extract all the information to respond to customers within a lesser period.
2. Lead generation
There are chatbots used by banks across regions to offer product information and collecting leads. They are designed to identify potential customers, spark their interest in products or services offered by the business and cultivate a relationship with the prospect.
3. Customer On-boarding
Customer onboarding in a Bank requires several Know Your Customer (KYC) documents. Enabling a smooth onboarding process is very much vital for higher adoption and usage rates and also helpful in reducing churn. Onboarding a customer with a new bank account, credit card, or loan can be simpler, faster, and more convenient using a chatbot. Chatbots can be designed to prompt a customer to upload proof documents and information or capturing their digital signature. This expedites the approval process as well as the verification of details with authorized portals.
4. Payments
Processing payments and fund transfers in a timely manner are very important for Banking as customers expect these at a lightning-fast speed. A chatbot can proactively inform customers of upcoming payments, confirm receipt of payments, and offer other related information. The bot helps customers make payments faster, without the friction and frustration of inputting account details each time.
How Microsoft Power Virtual Agent is helping Banks to adopt chatbots
Microsoft Power Virtual Agents (PVA) allows to quickly build sophisticated, AI-powered bots for requests from providing simple answers to common questions to resolving issues requiring complex conversations. It's a low-code graphical interface that helps to make, test, and publish powerful bots faster using automation and AI. PVA also engages with customers and employees in multiple languages across websites, mobile apps, Facebook, Microsoft Teams, or any channel supported by the Azure Bot Framework. PVAs can be deployed securely using central administration, built-in security roles, and simple management across environments to maintain compliance and governance. It automatically tracks critical KPIs and identifies future bot topics and it also lets self-learning AI with natural language processing to continuously improve your bots.
It also easily incorporates bots into existing business processes using Power Virtual Agents features included with other Microsoft products:
1. Microsoft Teams
If an organization uses Teams, employees can easily build bots for use within Teams at no extra charge—well-suited for employee FAQs and HR tasks.
2. Dynamics 365 Customer Service
If the organization already has D365 Customer Service Chat or Digital add-ins it is beneficial to use chat, interactive voice response (IVR) bots, and escalation to a live agent by using the included Power Virtual Agents sessions.
3. Power Automate
Organizations subscribing to Power Automate can add automation to chatbots with more than 650 prebuilt connectors at no extra charge.
4. Azure
It is also easy to extend Power Virtual Agents bots for complex scenarios with the Azure Bot Framework Composer—eliminating the need to spin up additional Azure resources.
With chatbots, Banks achieve smooth workflows in simpler terms which enable higher customer satisfaction and easy retention. Personalization is what is expected by customers and AI chatbots are evolving at a faster pace to deliver just that. Talk to our experts to know more.