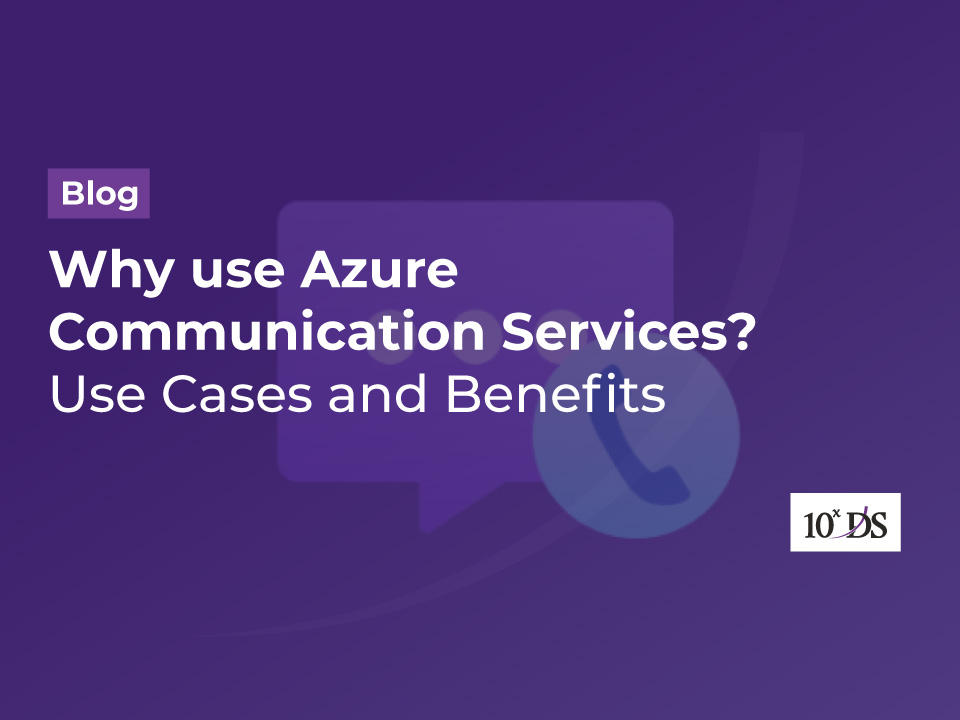 Why use Azure Communication Services? Use cases and Benefits
The way we communicate with one another has considerably changed over the last couple of decades. Traditional telephone lines and letters had been the two mainstream communication channels for a very long time until a few years ago.
Today we have got many options for internal and outbound communications. This brings us to the most advanced Azure Communication Services. What is "Azure Communication Services"? Why should we use it? What are its use cases and applications? Let's have a look.
What is Azure Communication Services?
Azure Communication Service (ACS) can be defined as a platform through which the tech giant Microsoft offers its communication services. In other words, it is CPaaS or Communication Platform as a Service. Microsoft Teams, the much popular and powerful competitor to Google Meets, is powered by ACS.
Azure Communication Services is inclusive of many features and options. It can effectively host libraries for web, mobile applications, and desktops. With the help of it, App developers can add chat, SMS, voice and video calling, PSTN Telephony Voice Calling, and more to their on-process applications.
Some Azure Communication Services Use Cases
App developers can use the SMS facility that ACS offers to set reminders for certain target meetings or to carry out surveys regarding the health metrics of agile app developments. Being able to set up web chat is another great benefit. It enables all team members to have real-time communication in the background.
In addition to internal communications, ACS provides an effective infrastructure for B2C communication. For example, through B2C VoIP and Video calling features, end users or customers could use publicly available services like Microsoft Teams to contact the service providers or manufacturers. For example, a buyer can easily contact a retailer without any hassles.
Why use Microsoft Azure Services?
Enterprises need an effective system in place for internal communication and for communicating with parties outside the organization. You can't establish your own communication system because that will cost you a lot of investment and a dedicated team to set it up, configure and monitor. A communication system involves both hardware components and software elements so you would need experts in both to operate your system.
ACS comes as a boon to entrepreneurs and enterprises. You can use it as a full-fledged service. You do not have to worry about hardware or software maintenance. You don't even have to think and plan regarding your usage. One day you might use the service in great volume and the very next day in a small volume. It will charge you only for the quantity you used.
ACS offers you the advantages of a centralized management portal which is widely known as the Azure Portal. You will find managing the service for your unique requirements and needs both conveniently and easily. The entire service relies on one of the most reliable cloud systems known as Azure. While using it with your application, you get to experience the same benefits of low latency communication that you experience in Microsoft Teams meetings.
Option to tap into other Azure Services
Azure offers a few other streamlined features that add value to the communication. For instance, Azure Cognitive Services. It is used for the translation of text messages and voice communications.
Increased Privacy and Security through Encryption
The biggest concern that most businesses have when it comes to communication protocols is the assurance of privacy and security. ACS ensures encryption of all communications. So, it would certainly meet your demands and other legal requirements regarding compliance.
Using Azure Communication Services with your Applications
Rather than using ACS as a standalone service, you could integrate it into your applications and double up the benefits. It involves two steps: one – setting up an ACS Instance in Azure, and two – integrating it with your application.
Step One: Setting up ACS Instance in Azure
Launch your Azure Portal and initiate Azure Communication Service. You can easily open it by going to the search bar at the top of the portal. When the service is on, click on the Create button.
Next, go to the 'Phone Number' section. It is listed under 'Voice Calling – PSTN.' Once the phone number is added successfully, the setup is complete and ready to use. Please note that this service is currently rolled out only in select countries now. Other countries will be added in the future.
Step two: Integrating ACS SDK with your application (SMS reminder)
Launch the ACS instance which you have set up and navigate to the Keys section which is listed under Tools. Set up the SMS client using a few codes. Once the setup is complete, you are ready to go.
Conclusion
Developing a strong bond with the customers is key to the growth and success of any business. And this can only be achieved through proper communication. Communication cannot be separated from business operations. As long as it remains crucial for business growth, you will have to leverage its possibilities. Microsoft Azure Services can revolutionize business communication – both internally and externally, providing the technology and robust infrastructure to streamline communications.
Talk to our experts to accelerate growth, enhance efficiency, and enable innovations using Microsoft services, products, and tools.