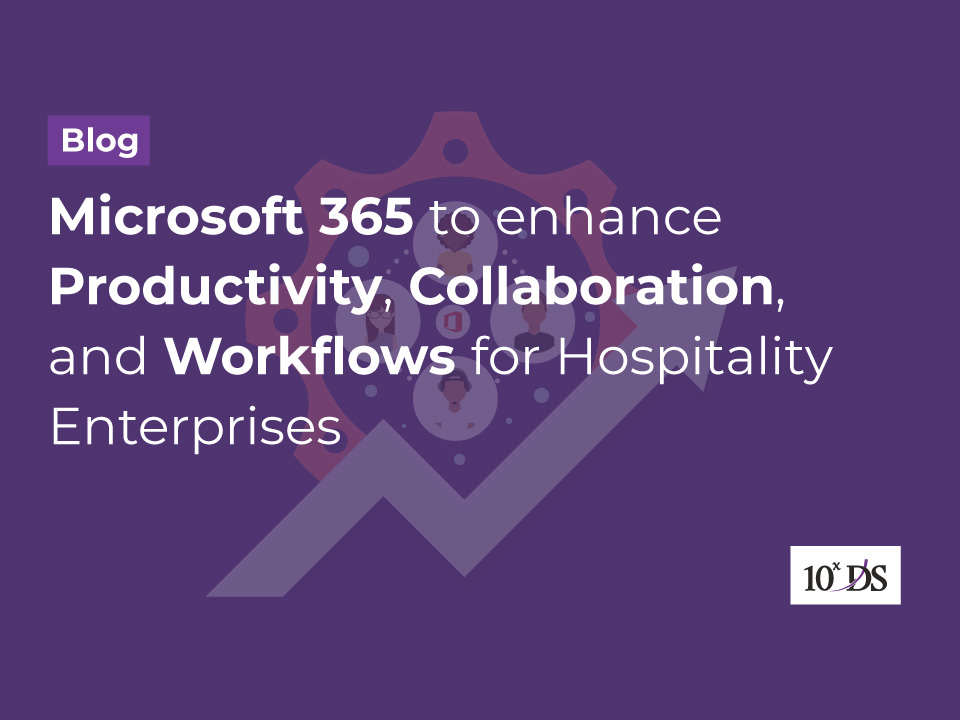 Microsoft 365 To Enhance Productivity, Collaboration, and Workflows for Hospitality Enterprises
Unlike most other industries, the degree of satisfaction levels that clients report is most critical for the growth of the hospitality industry. Not that the other industries do not value customer satisfaction, for hospitality industry it is crucial to ensure a fine experience for customers and earn their goodwill if you are looking to survive and succeed.
Customers who have a bad experience will surely leave negative reviews for your business, which will affect your reputation. IT infrastructure plays a significant role in keeping all of this chained and in order, in the hospitality industry. In recent times, a growing number of companies in the sector have started adopting Microsoft 365 (M 365) applications and services to manage their day-to-day operations.
What makes the hospitality sector adopt M 365?
Being a cloud-based service, Microsoft 365, especially Office 365 offers many convenient features to users. For instance, you can effectively escape from the headache of installing, updating, and maintaining the software on-premises. Since its cloud-based, the applications are easy to use from anywhere and anytime. What makes it particularly useful for the entrepreneurs in the hospitality sector is even more interesting to know, let's have a look.
The migration is easy to handle
Look at thousands of hotels or resorts and other similar businesses in the hospitality sector across the world. How do they run their day-to-day operations? In a great majority of them, you would find Microsoft products like Word, Outlook, or Excel being used for much of the tasks. Many of them also utilize Exchange Servers. Office 365 offers the most immediate migration option for them from these ecosystems. The look and feel, working, and the usability remain same for the users, despite the fundamental changes in the platform infrastructure from on-premises to on-cloud.
It helps clients to enjoy seamless services
For a service industry like hospitality, living up to customer expectations is the biggest challenge. Along with improving the quality of their deliverables, they will have to work on investing in advanced technologies. As far as technology is concerned, the most essential ones for them are the management tools.
Microsoft 365 and Office 365 promises state-of-the-art services for management, internal communication, data management, data synchronization, and many more. With a valid subscription, you are free to enjoy all these services without any interruptions. Also, there is no additional fee to enjoy the latest version of the service. As long as the subscription remains active, you will receive all the updates free of charge.
No fear of downtime
Downtime with websites or certain web-based services occurs often but you don't have to fear such unexpected outages with Microsoft 365. Microsoft itself manages the server on which the service runs. There are multiple servers ready to relay back-to-back if any one of them fails or takes a back seat for maintenance.
Increased security for data
The hospitality industry directly deals with customers and in many cases, they record some of their personal data. Any sort of security breach that leads to a data leak could put them in serious trouble. Each customer goes to a hotel and shares details hoping that their phone or number or address is not going to leak into the hands of cybercriminals.
In such an instance, they could only sue the hotel for the mishap. The litigation and the compensation that has to be paid to the customer can be enormous. The loss of reputation that such incidents would lead to will be even costlier for the company to bear. In this context, M 365 promises streamlined and robust security against data breaches.
Everything under one roof
In the hospitality sector, one has to make use of a number of facilities to keep track of various things and operations. There are so many advantages to using a centralized IT infrastructure like Microsoft 365 as it brings multiple services and facilities under one roof which include:
Microsoft Streams: Ideal for hotels that want to focus on enabling peer-to-peer content sharing, invest in training sessions, and more. The content that gets shared through Streams is easy to retain and can be used for training.
Microsoft Teams: Compatible with both mobile and desktop ecosystems, Teams offers an extensive and easy-to-handle ecosystem for communication among frontline staff working in the hotel industry. In addition to the video and audio-conferencing options, Teams offers a wide range of features like messaging and location sharing.
Power Apps and shifts: Keeping track of the completed tasks, prioritizing tasks, assigning tasks for the employees and many other similar processes consume a large amount of time of the frontline workers in the hospital industry. If you can keep track of these specific activities with ease, then it would make a great difference in the overall result as well as time management. Microsoft PowerApps and Shifts make these both easier and straightforward.
Conclusion
Ensuring maximum productivity of the workforce is essential for hospitality sector services to boost their revenue and serve their clients with a fine guest experience. Office 365 offers what it promises in terms of productivity enhancements. 10xDS leverages Microsoft partnership and our team's deep expertise in Microsoft solutions and products to deliver a wide range of services to our global customers.
Talk to our experts to accelerate growth, enhance efficiency, and enable innovations using Microsoft services, products, and tools.