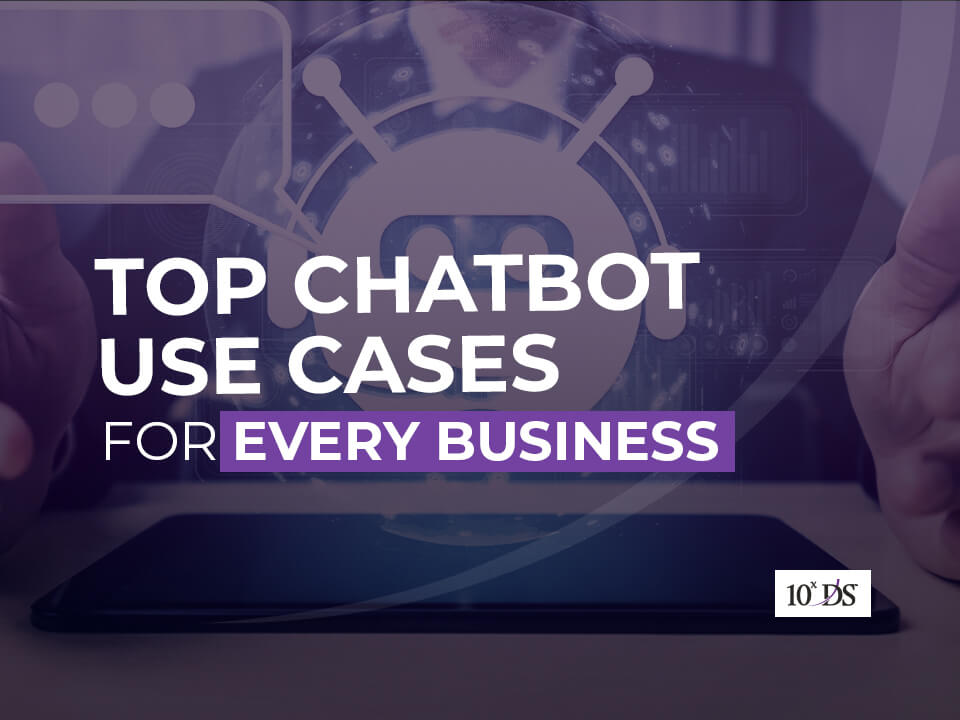 Top Chatbot Use Cases for Every Business
By understanding the capabilities and usefulness of a Chatbot, more and more businesses are leveraging chatbots across business functions like Customer Service, Sales, Marketing and even for streamlining their internal processes.
Following are the main Use Cases across different Business functions where Chatbots have had success in terms of improving business productivity:
1. Customer Service
Using chatbots, businesses can save Customer support costs by improving the response time to answer queries thereby improving the Customer service significantly. Following are the use cases related to customer service:
i) Automate Support
Chatbots offer 24/7 real-time online support to answer different types of queries such as technical support assistance, price information, enquiries about orders, shipping, among others and they are scalable during peak hours in handling the extra requests. This increases the resolution speed and helps in reducing the customer attrition rate. AI-driven chatbots are introduced by banks to provide balance information, facilitating bill payments, providing personalized and proactive insights, among others.
ii) Complimenting in-app Customer Support
Having a chatbot in mobile and web applications helps to provide quick solutions in real-time and in personalizing interactions in real-time to create a better user experience.
iii) Supporting IT Help Desk
Chatbots can analyse human language without assistance thereby helping the IT helpdesk to improve productivity and drive efficiency. Chatbots can be trained to resolve service requests or do some pre-processing to help human agents resolve the ticket.
iv) Gather Customer Feedback
Chatbots offer a high level of engagement, which encourages customers in completing surveys, thus serving the needs of both the business and customer.
v) Confirm Orders and Track shipping
Chatbots help customers in easily tracking the shipping of orders by just inputting the shipping Id thereby providing a very nice brand experience instead of going the traditional method of going to the company website and entering the shipping number.
vi) Refund and Exchange Requests
Deploying Chatbots as a primary contact helps businesses address monotonous and repetitive queries related to refund and exchange requests thereby freeing up the agent's time to handle priority chats resulting in improvement of team productivity.
2. Sales
i) Lead Generation
Chatbots help in Lead generation by doing the following:
Categorize audience: Bots enable businesses to identify the product interests, likes, dislikes of visitors & customers, and categorize them based on their response
Qualify leads: Chatbots use the sales questionnaire to convert website visitors into potential prospects and route them to the right sales representative for further follow-up
ii) Lead Nurturing
Businesses realizing the impact they can create by contacting potential customers within an hour of receiving queries, employ Chatbots for nurturing leads by doing the following:
Providing personalized product recommendations
Suggesting the ideal combo offers
Offer discount coupons to improve sales
iii)Appointment booking
Chatbots are used extensively for scheduling appointments for hospitality, health care, and personal services without any need of human assistance 24/7.
iv)Online orders
Chatbots are increasingly used to help Customers doing online purchases by:
Assisting them in making a quick decision in their purchase journey
Offer product recommendations
Provide real-time customer support for all the FAQs
3.Marketing
The following use cases related to marketing have helped businesses initiate meaningful conversations with customers and generate revenue:
i) Customer Engagement
The reason chatbots are preferred by businesses for better customer engagement is that they can respond to customers immediately thereby increasing customer satisfaction and brand retention. Chatbots improve customer engagement by actively engaging with customers 24/7 to handle their queries thereby reducing the support tickets and can also be easily scaled during peak hours to engage customers and deliver superior customer experience.
ii) News
Chatbots present customers with selected news and headlines from different websites thus saving them time to navigate multiple portals for news updates. Chatbots understand more about the customer preferences and what they want to read by learning from the stories which the customer has chosen to read.
iii) Product recommendations
It is imperative for businesses to clarify customer queries, understand their preferences, direct and recommend them the best option available during their purchase journey; to convert them to the final stages of the sales funnel. Chatbots play an important part here by tracking the customer journey to their interests, preferences and needs and based on the choices of the customer, recommend products or services they are looking for.
iv) Social Media
Businesses use chatbots to actively engage with customers through customer service, transactional engagements, among others using most important social media channels like Facebook, Twitter, Instagram and LinkedIn.
4. Human Resources(HR)
Chatbots are leveraged by businesses to enhance labour efficiencies, optimize and deliver better employee experiences in the HR use case scenarios of recruitment, on-boarding, FAQs on company policies employee training, benefits enrolment, annual self-assessment/reviews, among others.
5. Other chatbot use cases across different industries
The following are some of the common use case scenarios for Chatbots across other industries:
i) Banks and Financial Services
Chatbots are used for tasks like checking account balance, transferring money to other accounts, alerting banks for last cards, and others.
ii) Travel and Tourism Industry
Travel and tourism industry use chatbots to provide 24/7 support and helps in handling customer queries and generate leads round the clock. 
iii) Food and Beverage Industry
Major food outlets have leveraged chatbots to manage reservations and take orders, showcase available dishes on the menu, making recommendations based on customer preferences, promote offers and loyalty programs, get feedback from customers, and others.
iv) Airlines
Many airlines are leveraging chatbots to help their customers answer common questions and obtain basic information about their flights.
Conclusion
The above list of use cases mentioned is not exhaustive and chatbots can do much more. With the passage of time, chatbots will become smarter and more businesses will be leveraging chatbots and its AI technologies. It is also assumed that the chatbots will be as efficient as human support by using predictive and sentiment analysis and be able to provide solutions for complex queries without depending on humans for assistance.
10xDS has been delivering chatbots for numerous customers across the globe clients catering to different business requirements.
Talks to our experts to get started with building a strategy, roadmap and to implement chatbots and start creating exceptional conversational experiences for your customers!