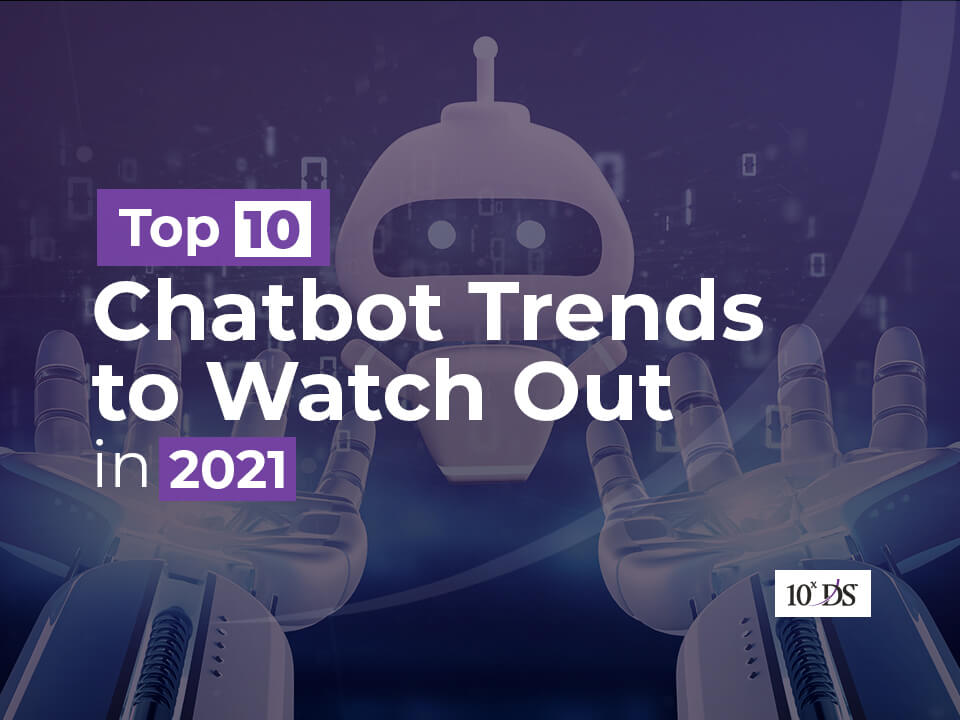 Top 10 Chatbot Trends to Watch Out for in 2021
Chatbots are one of the most popular forms of Artificial Intelligence and they save time and effort for a business by automating different facets of customer support. According to Gartner, by 2020, around 85% of our interactions will be handled by bots instead of humans,  47% of organizations will use chatbots for customer care and 40% will deploy virtual assistants. With the capabilities of chatbots expanding beyond customer service to other areas like advanced predictive analytics based real-time conversations, companies ranging from start-ups to Fortune 500 companies are using chatbots to gain pace, efficiency and deliver excellent customer experience.
Here are some of the top emerging chatbot trends and their potential use cases:
1. Chatbots that are indistinguishable from humans
Chatbots use Natural Language Processing (NLP) along with sentimental analysis and predictive analytics to understand the conversations and purpose of the queries. The key challenges faced when creating chatbots is the possibility of misunderstanding/misinterpretation of requests because of not being able to understand the right intent of the customer. For example, not being able to understand the accent or cultural dialect of the customer can result in misinterpretation. To circumvent these issues and to keep pace with the customer expectations, businesses are focussing on building chatbots that deliver a human-like experience using Machine Learning (ML), Artificial Intelligence (AI) and Natural Language Processing (NLP).
2. Using sentimental analysis to enhance User Experience
With an endeavour to provide delightful customer experience, sentiment analysis is leveraged in creating chatbots to gauge conversations and respond to customer emotions appropriately. Using sentimental analysis, chatbots can enhance the user experience in:
recording the entire customer conversation and understanding the satisfaction levels of customers.
adjusting responses in alignment with customer emotions.
routing of angry customers to a dedicated team to deliver personalized customer support.
3. Usage of AI in Contact Centre
Usage of AI chatbot helps in saving costs significantly when businesses upgrade from inefficient IVR technology to AI. Bots can handle simple requests such as changing a password, requesting a balance, scheduling an appointment, among others, without any human involvement thereby helping to reduce the number of human agents required in contact centres and saving on Costs
4. Voicebots are becoming mainstream
According to Forbes, more than 50% of all searches by 2020 will be voice-driven. Voice-driven chatbots help businesses in providing a seamless experience with customers and the reason why they are popular is because they:
Reduce monotony of text by engaging customers with automated, intelligence-based communication.
Enable reliable and real-time data insight to customers.
Provide new means of personalization thereby helping to reduce problems with customer requirements.
5. Customer Experience (CX) increases adoption of Chatbots
AI Chatbots help to redefine the way businesses interact with customers by:
providing instant response to customers.
24*7 availability to handle information-based queries and reducing the support tickets
offering scalable solution during peak hours to engage customers and deliver better customer experience
6. Messaging platforms drives growth for Chatbots
There is a strong preference for conversational commerce as customers are encouraged to shop online with chatbots. There are several brands that are embracing messaging platforms as these platforms have strong chatbot capabilities and they integrate well with most functions of businesses, thereby boosting customer engagement and loyalty. The usage of WhatsApp, the most popular messaging channel, by online booking apps to send bookings/confirmations underscores the importance of messaging platforms in our lives.
7. Automating payments and banking services
Banks currently use chatbots to respond to queries related to account balance, assisting customers to set payment alerts, among other information services. In the future, businesses will be able to leverage chatbots to automate simple payments and allow users to pay directly over live chat, Facebook messenger apps, among others, facilitating transactions instantly and driving improved customer satisfaction
8. Social Media will be a major influencer for chatbot adoption
Apart from making friends, social media is also used for ordering products and services, providing feedback and reviews, and more. Having realized the importance, businesses across verticals are using chatbots to understand customer requirements and to simplify the way in which they can help the consumers. Using AI in Social Media marketing will also help businesses get insights into important customer parameters like how much time they spend online, preferred social media platform, and the actual intent of using the social media platform.
9. Used internally by the enterprise
AI chatbots are used in different enterprise functions to enhance the experience and efficiency of the user like answering HR related questions, initiating interview process, guiding new hires through company policies, handling common IT helpdesk queries, among others.
10. Conversational Advertising
Conversational advertising is the use of automated natural language conversations between business and customers to increase brand awareness, understand purchase intent, convert leads and more. Conversational marketing offers the fastest means to assist prospects, leveraging various phases of the sales and marketing, and in turn providing a personalized experience. A feedback-based approach comprising chatbots, live chat, and targeted messaging can help conversational marketing and stimulate genuine conversations between the business and customer and to yield results across channels.  Many Conversational AI companies now offer ad-tech technology to route the complete traffic from social media handles like Twitter and Instagram advertisements to WhatsApp chatbot. This helps in qualifying a lead better with a valid WhatsApp number.
Conclusion
The adoption of chatbots for small businesses depends on factors such as lower investment in marketing, increasing demand for adopting advanced technologies and enabling custom application for businesses, These days, chatbot services and applications are a standard part of customer service offering for companies as it helps to deliver rich customer and conversational experiences for businesses.
10xDS is partnering with leading Conversational AI solutions provider Yellow Messenger to provide chatbot solutions to customers across the globe.
Talks to our experts to get started with building a strategy, roadmap and to implement chatbots for you to create a great conversational experience for your customers!