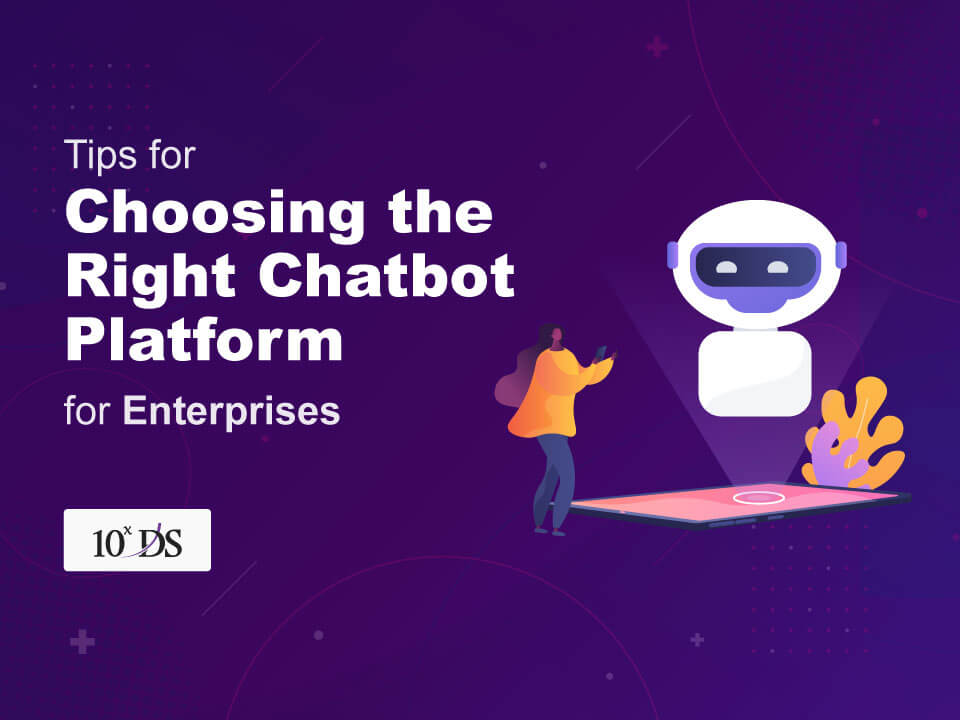 Tips for Choosing the Right Chatbot Platform for Enterprises
Most of you would have probably seen or texted with chatbots while scrolling through the internet. Chatbots are computer programs, which use AI (Artificial Intelligence) for responding to and understanding written or spoken language. Chatbots can be programmed in such a way that they can respond to intricate conversations or simple keywords.
Face-to-face meetings and phone conversations used to be the only way to communicate with one another until a few years ago. That's not the case today, as there are multiple channels for communications such as online forms, emails, mobile apps, social media, and chatbots.
Chatbots are used in different types of businesses for answering the questions of customers. In some cases, chatbots even help customers to easily navigate through the website of a company. This in turn presents an opportunity to better engage with customers.
Did you know that the real estate, travel, education, healthcare, and finance industries are gaining more profit by using chatbots? According to a study, 80 per cent of businesses are planning to integrate some type of chatbot system by the end of 2021. So, if you are not yet using a chatbot, it is high time you consider using one for your business.
How To Select The Best Chatbot Platform For Your Enterprise
As discussed earlier, the way we communicate with one another has considerably changed over the years and the same applies to businesses too. Modern buyers prefer instant and real-time communication with brands through social media platforms, WhatsApp, or chatbots.
Live chat, conversation marketing, and chatbots make it possible for businesses to ensure that customers can get in touch with them whenever they want. If you are planning to launch a new chatbot for your business, you will surely need tips on how to select the right chatbot platform for your business.
1. Identify The Use Cases
The first thing you should do is to decide whether your business needs a chatbot or not. It is important to understand that chatbots are not really a one-size-fits-all AI solution. This is why businesses must understand what purpose the chatbot will be serving and how it can offer value to your business.
Here are a few use cases that you should consider before making a final decision.
B2c customer acquisition
B2B sales acceleration
B2B demand generation
Customer support and service
B2B account-based marketing
B2b buyer enablement
2. Pricing Models
Another important factor that you will need to consider before selecting a certain chatbot platform is cost. Different types of pricing models are available plenty in the market, which is why you should thoroughly compare the models and check what makes each pricing model different.
For instance, you will need to check whether the pricing model is based on the number of website visitors, user seats, or accounts. Some pricing models might seem fair in the beginning, but their costs may dramatically increase based on small add-ons and other factors. Some of the features that you must consider are as follows.
Data enrichment capabilities
Form integration
Proactive sales notifications
Chat routing
Analytics
Integration capabilities with the existing marketing automation platform and with CRMs
3. Integrations
Businesses that are launching a new chatbot will surely want to get the best results out of the chat platform. To achieve this, businesses will need to select a chat platform with the right integrations in place. This means that you must be able to seamlessly integrate the marketing tools with the existing workflows.
It is crucial to remember that chat platform adoption will not be easy without the right integration. Apart from that, you must ensure that the chat platform comes with two-way integration. You should also check if you can use CRM and MAP data for audience building, targeting, and other purposes,
4. AI Ability and Natural Language
Businesses must also consider the AI ability and natural language of the chat platforms before settling for one. You will need to decide whether you want a system, which is capable of handling free-form text or a completely deterministic system, which functions based on rules.
Either way, you must realize that today's Artificial Intelligence technology has not yet reached a position to be considered useful or ideal for generic use cases. Understanding the AI abilities of the platform is important, as it may affect multiple factors.
For instance, businesses that require advanced ML/A should opt for an enterprise conversational platform, which will require a considerable amount of effort and time for training the system. The process of implementation will also take time and it can be expensive.
Conclusion
Most customers and online shoppers want a seamless and near-perfect online experience when buying products and services online. Moreover, they also prefer not to make any compromises when it comes to customer service. Fortunately, you can provide all the above-mentioned and more by properly implementing a chatbot.
10xDS has been delivering chatbots for numerous customers worldwide, catering to different business requirements. Talks to our experts to get started with the strategy, roadmap, and technology to build the right chatbot solution for your business!