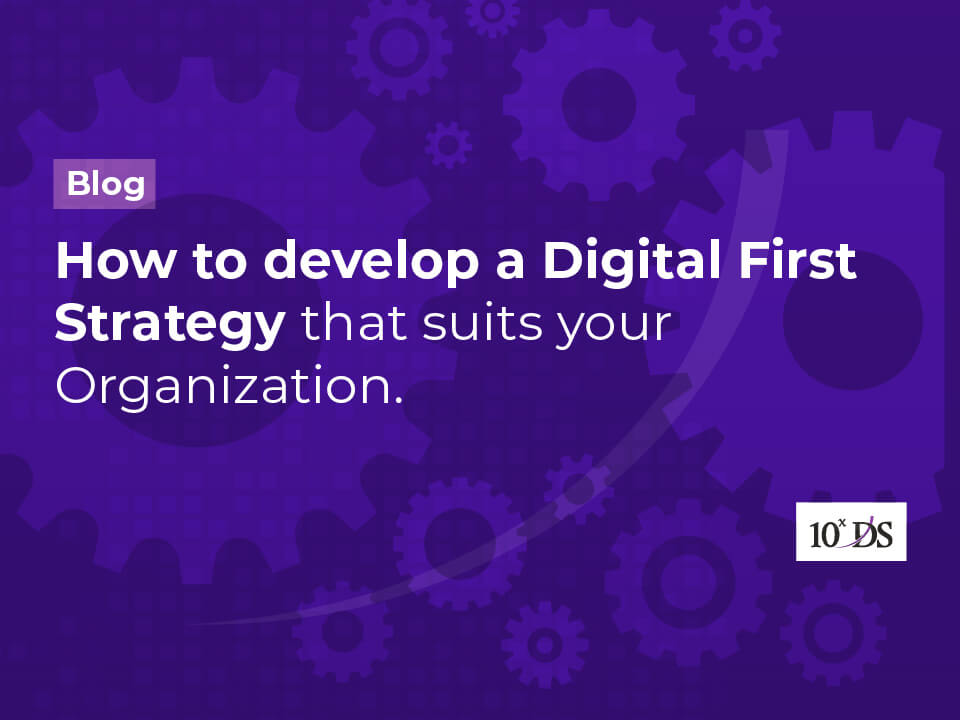 How to develop a Digital-First Strategy that suits your Organization
A Digital-First Strategy is a term with a pretty self-explanatory meaning — businesses striving towards organizing in a digital environment. Digital-First Strategy could transform a business in many ways and drive them forward into the all-digital future that is clearly on the economic horizon. Ultimately, technology needs to be embedded in every part of your business. The difference between thriving and struggling for many firms will be their ability to apply technology to adapt to new changes. As enterprises continue to see the shift in employee and customer expectations to more digital and mobile experiences, it's essential to transform business operations using industry-leading digital platforms to become increasingly agile and maintain a competitive advantage.
It is because of the benefit of digitization that we hear some revolutionary news like; "Chile's Immigration Department is allowing foreigners to obtain an electronic visa within minutes" CT. "Online examination platforms are of revolutionary aid to Academicians in India", (The New Indian Express). The impact of Digitization on Ghana's Banking sector has made banking easily possible for even the remotest of its villages. "Digitization in banking has enabled interoperability between digital financial services in the country widening their reach." -CNBC Africa. The list is long when we talk about the Impact of digitization all around the world.
Digitization transforms organizations at three levels:
External – The customer experience, or the external communications of the organization.
Internal –The business operations, or the internal communications and decision-making of the organization.
Holistic– The entire organization; therefore, the transformation strategy must be holistic and inclusive of all business segments and functions.
In recognizing the disruption – the challenges and opportunities – of the digital marketplace, the executive level of Managers (C-suite) needs to prepare their team, and ultimately all staff, for the step-by-step transformation of the organization. Managing digital transformation includes a total re-examination of the organization's business model, from how it is designed to how it operates and implements. To start with, the first step is to set priorities.
If you are to set strategic priorities for digital transformation, few principles would be:
Determine areas of vulnerability, high risk, and digital literacy.
Gain C-suite agreement on social, environmental and economic value to be created by the organization.
Adopt a digital mindset.
Design a digital vision and strategy.
Increase the level of digital preparedness in all functional areas.
Rethink business model and customer experience.
Integrate values into strategy across the silos.
Acquire digital integrators.
Launch digital skunkworks project.
Realign organizational structure integrating values and business goals with digital strategies both internal and external to improve the customer experience, increase communication flow, and operational efficiency.
Develop a sustainable and competitive organization.
Global search and advisory firm Forrester reports in its 'Six Steps to Become a Digital Business', says; "You must think of your company as part of a dynamic ecosystem of value that connects digital resources inside and outside the company as needed to compete. You must harness digital technologies, both to deliver a superior customer experience and to drive the agility and operational efficiency you need to stay competitive".
The speed and scope of change in the digital marketplace is a daily reality. The leadership of multinationals, SMEs, and non-profits must reflect on how they are going to address the challenges of digital transformation within their respective organizations.  Though in outline form, the aforementioned digital transformation strategy provides a clear roadmap for leaders to evaluate priorities and translate them into action
Should your organization be adopting the digital-first mindset?
In a recent article in Stanford Social Innovation Review, CDS Faculty Director Alva Taylor was quoted, "You first have to start with a great understanding of what you're trying to do, what your goals are," he says. "And then digital is the tool that expresses and executes your strategy."
There are often tell-tale signs that those within an organization have not truly embraced the digital by default mindset and that more active steps need to be taken to encourage it.
Take, for example, most companies create their branding style guides from a print mindset, despite digital being the primary communication channel like colour choices, typography and layout guidelines are unmistakably created primarily with print in mind. Another example is content creation, where content is often created for offline sources. You might have noticed in universities most prospective students access course information via the website, yet in many cases, universities create course information for a printed prospectus before handing it off to the digital team. Not only does this mean the University has not optimized the content for its primary delivery channel, but it has also failed to make use of the benefits of digital. Such as, a digital environment would allow us to run multi-variant testing to optimize our copy before publishing it in print.
This inability to fully transition to a new mindset has a historical precedent. When electricity first appeared, factory owners were quick to replace their waterwheels and steam engines with generators. Yet, a decade later they were still building those factories by the water, despite not needing it for power. They had not embraced the full ramification of the changes, an old French cliché can be quoted here: Plus ça change, plus c'est la même chose (the more things change, the more they remain the same).
How to Implement a Digital-first approach the Right Way
The company leadership announcing one day that the company needs to embrace the digital, will not get the job done. In fact, it is likely just to create chaos among the staff, because nobody will have a clue of what digitizing will mean for their role. People cannot see how their working practices are out of date. Otherwise, they would have changed them already. No one would intentionally work inefficiently! That means they are going to need help working out how digital should be changing their role. An email announcement or a workshop on "introducing digital" may not be sufficient. Instead, companies need to be educating employees about the potential of digital and working with them to establish the ramifications of all of this on their roles. In essence, companies should be equipping the staff to identify and understand changes they need to make in their work approaches, upskilling and learning new tech skills wherever their job requires.
To implement digital transformation programs, one of the biggest barriers to overcome is fear. People know that the digital will bring change and people fear this change because they don't know what it will mean for them or their role. At the very least it will require them to work differently and changing is hard work. At worst it could make their job redundant. Mitigating this inertia or fear, through different ways like internal communication campaigns, where the focus on how being digital-first can help make people's jobs easier is necessary. A two-way communication campaign involving employees could make them take up ownership to incorporate these new changes that are crucial for their work and enhanced efficiency. The next step is to start giving them the knowledge and tools to integrate digital into their workflow and practice.
Conclusion
Every company is different because every company has a different culture and ways of working. It is easy to throw around phrases like digitization or digital-first but making them a reality in a company takes commitment, investment, and sensitivity towards employees. Also finding the right partner to turn digital-first ideas into reality without the necessary tools and skills available in-house is crucial. Partnerships are an essential component to digital success.
Choose a digital transformation partner that can establish a hybrid toolset strategy that solves your organization's specific problems and leverage the newest technologies. Companies can also consider doing a small-scale project together to test how the working relationship goes. Do you run an in-house team or your own business? Do you need advice on your approach to digital or a sounding board on how to manage your work? Feel free to talk to our experts at 10xDS.