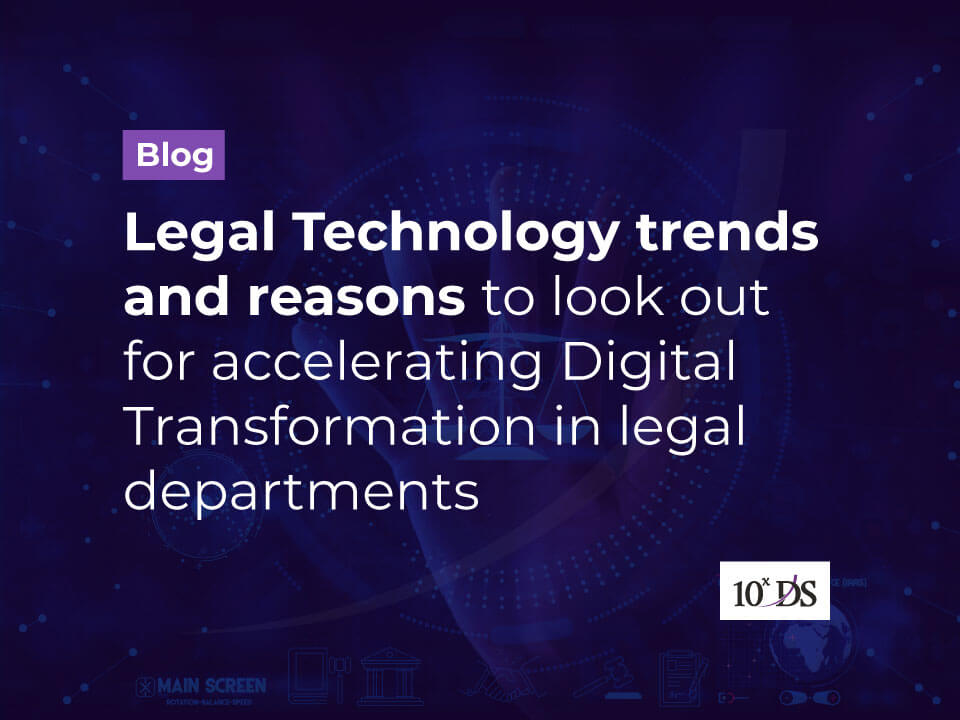 Legal Technology trends and reasons to look out for accelerating Digital Transformation in Legal Departments
However, there is no denying the fact that digital transformation leveraging the latest emerging technologies is becoming an integral part of the productivity and efficiency required to remain competitive. The COVID-19 crisis has seen digital transformation explode and is changing how organizations work long-term. Digital transformation can also be used by legal departments to increase productivity, improve operational processes, and become key stakeholders within their organizations. The new pressures created by the coronavirus pandemic have led to more legal functions considering automation. Despite being resistant to change in this field, they are now more likely to pursue it. Experts at Gartner predict that legal departments will triple their expenditures on legal technology by 2025, according to Gartner.
Let's have a look at the five predictions by Gartner experts that will help companies plan for their legal technology investments and other broader transformation efforts.
1. Legal departments will triple their spending on legal technology by 2025
According to a 2020 Gartner survey, technology spending in legal budgets is expected to rise dramatically by 2025. In 2020, eight-seven per cent of legal departments expected that their total number in-house full-time employees would remain the same or decrease. It is crucial to develop a multiyear strategy for legal technology that can adapt to changes in the corporate environment as well as technological advances. Ad-hoc technology purchases should be avoided by legal departments in order to support the function in reaching its short- and long-term business goals.
2. Several generalist lawyers will be replaced by 2024 with nonlawyer staff
Efficiency is a priority given the increasing workloads and flat budgets. To support the increased workload, legal departments need to improve their legal technology implementation, analysis, and other digitalization strategies.
Teams have been forced to make the most of their time and expertise due to efficiency concerns. This includes shifting work from lawyers to other professionals. To advance key improvements and innovations, companies will need a different set or perspectives than what is typically taught in traditional legal education. A legal operations role is worth considering. This role, once only found in financial services or technology firms, has become a mainstream one. In 2020, 58% of all surveyed departments will fill this role, up from 34% in 2018.
3. Legal departments will automate 50% of the work associated with major corporate transactions by 2024
Already, demand for corporate transaction work has rebounded from its pandemic-driven lows. As companies recover from the pandemic and the acquisition values will be lower, M&A will increase over the next few years. Automation is not a leap of faith anymore, despite all the hype. In 2019, 33% of the corporate transaction work in legal departments was automated. There's more to be done: Legal departments indicated that 55% of their corporate transaction work could be automated in the same survey. Companies don't have to do it all. Leading legal departments are looking for partners in innovation with non-law firm service providers and law firms. It is important to identify the specific problems that can be solved by automation before you resort to using legal technology to solve them.
4. Corporate legal departments will only capture 30% of the potential benefits of their contract management investments by 2025
Automation is not a magic bullet as it's not easy or simple to automate work. Some of the most complex and powerful solutions, like ML-driven contract review, have a lot of complexity in their underlying functionality. Many legal departments fail to plan for these initiatives. It is a common error to create a technology roadmap that does not consider the business and end-user requirements. Organizations that look at how technology can improve specific business outcomes or operational functionality generally do better than those who don't.
Failure to plan adequately for technology investments by corporate legal professionals could result in wasted money on poorly-adopted and ill-fitting systems. Marketing hype about technology can lead to unrealistic expectations and timeframes that are rarely achievable.
According to Gartner, the average legal tech and automation investment takes 2.4 years to recover its initial financial investment. Unrealistic expectations by stakeholder regarding a technology's return period can lead to perceptions of problems or underperformance. Legal leaders could find themselves in a vicious circle where stakeholder disappointment drives further disengagement and robs teams of valuable inputs to improve and adapt the investment.
Legal departments should prioritize the capabilities that best match their process maturity to get the most return on CLM investment investments. This is in contrast to a "big bang approach" that will only achieve a fraction of the expected value.
5. At least 25% of corporate legal application spending will be made by non-specialist technology providers by 2025
The legal tech market has been dominated by specialist vendors. However, the biggest general-purpose enterprise software vendors are making little inroads within corporate legal departments. But the demand for legal and conformity transformation transcends departments as CEOs, CFOs, and CIOs all recognize the strategic importance of legal and comply.
Specialist legal tech vendors will be increasingly building legal applications on top business platforms such as Microsoft, SAP, and Salesforce to take advantage of some of the larger transformation investments made by other functions. These applications will be attractive to large enterprises that want to take advantage of existing investments and make integration easier. Non-legal-specialist technology can also be used by startups and growing companies that exploit AI, ML, process automation, and other emerging technologies.
Why Accelerate Digital Transformation in Legal Departments
We have seen the trends, and now let's look at the reasons to accelerate digital transformation in legal department processes:
1. Digital Transformation is the new normal everywhere
The latest developments in digital transformation have been crucial during the COVID-19 pandemic of 2020 that stalled the world's economies. Right from the early 2000s, the European Union had the intent to drive digitization for businesses through various institutions. Digital invoicing was adopted at the level of member states and the EU has set other goals. The European Commission aims to "shape Europe's digital future". It also plans to chart a European path "towards greater digitization by 2030", setting out a roadmap for the next decade. One of these objectives is the digital transformation for businesses. It's not just EU, several Middle East countries such as UAE, Saudi Arabia, Bahrain and others are investing heavily in tech innovation and entrepreneurship to restructure their economic growth.
2. Digital Transformation is the key to productivity
For companies worldwide, the legal department might be currently the weakest student in digitalization. So, primarily the digitalization of legal departments is an important productivity booster for companies.
According to a study about the digital transformation of the legal function, only 18% believed they had a high level of digitalization. In many companies, the legal process is still viewed in a traditional way. Collaboration is not an instinct, and digital technology requires a fundamental change in method. Implementing a digitalization program can take a long time and require strong participation from all parties. Some legal departments feel that they don't have enough knowledge about new technologies to start a digitalization process. However, the role of the legal function has grown exponentially within companies. The legal department is a key guarantor for the company's strategies, from HR processes to contract security and compliance with security standards. Some tasks, however, can slow down the activities of lawyers and limit their productivity. For instance, contract drafting, and legal research can be digitized, and the legal team can concentrate on more valuable tasks like contract management or litigation management.
3. It's crucial to have the right Digital Transformation partner
The digital transformation of legal departments is not something that can be improvised. It is imperative, however, to ensure that the enterprises remain competitive in the near future. So, it is vital to begin the digitalization process. There are new generation of companies that aim to digitalize the legal management of organizations. This includes the automation and dematerialization tasks. Many of the tools leveraged offer innovative solutions to digitalize and transform processes in the legal department. These include deep learning, analytics, artificial intelligence (AI), hyperautomation, Blockchain, and the use of cloud technologies allowing for company data to be digitalized and secured, among others.
That said, Digital transformation projects require a new approach and a different way of thinking. The hardest part of moving forward is often setting your strategy. To achieve this, you need a strong network of technology partners and experts to help you strategize, implement, and transform your business processes using emerging technologies. There are many factors that companies should consider when choosing the right partner. The most difficult task for companies looking to implement Digital Transformation in their legal departments is choosing the right partner. This isn't your typical IT service. It all depends on the partner's expertise in implementing projects that leverage exponential technologies like Intelligent Automation (IA), Robotic Process Automation (RPA), Advanced Analytics (ML), and other.
Potential partners should be digital leaders with experience in Digital Transformations and technology consulting. Companies should be able to use a variety of technology-enabled and emerging technologies to help you transform their business. It is important to thoroughly review transformation stories and demos, as well as to discuss whether the company that you are considering hiring will be a good fit.
What 10xDS has to offer
10xDS is a multifaceted company that has a team of experts with extensive technology and business consulting experience. We have helped several companies realize their most important business goals by harnessing a blend of automation, analytics, AI and the emerging exponential technologies. We can give a comprehensive consulting and advisory support; help you identify opportunities for digital transformation and maximize your ROI.
Want to gain further insights into our services and solutions or if you are looking to jumpstart your Digital Transformation journey to streamline processes in your legal department, talk to our experts!
This article first appeared in The Voice of New, 10xDS Newsletter at https://www.linkedin.com/pulse/legal-technology-trends-reasons-look-out-/