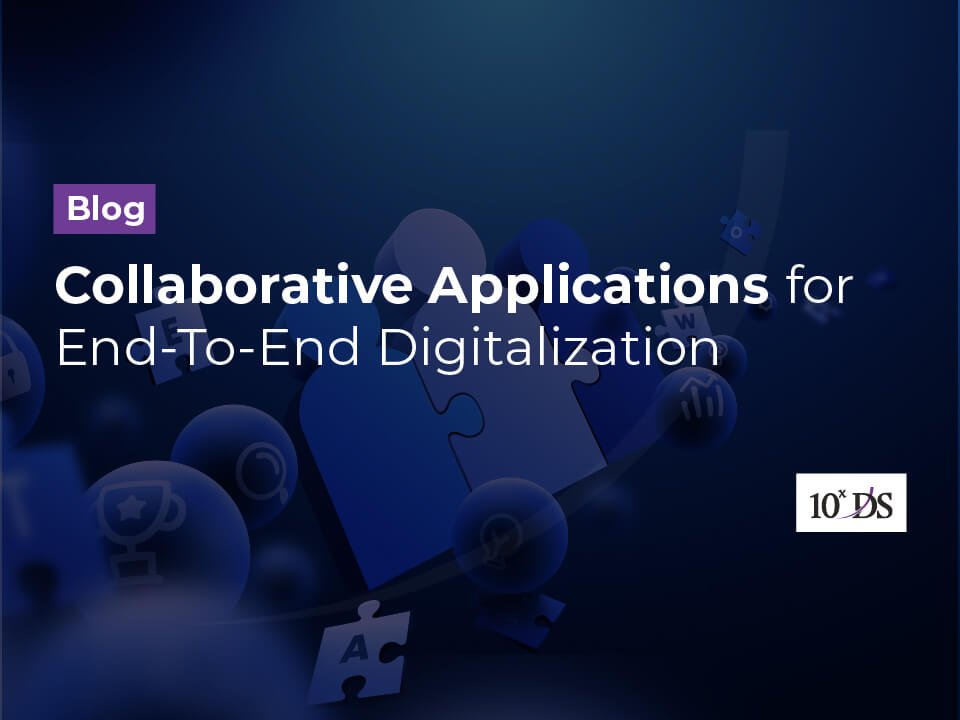 Collaborative Applications for End-To-End Digitalization
One of the biggest challenges of the Covid19 pandemic was that most of us were forced to stay inside our homes. People had no idea how to deal with the stress of not meeting anyone, not going out, and enjoying the freedom of interacting with friends and family. However, virtual interactions gradually became pretty common during the pandemic. That said, the lockdown didn't affect several companies, as they were able to function quite normally through collaborative applications.
During the pandemic, most companies allowed their employees to work from home. Initially, they were all making use of existing conferencing applications like Google Meet and Zoom. But soon, many new applications became quickly popular. The most notable one among them was Microsoft Teams.
Microsoft Teams is capable of taking the workspace to an online or virtual mode. It incorporates the best of business collaboration. Microsoft Teams allows users to enjoy advanced and innovative features like app integration, workspace chat, and video conferencing. Today, nearly 250 million users across various countries in the world use Microsoft teams.
With the success of Teams, Microsoft is constantly making it to be more acceptable to people and organizations across the world not just by adding new features, but by transforming it to be more focused on collaboration. It would mean you can install and use other apps within Teams and use Teams as a base for app developments.
In other words, even if you do not possess knowledge of coding, you can effectively bypass that drawback with the help of Teams. Microsoft Teams is supported across all platforms including Android, iOS, Mac, and Windows. It opens doors to seamless app development and other benefits for users across all the available platforms today.
Collaboration Between Microsoft Teams and Power Apps
As a collaborative platform, you can easily customize your Teams to make them more suitable for your needs and requirements. For instance, you can add Power Apps to your Team Channel with ease. All you need is a Power Apps account and a channel in Teams.
Power Apps come as part of the Office 365 subscription. With the help of Power Apps, you can design and develop business apps within hours. In today's hybrid work structure environment, the extent of benefits you could achieve by integrating Teams with Power Apps are bigger than you could even imagine. Like Teams, Power Apps too can be launched across all the operating systems and devices such as smartphones, tablets, and laptops.
How to add an App from Power Apps to Microsoft Teams
On your device, launch Microsoft Teams. Once it is loaded, choose a team and a channel that you have created under that team. In the channel, tap on the plus button. You will now get a list of Power Apps and other applications to choose from. Select the right one to proceed.
Integration between Teams and Dynamics 365
The most effective and efficient use case scenario of collaboration happens when you integrate your Teams with Dynamics 365. Once you have finished setting it up, you can initiate direct communication with members of your team and discuss or pull-out details about Dynamics 365 Sales customer records. You are not required to switch between the apps for this because after the integration, you can handle it from within Teams.
Access everything from within Teams
Today, more and more third-party applications are becoming compatible with Teams. For instance, Workday, Adobe, SAP, Atlassian, and Salesforce are compatible with Microsoft Teams. The vendors of these apps have realized that making them accessible from Teams has created a win-win situation.
A perfect example of how third-party app integration works within Teams can be inferred by looking at how SAP Sales and Service Core is configured within Teams. If you are an entrepreneur who does not want to lose focus on your customers, you can keep watch of the sales process in its entirety while using this perfect combination.
Accessing Third-Party Apps through Teams
There is no doubt that everyone can easily understand how the use of collaborative apps can benefit business productivity and digital collaboration. In the current scenario where many companies across the world still allow their employees to work in hybrid mode, this has even more benefits.
Companies across the globe would be using a myriad of apps for various purposes. But at the same time, they would have to work via an interactive platform like Teams to remain in the loop and keep the work going without interruptions due to employees or staff not being present in the office. In this scenario, being able to access all third-party apps via Teams is a great boon to the businesses.
Conclusion
Microsoft has been open to welcoming a maximum number of third-party apps into its Teams fold. As more and more collaborative options have become possible with the Microsoft Teams integrations, the third-party apps that are participating in it are also getting the chance to grow and users gaining access to quality and useful apps.
With so much developmental focus going into Microsoft Teams and so much happening right now, this is probably the ideal time to get involved. When you start using it, you will realize how much more productive, communicative, and streamlined Teams can make your enterprise.
Looking to get started with Teams and the rest of the Microsoft 365 suite? Talk to our experts, we're here to help!