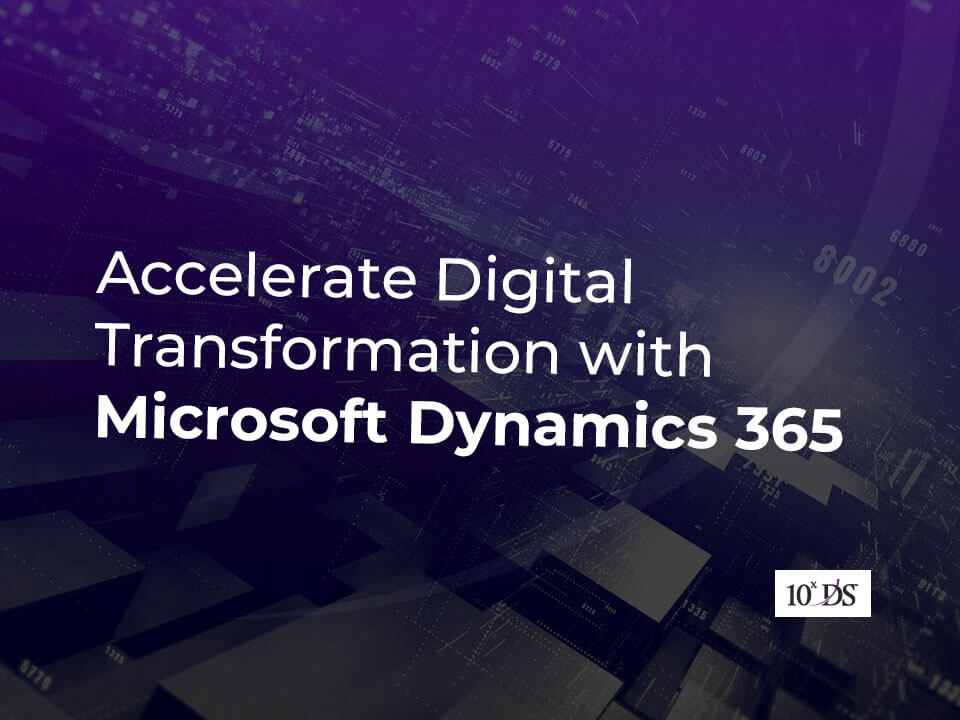 Accelerate Digital Transformation with Microsoft Dynamics 365
Over the years, with the advancements in technology, our lives have become more digital. This means companies have to constantly adjust and transform to cater to the latest digital demands of customers, taking initiatives to become more digital in their approach to provide a better customer experience (CX). From satisfying customers to building enhanced digital customer journeys, companies are under intense pressure going against tough competition to manage their customers and keep them loyal. To make this happen, enterprises across the globe in several industries have started swiftly embracing digital transformation to get ahead of the curve.
Though enterprises are aware that they have to begin somewhere to drive their digital transformation journeys, they are not exactly sure of the right tools they require. This is where Microsoft Dynamics 365 comes into the picture, with its powerful suite offering the right tools needed for significant progress embarking on the transformation journey.
Let us, deep-dive into the current challenges faced by enterprises and how Microsoft Dynamics 365 can help in the Digital Transformation journey.
Current Challenges Faced by Growing Companies
Though companies know they have to transform their processes to enhance productivity and gain greater ROI there are some challenges they face:
1. Lack of Quality and Uniform Standardization practices
Some of the growing businesses lack proper standardization practices to ensure quality and productivity. These companies tend to rely on processes created around ad hoc requirements, without bringing structure to streamline it properly. Such companies shy away from considering digital transformation, as they are concerned about some of the major roadblocks creating potential compatibility and operability problems.
2. Lack of proper tools to track ROI
Many enterprises find it difficult to understand how business processes affect outcomes mainly because they fail to properly assess or calculate ROI. Most of these companies also may not have proper reporting tools and processes to attribute the expenses and profit related correlations, factors affecting the success and failure of projects or campaigns, allocations of future budget, among others.
3. Customer Service-related issues
The whole world is moving towards a more favourable customer-centric approach, focusing on providing a positive customer experience to gain a competitive advantage. With the changing customer demands, cut-throat competition, price wars, among others, poor sales and services can affect organizations. Companies even lose existing customers, let alone attract new ones.
4. Absence of key Data-driven Insights
To understand customer experience and take initiatives to enhance them, needs key data insights. With the lack of these crucial Data-driven insights, companies may fail to yield proper outcomes and add value to the products or services. Gaining data-driven insights, on the other hand, can enhance revenue, reduce costs, improve efficiency, and also provide what the customers are looking for in their products or services.
5. Problems in Risk Management
Running an organization may expose them to unexpected occurrences, information breaches, failures in the products or equipment and companies must guard against such possible risks. Companies need a proper risk management strategy ready in place to protect them against such events. Moreover, such strategies should be considered during the goals and objectives set the stage for the future.
Why enterprises need Digital Transformation
Companies should consider adopting digital transformation, in this volatile market and ever-changing business landscape to maintain the edge and get ahead of the curve. Digital transformation is key to accelerate customer experiences, improve operational processes to make them more productive and enhance competencies and models. With more digital investments leveraging the latest technologies, business and c-suite leaders can drive innovations and enable more focussed IT teams, delivering excellence.
How Microsoft Dynamics 365 can help enterprises with Digital Transformation
Microsoft Dynamics 365, a cloud-based enterprise software platform, brings together some of the most powerful software products in a unified package, including CRM, ERP, HCM, and Power BI reporting functions. Removing the barriers between data, business, processes and customers, Dynamics 365 helps enhance business processes, gain actionable insights, and integrate various Microsoft tools of all sizes. The software offers enterprise leadership and managers key insights to make the right decisions at the right time.
Let's see some of the salient benefits of Dynamics 365.
1. Integrate latest technologies
Microsoft Dynamics 365 integrates several new technologies such as Power BI, Azure Machine Learning (ML), Cortana Intelligence and IoT to streamline enterprise operations and transform processes.
2. Unify multiple business applications
Microsoft Dynamics 365 enterprise-level business applications such as ERP, CRM, and Office 365 enable companies to avail these powerful solutions through a single platform.
3. Enhanced productivity
Having all the business solutions and technologies in one place gives solution users the flexibility and convenience to have a single point of reference to quickly access, navigate, and locate information. This saves time and enhances the productivity of employees.
4. Customize Business Processes
With Dynamics 365, users can leverage tools and platforms such as Power Apps and the Power Platform to enable rapid application development to build custom apps and business processes.
5. Improve customer engagement
Dynamics 365 offers all information related to customers accessible in one place. Organizations can gain key customer insights and provide enhanced customer experience, personalised to their interests.
6. Enhanced flexibility
Enterprises can cater to the changing demands of customers by leveraging a variety of applications for different roles such as Sales and Marketing, Finance, Customer Service, among others.
Conclusion
With the constant change in technologies trends, modern business models and the pace in which the entire world is moving, companies should start looking at ways to deliver excellent customer experiences, beating off some of the challenges that they meet on the way. With the advanced solutions, tools and features offered in Microsoft Dynamics 365, companies can drive digital transformations and transform their business.
Talk to our experts to know more about how businesses can deliver innovative, high-performance business applications with Microsoft solutions.