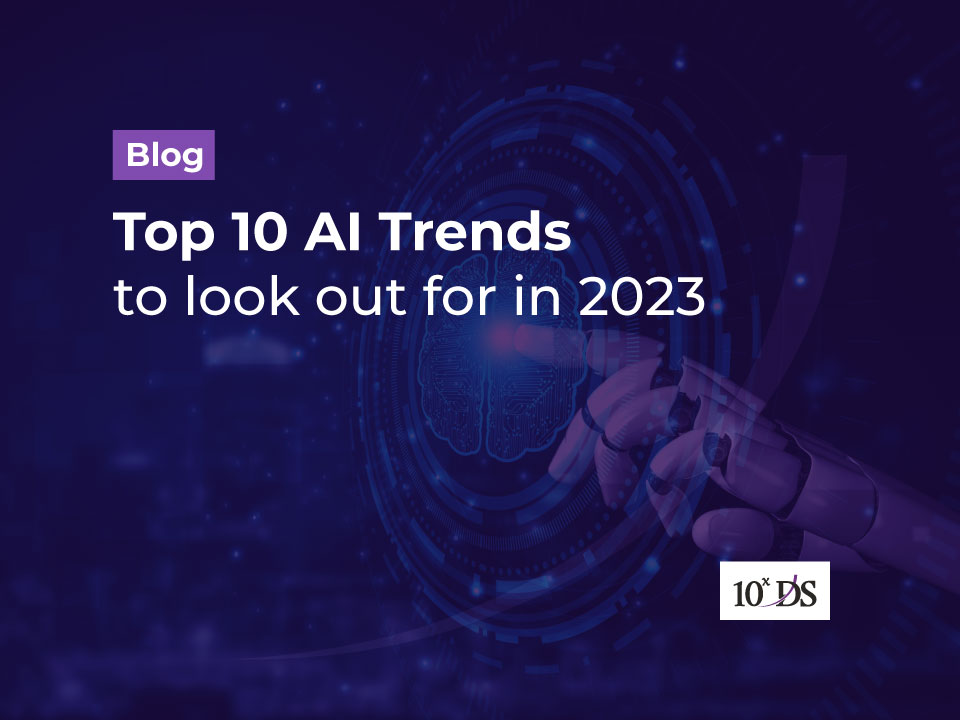 Top 10 AI Trends to look out for in 2023
The pandemic has increased the use of AI in a variety of industries. According to the latest publication of the International Data Corporation (IDC) Worldwide Semiannual Artificial Intelligence Tracker, the revenues for the AI market, comprising software, hardware, and services, would climb 19.6% year over year in 2022, reaching $432.8 billion. In 2023, the market is projected to break the $500 billion mark.
Adopting AI is primarily concerned with making operations more productive or less wasteful. It can be used to enrich the involvement of all parties involved. Now, let's take a peek at 2023's most anticipated trends.
1. The emergence of Quantum ML
Greater artificial intelligence and machine learning models could be developed with the help of quantum computing. In spite of the fact that quantum computing is still impractically far away, things are beginning to change thanks to Microsoft, Amazon, and IBM's cloud-based quantum computing tools and simulators. Bringing together quantum computing with ML has the potential to yield enormous benefits for businesses by allowing them to tackle challenges that are currently intractable.
2. Extensive use of AI in Process Discovery
You might think of it as a toolkit for measuring business process efficiency that makes heavy use of artificial intelligence and machine learning. The newer type of process mining digs deeper to learn the outcomes of people's indulgences with various objects that trigger business process events. There is a broad variety of techniques and AI models, from clicking the mouse for a specific goal to accessing files, papers, web pages, and so on, all of which require different transformations of information in various ways. The automated procedure utilising AI models is aimed to boost efficiency in business processes.
 3. Machine learning with Automation (AutoML)
Two promising parts of automated machine learning will include enhanced tools for labelling data and the automatic tweaking of neural net structures. Artificial Intelligence (AI) will decrease in price and time to market for new solutions when the process of selecting and refining a neural network model is automated. According to Gartner, the future of operationalizing these models will centre on refining the PlatformOps, MLOps, and DataOps processes. Collectively, these advanced features are known as XOps by Gartner.
4. Improvements in Predictive Analytics
Advances in predictive analytics have emerged as one of the most exciting directions in artificial intelligence, with applications in many fields of study. It uses data, statistical algorithms, and machine learning approaches to predict future outcomes based on past data. The objective is to use historical data to make an accurate prediction of the future. It's not that "predictive analytics" just appeared out of nowhere; rather, its history shows that it has only recently emerged from the realm of mathematics and statistics to attract the interest of business analysts and market specialists.
5. AIOps is gaining traction
The complexity of IT systems has grown during the past few years. Forrester has recently predicted that vendors will seek platform solutions that provide visibility across many monitoring domains, including application, infrastructure, and networking. With the help of AIOps solutions and better analysis of the vast amounts of incoming data, IT operations and other teams can enhance their most important processes, decisions, and activities. Forrester urged IT leaders to seek out AIOps vendors who facilitate cross-team cooperation via end-to-end digital experiences, data correlation, and the integration of the IT operations management toolchain.
6. The Rise of Hyperautomation
The term "hyperautomation" refers to the expansion of traditional business process automation beyond the scope of particular processes. Hyperautomation is the automation of automation, the dynamic discovery of business processes and the creation of bots to automate them, made possible by the combination of artificial intelligence (AI) tools with robotic process automation (RPA).
Since it is essential for any company that wants to stay up with the digital progress, hyperautomation will rise in significance in the coming years, according to Gartner. It has the potential to be a mechanism of genuine digital transformation thanks to the synergy between ML, AI, and RPA in automating complicated operations, including those that formerly required subject matter expertise.
7. AI in Cybersecurity
The increasing use of AI in security operations is the next logical step in the evolution of automated defences against cyber threats. The use of artificial intelligence (AI) in cybersecurity extends beyond the capabilities of its forerunner, automation, and includes tasks like the routine storage and safeguarding of sensitive data. Artificial intelligence in cybersecurity, however, goes beyond this and aids in more complex tasks. One use case is using advanced analytics to spot attacks in progress or other suspicious trends. The news isn't all rosy, though. Organizations will be in a perpetual game of cat and mouse with cybercriminals who are also likely to utilise AI to their advantage. Therefore, businesses that care about their survival need to start incorporating AI into their cybersecurity immediately.
8. AI ethics and principles for Compliance
Businesses will provide guidance on how to use AI to address pressing global issues, promote economic growth and diversity in the workplace. As the topic of AI ethics gains prominence in the business world, issues such as data transparency and algorithm fairness are also drawing increased attention. While the term "AI Ethics," which is also known as "AI value platform," does not yet have a universally agreed-upon definition, it generally refers to a set of principles that promotes the development of ethical AI by bringing together three essential elements: protection of people and the environment, as well as protection of people from harm caused by AI. The goal of the body of work known as "AI ethics" is to foster the cultivation of the ethical application of AI. Its foundational tenets include safeguards against AI bias, privacy concerns, blunders, and environmental effect management.
AI-using organisations may best position themselves to change their uses to comply with new laws and regulations as they are adopted. Transparency in disclosing AI uses to customers, fairness in the AI system, accountability by publishing the system's internal governance policies, and engagement with the regulatory and legislative processes were cited as the four main components for preparing an organization's AI system for what may come from the regulatory sphere.
9. The use of Augmented processes is on the rise
In 2023, AI and data science will play a larger role in the context of innovation and automation. In addition to being able to scale and reduce waste, data ecosystems also deliver timely data to diverse inputs. However, laying the groundwork to enable change and encourage creativity is essential. Optimization of software development processes is possible with the help of AI, and other benefits include increased collaboration and a broader pool of knowledge. In order to transition into a sustainable delivery model, we must cultivate a data-driven culture and move past the experimental phases. You can count on this to be a major AI development.
10. Creating Art with NFTs
Artists are supposedly given more freedom to express themselves through NFT art. It's redefining the ways in which NFT artists can work, create new projects, and claim ownership of their work, and it's rapidly altering how artists are compensated. The incorporation of NFT and AI models, with their ability to decentralise and democratise wealth and provide access to new revenue streams, can greatly assist the establishment of art schools. Artists, according to proponents of NFTs, can take charge of their careers in the creative industries for the first time ever because of the capacity to legally protect their work by registering digital artwork and data as unique.
Conclusion
The use of AI has become fundamental to the process of digitization. The number of new uses for artificial intelligence (AI) in the workplace and beyond is expected to explode during the next several years. To improve their operations and customer service, many businesses have already begun implementing AI-driven solutions.
Talk to our experts, if you want to know how to use AI solutions to improve the value you provide to your employees and customers.