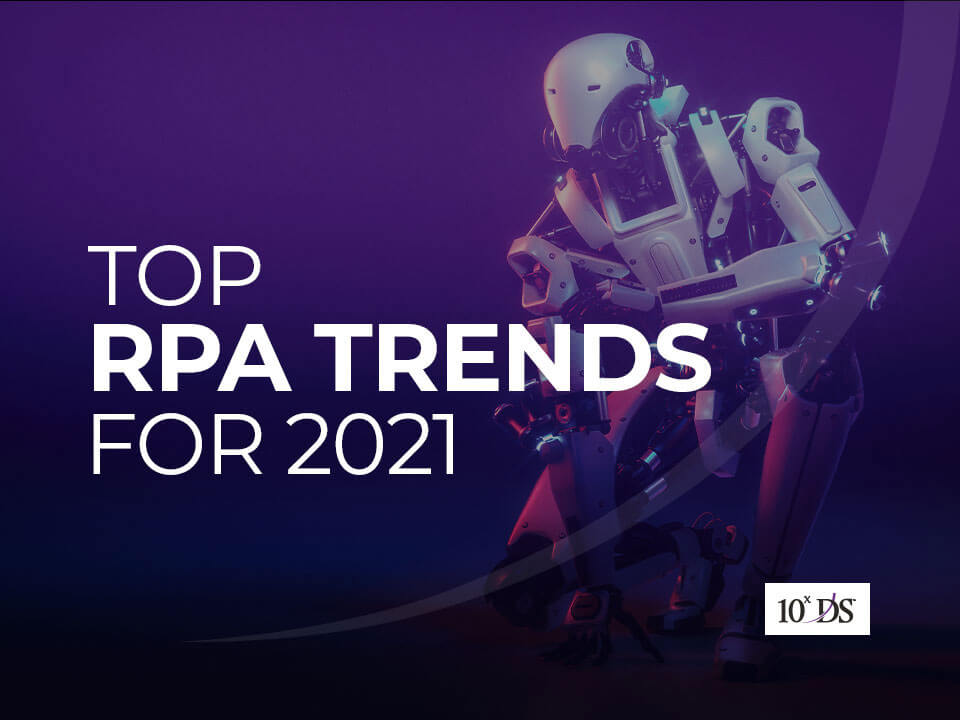 Top RPA Trends for 2021
RPA, or Robotic Process Automation, is one of the most noteworthy emerging technologies, which is making a mark in almost all industries across the globe. From manufacturing and consumer goods industries to retail and telecom sectors, RPA is equipping businesses to gear toward a digital-first world ensuring superior employee and customer experiences.
The innovations in RPA technology have thrived superbly in the past couple of years and experts believe that its future is promising as well. When coupled with other advanced technologies like Artificial Intelligence (AI), Machine Learning (ML), and Advanced Analytics (AA), RPA can open up a new pool of opportunities for businesses. That is why RPA is even touted as the 'eventual future of automation'.
Top RPA Trends for 2021
According to an IDC report, "Worldwide spending on the technologies and services that enable the digital transformation (DX) of business practices, products, and organizations is forecast to reach $2.3 trillion in 2023." As Robotic Process Automation facilitates digital transformation by streamlining business operations, it will play a major role in how companies evolve over the next couple of years with technology.
Reports from Gartner also support this statement, highlighting that "Global robotic process automation (RPA) software revenue is projected to reach $1.89 billion in 2021, [which is] an increase of 19.5% from 2020." Note that this revenue spike is even in the wake of the effects of the COVID-19 pandemic on businesses globally. That is why experts expect the global RPA market share to grow by double digits in the upcoming decade.
Here are some of the top RPA trends that businesses should look out for in 2021 and beyond.
Hyperautomation
Hyperautomation combines the power of RPA, AI, ML, and other emerging technologies in a single suite to deliver the best outcomes for businesses. While RPA alone cannot manage all the tasks in a traditional business environment, hyperautomation employs other technologies to process massive volumes of data and make the automation process simpler for RPA bots. That is why hyperautomation can be applied to handle complex tasks and optimize business processes across multiple areas in an organization, leading to improved operational efficiency and productivity.
Enterprise Resource Planning
RPA is expected to become the new Enterprise Resource Planning (ERP) for modern businesses. The Global System Integrator (GSI) communities, as well as audit-based counselling companies, are encouraging their employees to embrace automation for managing their day-to-day operations. GSIs, in particular, are adopting RPA for performing tasks that were handled using ERP software in the past. These developments will lead to the creation of greater opportunities for businesses to serve their customers better.
Intelligent Process Automation
Intelligent Process Automation (IPA) combines the rules-based automation features of RPA with the complexities of AI alongside the trial-and-error learning capabilities of ML and fundamental process redesign. This gives companies an advanced technology that will revolutionize their business efficiency and strategy, leading to the development of new ways to operate and cater to the varying demands of customers. IPA is also believed to evolve smart automation capabilities with its highly sophisticated and constantly-learning nature.
Apart from these trends, RPA is also expected to improve employee engagement levels by allowing a well-balanced mix of manual and digital strategies. For instance, RPA bots can automate most of the repetitive daily work with very little manual inputs, while making it simpler to handle complicated tasks for the employees. This will further open up room for innovation with technologies like Advanced Analytics, Blockchain, Optical Character Recognition, and more.
How RPA Will Provide Value for Businesses
There are a lot of RPA vendors out there, which promise to deliver a solution to meet the specific needs of a business with superior design quality and functionalities. As more and more companies are looking to invest in automation technologies, it is understood that a more definite line of RPA products will start to enter the market in 2021. It may even be broken into two classes – one that will provide quick strategic advantages across desktop environments and the other that will deliver more strategic transformation across the company.
In any case, the main goal of an RPA solution should be to provide value to the company. As RPA bots work to eliminate paperwork by automating data-driven processes and managing large volumes of data much faster, it helps to reduce stress and workload from employees, leading to an improved experience. What's more, RPA can also process all the mundane and time-consuming tasks without running into errors, which allows companies to streamline their operations and ensure greater output and productivity.
It is also expected that more easy-to-deploy RPA models that have pre-defined functionalities for automating different types of paperwork in a company would be launched in the market in the upcoming years. This will make digital transformation simpler for enterprises, drive enhanced customer and employee experience, and provide value to their business.
Talk to our experts to learn more about RPA and get on the automation wagon today to stay competitive in the industry.
READ NEXT
What is Robotic Process Automation