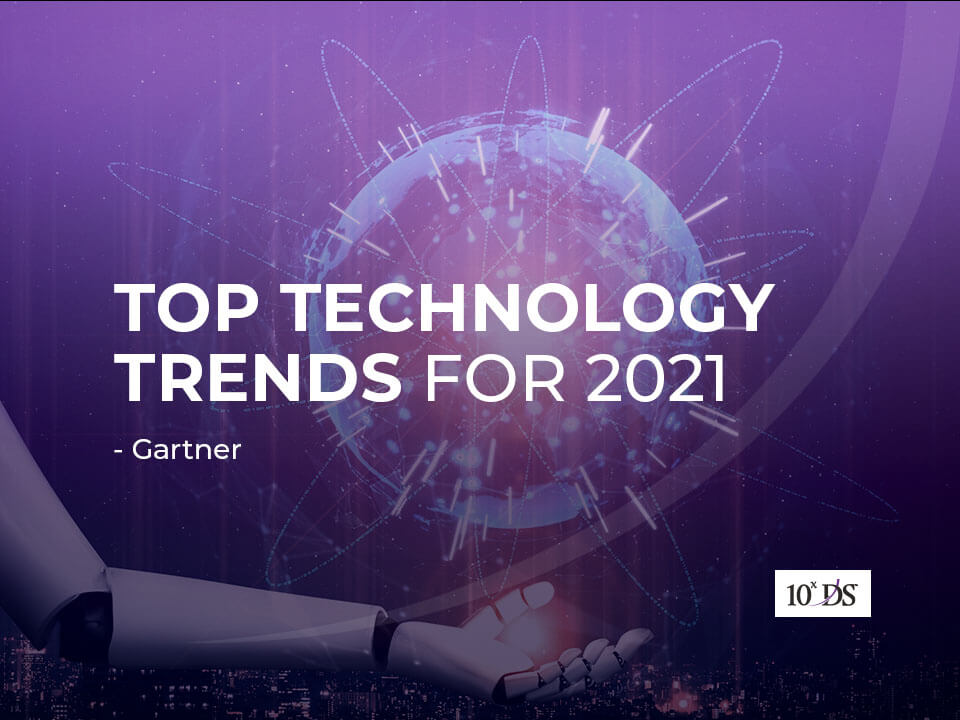 Top Technology Trends for 2021 by Gartner
Gartner recently revealed the top technology trends for 2021 that will play a major role in the digitalization of companies across industries. Their analysts presented the findings at the Gartner IT Symposium/Xpo® 2020, Americas, conference that aimed at addressing the strategic needs of organizations across the globe.
According to Brian Burke, research vice president at Gartner, "The need for operational resiliency across enterprise functions has never been greater. CIOs are striving to adapt to changing conditions to compose future business. This requires the organizational plasticity to form and reform dynamically. Gartner's top strategic technology trends for 2021 enable that plasticity."
Just as the Gartner conference was organized virtually due to COVID-19, the research firm says that the pandemic will also reshape technology trends in the future. "As organizations journey from responding to the COVID-19 crisis to driving growth, they must focus on the three main areas that form the themes of this year's trends: people centricity, location independence and resilient delivery," Burke said. "Taken together, these trends create a whole that is larger than its individual parts and focus on social and personal demand from anywhere to achieve optimal delivery."
Below are the 9 technology trends for 2021 that enterprises need to look out for.
1. Internet of Behaviors (IOB)
The Internet of Behaviors refers to employing data to analyze and change behaviors. This can bridge the gap between the digital and physical worlds and allow companies to determine the right course of action through feedback. For instance, Gartner believes that telematics can be used to monitor behaviors of commercial vehicle drivers and help to ensure better safety, performance, and route tracking by combining data from multiple sources like social media, customer data, public-sector data, and more.
2. Total Experience
Total Experience refers to the combination of user experience, customer experience, and employee experience that can play a big role in transforming business outcomes. These experiences can be enhanced by using different technologies like AI, RPA, and Machine Learning, in turn allowing companies to make the most of the disruptive aspects of today's scenario like remote work, virtual conferences, and distributed customers.
3. Privacy-Enhancing Computation
Privacy-enhancing computation merges three technologies to protect data when it is being used. The first is creating a trusted environment to share, analyze, and process sensitive data, while the second is performing processing and analytics in a decentralized way. The third is encrypting data and algorithms prior to processing or analytics. As per Gartner analysts, "This approach is designed specifically for the increasing need to share data while maintaining privacy or security."
4. Distributed Cloud
Distributed cloud means allocating cloud services to various locations while the public cloud provider manages the operation, monitoring, and upgrades. This allows companies to address low-latency problems, reduce data costs, and comply with the laws, which demand that data management should be done from a specific geographical area. At the same time, it allows organizations to benefit from the public cloud while enjoying the features of a private cloud.
5. Anywhere Operations
Anywhere operations can be simply termed as remote work, which has gained massive popularity due to the Coronavirus pandemic. It is certain that this trend will continue even after the crisis is over as more and more companies are finding remote work more feasible and cost-effective. The availability of various remote team collaboration platforms has further eased this move and facilitate business operations being done from anywhere.
6. Cybersecurity Mesh
Cybersecurity mesh refers to a distributed architectural approach that allows companies to build scalable, flexible, and robust cybersecurity models. This helps organizations to tackle the imminent threats of working remotely while defining the security perimeters of their company effectively. According to the Gartner report, "It enables a more modular, responsive security approach by centralizing policy orchestration and distributing policy enforcement." This way, companies can continue to improve their cybersecurity measures to meet the current and future needs.
7. Intelligent Composable Business
An intelligent composable business is the one that is able to adapt to the situation quickly and reorganize its operations based on changes in the industry. Gartner says, "To successfully do this, organizations must enable better access to information, augment that information with better insight and have the ability to respond quickly to the implications of that insight. This will also include increasing autonomy and democratization across the organization, enabling parts of the businesses to quickly react instead of being bogged down by inefficient processes."
8. AI Engineering
A reliable AI engineering strategy is vital for organizations to ensure superior performance, interpretability, and scalability of their automation solutions. This also goes a long way to deliver the best value for AI investments and helps to deal with the issues with control and maintenance of the AI solutions. With AI engineering, companies can define the right approach to make AI an integral part of their mainstream DevOps processes and benefit from multi-discipline AI projects.
9. Hyperautomation
Hyperautomation focuses on automating legacy business processes and make them more efficient so that organizations can navigate the expensive and extensive challenges easily. As per the Gartner report, "Many organizations are supported by a 'patchwork' of technologies that are not lean, optimized, connected, clean or explicit. At the same time, the acceleration of digital business requires efficiency, speed and democratization. Organizations that don't focus on efficiency, efficacy and business agility will be left behind."
Conclusion
These 9 strategic technology trends are expected to bring significant opportunities for companies over the next 5 – 10 years.
Talk to our experts to learn more about how you can benefit from these advanced technologies and equip your business for the future.