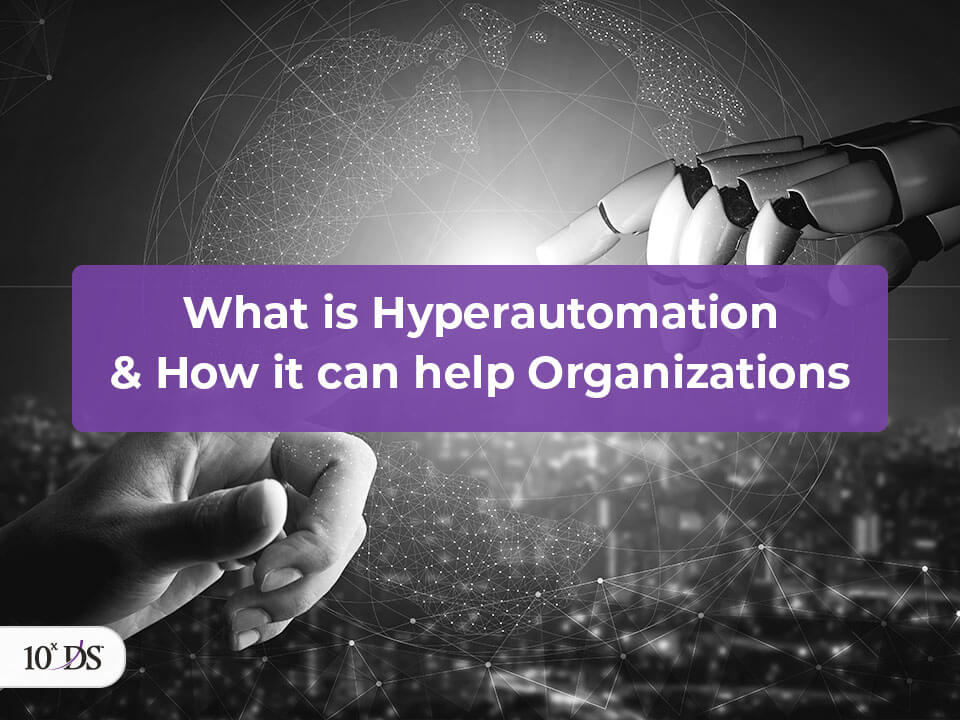 What is Hyperautomation and How it can help Organizations
With the emergence of revolutionary technologies such as Robotic Process Automation (RPA) and AI, we have been witnessing a paradigm shift affecting business processes today. The year 2020 marks the beginning of the era of something new, which takes automation to another level, infusing more intelligence to automation – Gartner calls it "Hyperautomation".
How it all Started?
RPA, one of the most popular and widely used exponential technologies of the last decade, is now moving beyond automation. RPA has been successful majorly because of its ease of automation, quicker results and ability to apply AI to enhance and streamline business operations.
Its transforming ability to deliver faster results and greater impact in processes sets the backdrop for this latest trend. RPA makes it easy for business experts and even the usual frontline workforce to enable automation of low-level digital work tasks with bare minimal or even no coding skills required.
The next logical step in the growth RPA required scaling the technology, combining multiple automation and AI technologies that are usually considered separately, bringing together different tools to enable the implementation of a concept which is now being popularly named hyperautomation.
What is Hyperautomation?
It is a clever combination of multiple digital transformation technologies, starting with Robotic Process Automation (RPA) at its core, and expanding automation capabilities with artificial intelligence (AI), process mining, advanced analytics, and broader set of advanced tools so that previously un-automatable tasks can be automated.
It helps automate many aspects of decision-making throughout the enterprise. With broader automation possibilities hyperautomation offers the ability to span organizational boundaries more easily.
Combination of technologies and tools
A Business Process Management System (BPMS) may be more powerful in automating complex business processes but when we look at the adoption rate, BPMS falls behind mainly because it takes a huge investment of time and money to implement it.
That's where RPA scores in the ease of implementation. However, each one of the automation tools have its several strengths and its limitations. For companies to benefit, a combination of the technologies to bring out the best possible results has been the need of the hour. This very well requires scaling RPA by combining different automation tools for each enterprise – which is Hyperautomation. It leverages AI, intelligent BPMS, Integration Platform as a Service (iPaaS), and process to understand and automate many aspects of decision-making throughout the enterprise.
It will result in higher rates of productivity and broader access to data, additionally helping decision makers to make better decisions for their customers leveraging analytics.
Benefits of Hyperautomation
Hyperautomation provides several benefits over other automations. These include: automating processes at a quicker rate, use of Advanced Analytics, increased employee satisfaction and motivation, a workforce assigned to value added tasks, more accurate insights, enhanced compliance and reduced risk, greater productivity and increased team collaboration.
How hyperautomation can deliver maximum value for your Organization

Take business processes more efficient, optimizing business opportunities and providing real-time, continuous intelligence.

Enable organizations to equally empower everyone in fostering digital transformation.

People and the Digital Workers can collaborate to automate end-to-end processes across various levels of complexity.

Demonstrate quick ROI from automation and gain key insights.
How 10xDS can help?
Hyperautomation is the next logical step in the automation journey as an adoption of a more advanced form of RPA in combination with other tools and technologies. To stay in the race and leap ahead of the competition, companies should start adopting enterprise transformation strategies leveraging latest emerging technologies like Hyperautomation.
10xDS is driving digital transformation by leveraging our expertise in Intelligent Automation, AI, Analytics and other exponential technologies and our deep sector experience can enable organizations to automate processes and make effective strategic decisions.
We will be definitely witnessing a renaissance in robotics, paving the way towards increased adoption of hyperautomation in various industries across the globe. The intelligent Digital Workers will be fully integrated with human counterparts.
Want to gain further insights into 10xDS Digital Transformation solutions? Talk to our Experts!