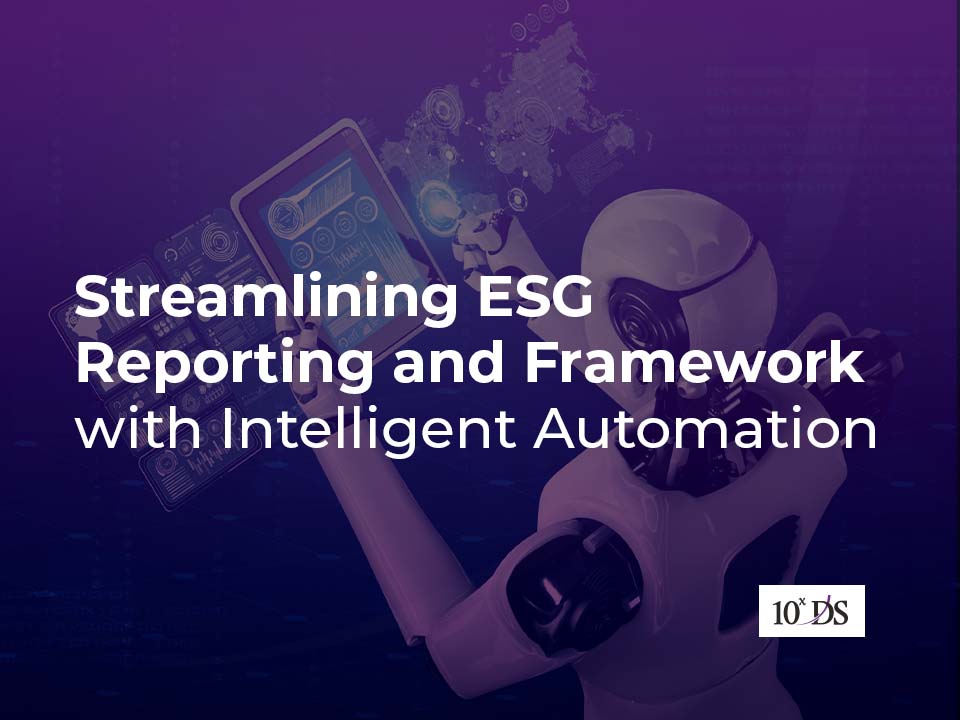 Streamlining ESG Reporting and Framework with Intelligent Automation
For most companies, the motivation behind embracing digital transformation is to streamline business processes, enhance efficiencies and ultimately gain better ROI. However, driving digital transformations in enterprises can create value in more than one way. Hyperautomation, intelligent automation, or RPA can enable accurate and streamlined Environmental, Social, and Governance (ESG) reporting. The disruption caused by the Covid-19 pandemic has led to global investors looking for business models that are sustainable and capable of withstanding potential market shocks. This also highlighted the need for proper ESG standards for enabling companies to provide their sustainability-related reports appropriately for their stakeholders.
What is the importance of ESG and ESG reporting?
ESG is not a Public Relations (PR) stunt to create a new trend. Today, enterprises worldwide have started to understand its importance.  Momentum is building as the general public and investors are more than ever keen on companies ensuring reporting standardized, granular, and validated data. The regulatory bodies such as the European Union, United States Securities and Exchange Commission, among others are intensifying ESG oversight.
With proper ESG reporting, companies can identify potential risks and provide the necessary information required for investors to consider sustainability-related issues while making investment decisions. Though the sustainability reporting practices have improved, there is significant change needed so that the stakeholders can get correct information. The problem also lies in the overdependence of an old system of filling in countless surveys and third-party data scraping. Enterprises should provide more real-time, standardized, and granular reporting to make a genuine difference. A better understanding of the UN Sustainable Development Goals (SDGs) can be a good starting place for organizations to completely quantify their sustainability impact.
Enterprises Creating ESG value
Enterprises can create greater ESG value through their performance in the Environmental, Social and Governance aspects. For instance, some of the environmental aspects include water use & conservation, sustainable natural resource/agriculture, pollution/toxins, use of clean technology, reducing carbon footprint and offsetting unavoidable emissions, among others. Some of the social aspects include workplace safety, human rights, workplace benefits, diversity and anti-bias, community development, avoidance of harmful products like tobacco, among others. The governance aspects include criteria such as board independence, anti-corruption policies, board diversity, executive compensation, among others. Companies disclose these data corroborating the ESG value they have created and the value they plan to create through their initiatives. According to Bloomberg Intelligence's (BI) ESG 2021 Midyear Outlook report, ESG assets are on track to exceed $50 trillion by 2025, given the steady rise in responsible investments.
However, even though the regulatory authorities are ramping up ESG oversight and several companies are disclosing data outlining their ESG value or performance, the existing reporting framework is not robust enough. Enterprises worldwide require a set of standardized ESG reporting guidelines and processes to clearly distinguish organizations that genuinely create good ESG value from those that make the most of the vagueness in the existing system.
Using Intelligent Automation to ensure ESG compliance
In ESG reporting there are several aspects to be tracked such as carbon emissions, supply chain activities and many other variables. To get accurate reports, it requires sourcing and analyzing a huge amount of data and such activities can be error-prone. But automation makes it easier.  According to a survey conducted by Enterprise Strategy Group, a research and strategy firm, in May 2020, mature enterprises drove digital transformation across processes by successfully implementing RPA initiatives more significantly.
Moreover, these organizations are not just merely automating tasks using several bots, they have progressed to the next level of digital transformation by leveraging the power of Hyperautomation or Intelligent Automation. This means they are using machine learning and AI-integrated RPA solutions.
With intelligent automation, organizations can gain better and more accurate insights. Since measuring ESG performance and value can be cumbersome using a traditional framework, an intelligent automation framework that helps provide accurate insights can prove to be very useful for organizations. Intelligent automation also allows companies to identify future risks and opportunities, which is a critical factor in ESG investments.
Streamlining ESG reporting using intelligent automation enables better communication, learning and governance of the aspects of ESG in an organization. Maximizing communication value in ESG reporting means that the engagement between investors, stakeholders and corporations is proper, clear, and streamlined. With proper communication, considering the discrete parameters or KPIs involved, intelligent automation ensures measured learning of future risks and opportunities in ESG. Finally, intelligent automation allows accurate digital documentation ensuring transparency, which promotes trust and agreement on ESG policies.
Intelligent Automaton use cases in ESG compliance
Intelligent automation can help reduce a significant part of the workload of the workforce to simplify ESG compliance. Here are some of the automation use cases in ESG compliance.
1. Banking and Finance
Banking and finance institutions have already started contributing significantly to the causes or aspects in the ESG, using intelligent automation. One of the best examples is digitizing loan documents and managing customer processes using automation, thus reducing the reliance on paper. Another one that created a huge impact on the pandemic situation is the automation of process requests for customer loan moratoriums.
2. ESG Reporting and Auditing
Intelligent automation can help companies track their performance against ESG KPI targets. Some of the targets include environmental targets such as carbon emissions and social ones such as workplace diversity. Automation helps simplify reporting on metrics for risk management, cybersecurity, employee behaviour, among others.
When it comes to auditing, the teams have several items on their to-do list. The added responsibility of including ESG compliance in their list may make the process more overwhelming for them. Intelligent automation can significantly help in the sampling, monitoring and assessment tasks that make for a successful ESG auditing program.  Since the process is not much different from how automation is generally used for data collection and monitoring, auditing teams can comfortably work with bots to streamline ESG auditing.
Conclusion
We will be seeing more and more enterprises across industries making ESG commitments and start reporting on sustainability-related data transparently. Organizations would also have to be intuitive in employing intelligent automation in their business and operating models to streamline ESG reporting. Intelligent automation can maximize the efficiency of the reporting process, eliminating all the time-consuming and laborious tasks. However, this is quite big and bold, and enterprises that are genuinely serious about meeting the ESG targets have a better chance of gaining the confidence of their investors, stakeholders, and customers. So, it's best to be ahead of the curve and be prepared for a world where ESG and sustainability policies become mandatory for all enterprises.
Talk to our experts to help you deploy intelligent automation solutions to streamline ESG reporting, ensure compliance, and be ready for the future!