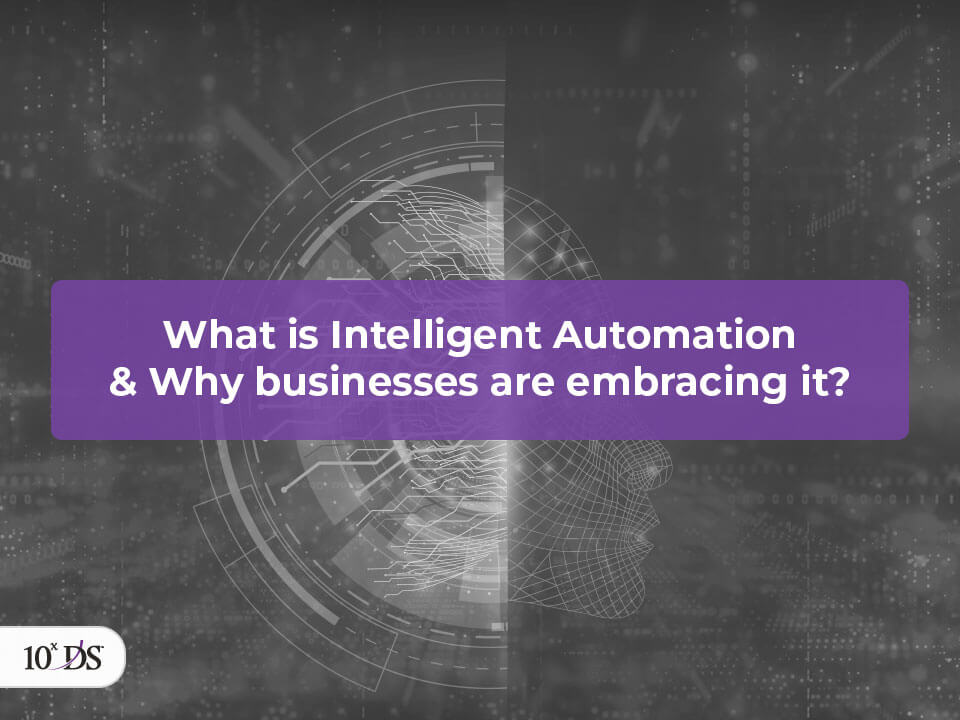 What is Intelligent Automation and Why businesses are embracing it?
Intelligent Automation (IA) or Intelligent Process Automation is a digital transformation solution which combines artificial intelligence and Robotic Process Automation (RPA). In other words, it is an advanced form of Robotic Process Automation (RPA). IA combines technologies like Structured Data Interaction (SDI), Robotic Process Automation (RPA), Machine Learning (ML), Natural Language Processing (NLP), Natural Language Generation (NLG), AI-Decision systems, Chatbots and Virtual agents.
Intelligent Automation has a significant potential to help businesses by increasing process efficiency, detecting frauds, reducing costs & risks, boosting productivity and improving customer experience.
Why businesses are embracing it?
The main application of intelligent automation is to improve customer and employee experience. With several complexities and business challenges in many industries these days, the scope for adoption of IA has increased even further.
1. Cost & Scarcity of Labor
Sectors like agriculture and manufacturing are facing a shortage of workers who are able to perform jobs that are physically demanding. With the increase in labor cost, markets around the world have started investing in Intelligent Automation systems for automating repetitive high-volume processes or workflows, that learns and adapts as they go.
2. Higher Competition, Slower Growth
In today's business world, competition is increasing, and growth is slowing down. Intelligent Automation helps industries in boosting productivity, increasing efficiency and effectiveness, differentiating products by incorporating new features and penetrating new markets.
3. Vast amount of data
These days Data and information are created at a hyper-accelerated rate and humans are finding it extremely difficult to keep up with the overwhelming amount of information. This is where emerging exponential technologies like Intelligent Automation comes very useful as lifesavers. IA assists knowledge workers to analyze, process and utilize massive amounts of data.
Read: 7 Areas where Intelligent Automation can Drive More Value in your Organization
Benefits of Intelligent Automation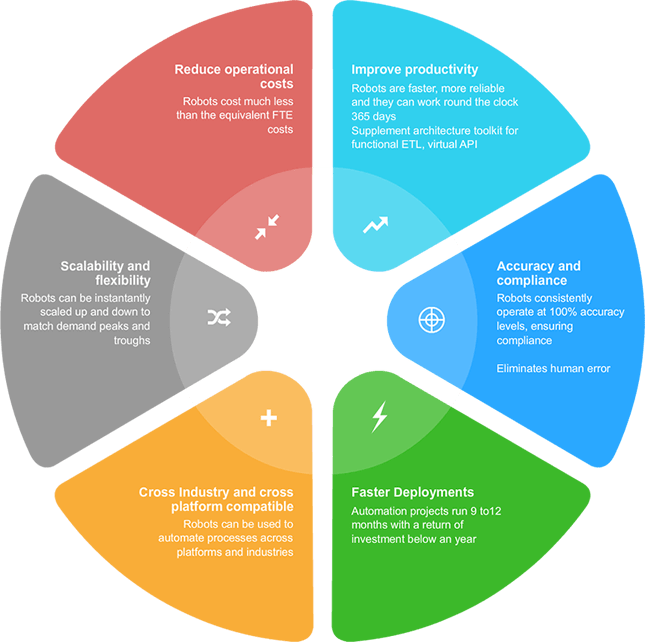 How is Intelligent Process Automation different from Robotic Process Automation?
| | |
| --- | --- |
| Robotic Process Automation (RPA) | Intelligent Automation (IA) |
| Robotic Process Automation technology is used for performing simple automation using software bots. | Intelligent Automation involves smart automation of business processes comprising of RPA, Machine Learning with prescriptive analytics and decision engines, Artificial Intelligence with deductive analytics and Natural Language processors. |
| RPA automates systematic, repetitive and rule-based tasks. | IA automates non-routine tasks which need a thoughtful consideration including judgments and conclusions. |
| RPA is able to automate any pre-defined business process by performing routine tasks by following instructions with more efficiency and less error rate. | IA is focused on delivering meaningful and intelligent outputs. |
Intelligent Automation brings greater cost reduction compared to RPA because it automates more efficiently and effectively than RPA by processing unstructured data, handling exceptions and learning continuously.
What the Future Holds
Just like the machines replacing humans in industries Intelligent Automation solutions have started replacing humans in every industry, freeing their time for more creative and innovative tasks. Areas including Marketing & Sales, Human Resources, Customer support, Finance, IT support, Business Process Management and Operations Excellence are using Intelligent Automation to drive more value.
In recent years these emerging technologies have gained substantial momentum. This, in turn, increased the number of technology firms and venture investors shifting their attention towards implementing intelligent automation solutions. Major automakers like Audi, BMW, Mercedes Benz, Volvo and Nissan are planning to introduce autonomous vehicles that use IA. IBM's Watson processes huge amounts of textual information in order to respond quickly towards complex requests for medical treatment plans.
IA is used in commercial processes like a marketing system which avails offers for customers based on their preferences, credit card processing system which helps in detecting fraudulent activities and so on. If companies, in any industry, start making better use of IA they can definitely transcend their competitors and become front runners in their niche.
8 Major Industries investing in Intelligent Automation
Major industries successfully investing in IA are:
Banking & Finance
Healthcare
Retail
Public Sector
Automotive
Defence
Energy
Manufacturing
Issues in adopting Intelligent Automation
While adopting IA, companies must carefully consider certain issues in order to take its full advantage:
Exploring how to use IA in improving efficiency and effectiveness of operations.
Selecting and integrating suitable digital transformation technologies.
Managing information needed for machine learning.
Developing a human capital capable of maintaining AI systems by selecting potential human resources and providing them with training.
Assessing and mitigating risk which may arise from improper technology implementation.
Conclusion
Amazing breakthrough technologies like RPA, AI and Intelligent Automations are enabling digital transformations around the world. In the coming years, it will become essential for most sectors to adopt intelligent automation solutions to drive greater organizational performance. IA incorporates technologies like Robotic Process Automation (RPA), Machine Learning (ML), Natural Language Processing (NLP), Natural Language Generation (NLG) and AI-Decision systems. IA solutions can significantly improve productivity, customer and employee experience, and save cost and time.
Want to gain further insights into our RPA and Intelligent Automation services? Talk to our Automation Experts!