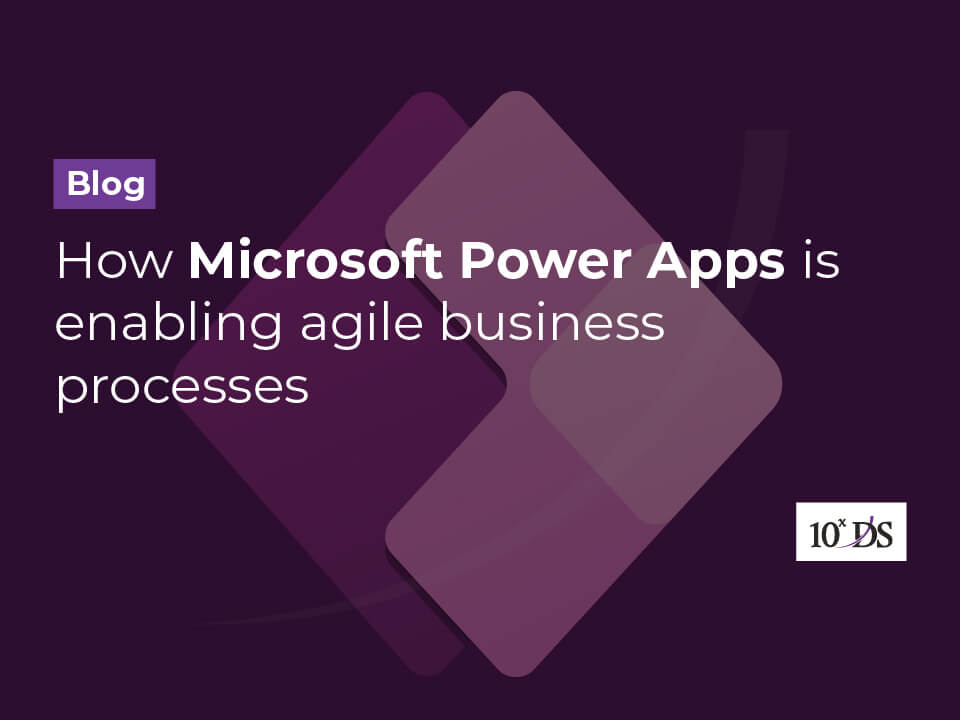 How Microsoft Power Apps is enabling agile business processes
Microsoft Power Platform surpassed 2 billion dollars in revenue over the past twelve months, up 72 percent year-over-year, making it one of the fastest-growing businesses, at scale according to Microsoft's fiscal third-quarter earnings. Microsoft Power Apps enjoys a 4.5 rating for Enterprise Low-code platforms and a 4.4 rating for Multi experience development platforms in Gartner's Peer review. The apps fare very well on customer experience and product capabilities. Even though the app needs to be evolved further, the app seems to compete with already established platforms like OutSystems, Appian, Quickbase, Salesforce and APEX. With low-code, organizations can focus on innovating while the rest is taken care of. Microsoft also seems to redefine the modern intranet using Teams, SharePoint and Power Platform. While the developer community is utilizing it to the fullest by discovering and starting to learn how to create apps, it is also enabling the "Total experience".
Power apps helps to Manage end-to-end customer-facing processes in Teams to ensure everyone has the right information to mitigate hand-offs—use embedded apps to collect and share data and discuss critical information with Teams chats and channels.​ It also helps to gather customer insights while collaborating in Teams during critical customer touch-points—whether processing a mortgage, building an insurance policy, or opening an account—and in sharing learnings in Teams so that everyone understands and follows the best practices.​ Organizations can start automating manual processes and data collection to solve their most pressing administrative problems that can add to the employee experience at scale. In this blog, let us have a look at some of the real-life industry-specific as well as corporate function use cases.
5 Real-World Power Apps Use Cases
1. Tender lifecycle management
Tenders are an inevitable part and a daily task of many sectors like Oil & Gas, Manufacturing and Construction. Right from indenting to tendering to online bidding and submission, the whole process of managing a tender is lengthy and needs careful attention. Power Platforms provide an option to transform many activities of the tender lifecycle. A Power Automate BOT logging into tendering portals, identifying tenders of interest, downloading, and notifying the Sales Engineer, updating the details in ERP, expressing interest etc. can be done touchless. Alerts and process summaries can be made available through the MS Teams interface for better collaboration. A dashboard using Power BI will provide details on open tender: Tender deadlines, bid value, among others. The solution reduces the risk of non-compliance, disqualification, or future penalties by improving the collaboration between internal stakeholders.
2. Compliance process with regulatory bodies
While exporting food products, drugs and medical equipment to the Kingdom of Saudi Arabia, companies need to get their products approved by the Saudi Food and Drug Authority (SFDA) as a regulatory measure. One of the important processes to meet the SFDA regulations is to generate pre-notification number from the SFDA site using the shipment invoice details before transporting the products to the KSA region. However, this process is repetitive, time-consuming and requires multiple full-time resources to complete it. There are higher risks of errors due to the manual copy-paste actions while submitting the requests in the SFDA site. Multiple Power Platforms components like Power Automate, Power BI and collaborative apps like MS teams are brought together to transform the process of updating shipment details on regulatory website to obtain approvals on time. The solution gives the ability to track the status of all the invoices processed, in real time and reduce the risk of non-compliance, data discrepancies and delayed shipments by improving the collaboration between internal stakeholders.
3. Registration for hospital appointments
Currently patients book hospital appointments, either via contacting the front desk staff or through any existing mobile app. Once the patient visits the hospital, he submits his insurance card at the front desk where his insurance eligibility and validity details are checked on the spot by the hospital staff. The staff also updates these details in the HIS system immediately. All these manual tasks increase the patient wait time at the hospital resulting in delayed consultations. It also makes it difficult for the front desk staff to manage the queues during peak hours. Depicted below is an illustration of how the transformed process works. The virtual healthcare solution reduces the risk of delayed appointment confirmations through seamless integration of mobile app, internal system and insurance portals. Also, hospitals can get meaningful insights into the patients visit patterns, symptoms and medical conditions can be easily drawn from the details captured via a Virtual Agent.

4. Financial statement reporting and dashboards
The financial statement reporting process involves downloading trial balances from multiple sources – clients accounting system and excel trial balance via email, extract data from trial balances and then insert the data into in-house database. After the initial extraction is done, the data need to be processed and various dashboards are created to visualize the financial statements. Power Automate, Power App web interface and Power BI components can transform this process to an efficient and seamless one.
5. General Tax Authority (GTA) Tax Reporting
As per the contract reporting mechanism, taxpayers are required to notify the Qatar tax authority regarding purchase and sale contracts, if certain threshold requirements are met. Companies must upload their purchase order details on their all-in-one tax filing and returns portal- Dhareeba. Currently, the process includes retrieving the purchase order details from the ERP system and uploading details of each PO in Dhareeba portal, one by one. The process is highly repetitive and time-consuming. There is also a risk of cost incurred due to non-compliance since contracts reported after 30 days from signing, are subjected to penalties. Power App and Power Automate-based solutions help to automate the process to avoid hefty penalties.
Conclusion
Any workflow that requires human intervention can be transformed using the Power Apps. We can develop easy-to-build and deploy solutions with less expertise needed in coding, thereby democratizing automation at a faster pace. Companies can also maximize ROI by leveraging their existing M365 License. With Power Apps, you get intuitive interfaces, enhanced automation capabilities and the ability to glean key insights to help processes become more agile and accurate.
Through our 10xDS Power Platform CoE (Centre of Excellence), 10xDS offers a wide range of services to clients worldwide, combining the unparalleled breadth of Microsoft services.  Talk to our experts to know more about Power Apps and jump on to the entire Power Platform bandwagon.