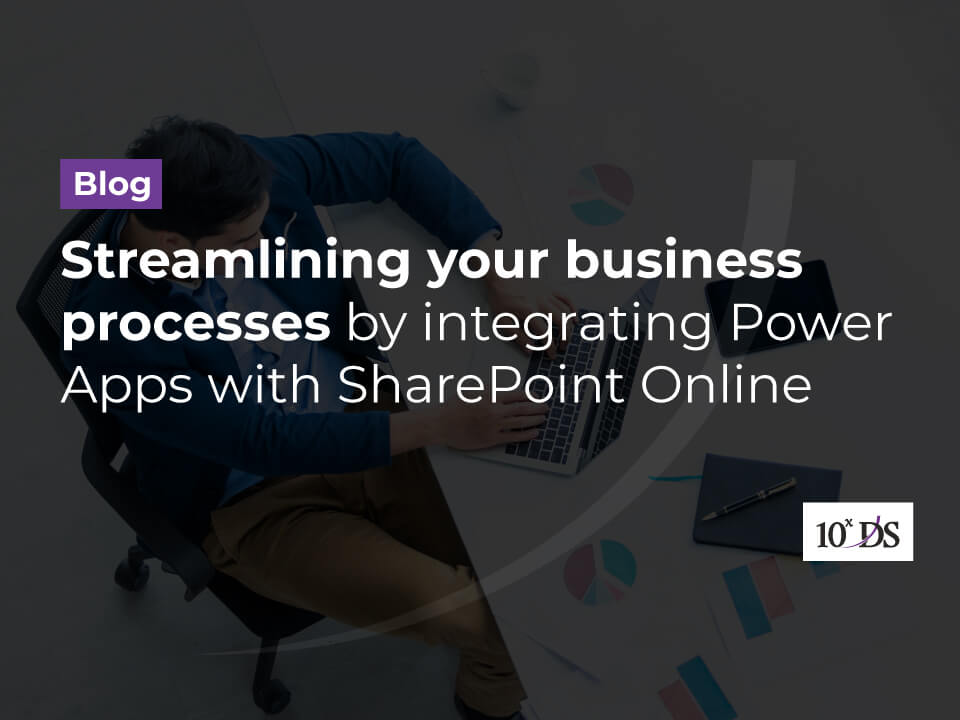 Streamlining your business processes by integrating Power Apps with SharePoint Online
For most entrepreneurs, the emergence of information technology was more than a blessing. With every passing year, technology keeps improving and expanding exponentially making business operations more efficient, accurate and closely recorded. Many organizations now utilize Microsoft platforms like SharePoint to share information and enable seamless collaboration among teams in different projects, departments, and divisions. The platform enables users to gain access to stored data, retrieve them whenever and from wherever they want, share them with employees within the organization, and more. Microsoft Power Apps can streamline your business processes even further.
What is Microsoft Power Apps?
Power Apps is an umbrella term used to refer to a series of useful applications. It is a suite that consists of a data platform, apps, connectors, and services. Entrepreneurs with limited or no technical knowledge at all can utilize this advanced ecosystem and all its features to design and build custom apps for their unique needs.
The best part is that the apps created can be connected to data stored in any place such as SQL Server, Dynamics 365, SharePoint, or Microsoft 365.
How do Microsoft Power Apps streamline business processes?
When you develop custom applications via Power Apps, it is quite possible to incorporate features that can enhance business logic and facilities, which can improve workflow. The integration of these capabilities could digitize and automate business operations that are otherwise done manually.
With the latest updates, Power Apps can now make highly responsive apps for businesses that are active across various operating systems and devices such as Windows, iOS, Android, mobile devices, laptops, and tablets.
Probably the greatest advantage of Power Apps is that it doesn't require a user to write code to develop apps. This would mean every business can have equal access and capability to build feature-rich and customized business apps.
That doesn't mean professional developers are left out and the platform has nothing to offer them. They can find in Power Apps a platform offering a wide range of applications where interaction with metadata, data, and external data can be made possible much better. It will also be a place where they can design and develop custom connectors or apply business logic to build powerful solutions.
Power Apps and SharePoint
Applications developed via Power Apps can be connected to SharePoint. Although Power Apps, a component of Microsoft Power Platform, is independent on its own, it comes as part of Office 365 suite. It also seamlessly integrates with Microsoft Dynamics 365, and a wide range of other essential third-party platforms.
As such, Power Apps is tightly integrated with SharePoint, and it can be easily connected to it for data storage and retrieval. This helps business processes become more organized and automated at the same time.
Benefits of integrating Power Apps with SharePoint
For the last few years, the number of business organizations that want to adopt modern cloud-based interactive platforms is on the rise. The pandemic has expedited such demand, when more than 50% of the companies had to operate online, allowing their employees to work from home.
Even after the intensity of COVID-19 diminished, the demand for such platforms kept rising. With an innovative platform like Power Apps, integration with SharePoint means that the businesses get to perform a multitude of functions within a convenient and hassle-free environment.
In an integrated environment of SharePoint and Power Apps, the following benefits are assured.
1. Power Apps Accessible Via SharePoint Mobile App
Users can simply download the SharePoint Android or iOS app and access Power Apps from the SharePoint App. This allows you to stay updated about your business activities on the go while traveling, without having to access the desktop version of Power App on your laptop or desktop.
2. Access to SharePoint libraries
SharePoint is featured with an advanced library that houses a huge source of data for Power Apps. After integration, Power Apps can have quick access to these libraries and leverage relevant data and use them while designing new customizable apps. Moreover, business owners and leadership can use this data appropriately to glean insights and make informed decisions.
3. Power BI integration
Through Power Apps, SharePoint can be integrated with Power BI too. This will enable you to visualize complex data and analytics. You can embed them to your dashboard and retrieve relevant data regarding any business operation quickly and more accurately.
How to set up SharePoint on Power Apps
To set up SharePoint on Power Apps, login to your Power Apps account via the Power Apps website or Office 385 account, open the app that you want to update, select "Data" option on the left-pane, Select "Add Data", then from the Connectors, choose "SharePoint". Follow the on-screen directions now to complete the setup. Once you have successfully set up the integration, you are ready to create custom apps for business needs.
Conclusion
As an innovative and highly useful solution that can effectively run across multiple platforms and devices, Power Apps offers several benefits for all types of users. What makes it more appealing to people is that even individuals with no programming skills can use it to develop custom apps. In the future, the number of features and the scale of its functionalities that Power Apps would unravel is likely to be huge. Integrating Power Apps with SharePoint offers your applications the power of state-of-the-art SharePoint features such as artificial intelligence-powered content, intelligent intranet, and search management among others. Moreover, the combined potential of both Power Apps and SharePoint can help enhance process efficiency, improve internal collaboration, and empower accurate decision-making and more.
How 10xDS can help?
10xDS Power Platform CoE (Centre of Excellence) combines the unparalleled breadth of Microsoft services and the strong intent of 10xDS to embrace and excel in the low code platform to deliver advanced enterprise solutions. Powered by MS Power Platform, our solutions can effectively solve your most pressing business problems using a single low-code platform.
Talk to our Power Apps experts now, to know more.