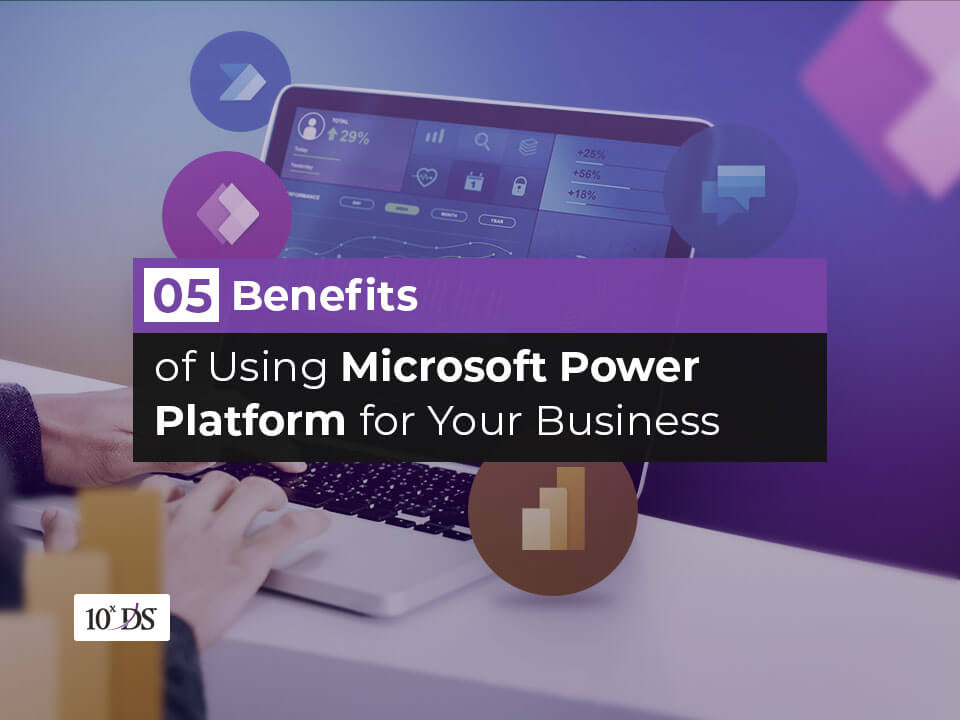 5 Benefits of Using Microsoft Power Platform for Your Business
Microsoft Power Platform is a suite of business applications and services that combines the power of Power BI, Power Apps, Power Automate, and Power Virtual Agents to help organizations transform their day-to-day business processes and operations. It allows you to analyze data, deliver personalization, develop better applications, respond to the generated insights, and automate various processes without needing any deep technical expertise.
The Core Components of Microsoft Power Platform
Each of the components included in the Microsoft Power Platform is built on the Common Data Service for Apps (CDS), making them dynamic when used alone and more capable when combined with other integrated solutions.
5 Fundamental Benefits of Microsoft Power Platform
You can see that all the four primary components in the application suite, Power BI, Power Apps, Power Automate, and Power Virtual Agents have different functionality for enterprise users. However, these applications can also be combined to work in a unified way and significantly improve your operations.
For instance, say that a business application is developed using Microsoft Power Apps for creating sales orders using their mobile devices. As the required information is stored in the CDS here, a Power Automate workflow can help to send an automatic email or alert to the manager to approve the sales order. Likewise, a Power BI dashboard can be set up for viewing the sales data, monitoring employee performance, tracking various metrics related to the sales, and more.
In essence, the Microsoft Power Platform can help to simplify the business processes and reduce the workload on your employees to a great extent. Below are some of the chief benefits of using the Power Platform.
1. It Allows You to Manage All Business Processes in a Single Platform
Managing enterprise data is critical for all organizations irrespective of the industry they belong to. Microsoft Power Platform provides an enterprise-grade platform to help you manage all kinds of information from a unified dashboard even when you are using multiple, disparate tools for generating data.
2. It is Designed for All Kinds of Users
The tools in the Microsoft Power Platform are created to simplify business operations. They are code-free to allow all kinds of users without any weighty technical proficiency in designing and developing business applications to solve their existing problems. On the other hand, IT professionals can employ the tools to create advanced business solutions.
3. It Reduces Your Dependency on Third-Party Tools
Microsoft Power Platform consolidates powerful analytics, design, development, and automation tools in one suit to help you make the most of your subscription. It eliminates the need for separate software licensing and maintenance, which further eases the stress from your IT staff while keeping the costs in control.
4. It Allows You to Work across Devices
Power BI, Power Apps, and Power Automate can be used individually or collectively on any desktop, tablet, or handheld device as per your needs. This allows you to connect with your remote team members and have them contribute to organizational data. You can also leverage native device capabilities like GPS and camera to your benefit when using the Microsoft Power Platform apps on them.
5. It Comes With Office 365 Integration
As you enable end-to-end capabilities with Microsoft Power Platform, the data collected can be managed using SharePoint, Excel, or any other Office 365 app depending upon your needs and preferences. This not only allows you to seamlessly manage enterprise data but also simplifies everyday business processes and tasks.
Conclusion
You can also connect Microsoft Power Platform with a wide range of third-party apps and data sources, such as Google Analytics and Twitter. This way, you can unlock the full potential of the application suite and extend, customize, and integrate the required services for the maximum benefit of your business.
Also Read: 5 Real-World Use Cases from 10xDS in Microsoft Power Platform