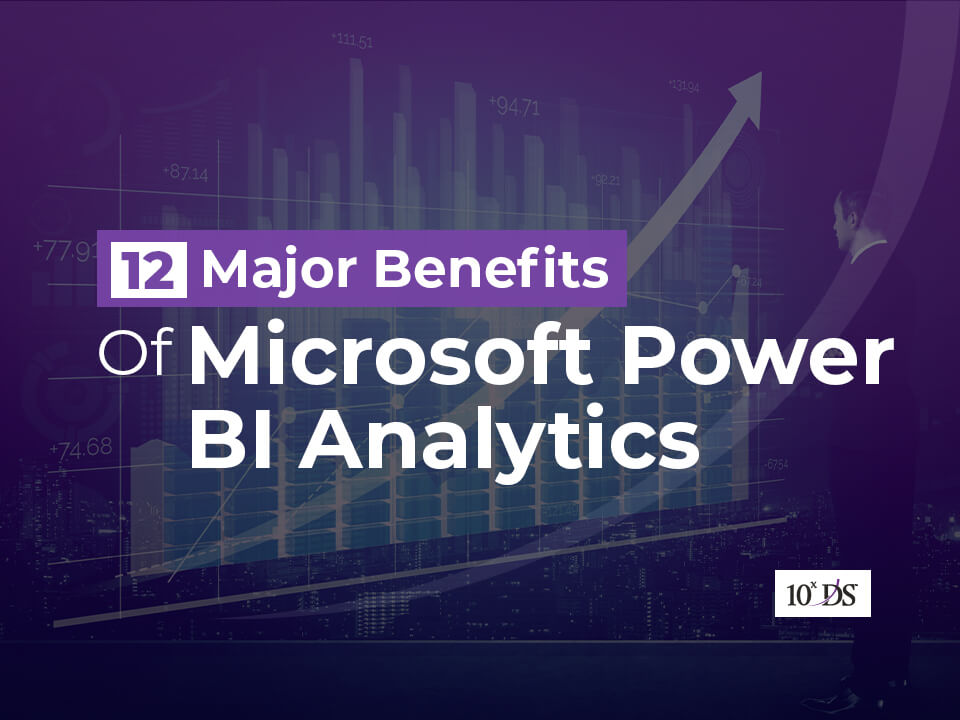 12 Major Benefits of Microsoft Power BI Analytics
Power BI can be defined as a business intelligence and data visualization tool primarily used for analyzing data from different data sources. The cloud-based business analytics solution, Power BI is incredibly user-friendly and very easy to use. You will be able to share the insights obtained through Power BI across the organization. Besides, the insights can also be rooted in the website or app of the organization.
Businesses that are using the cloud-based business analytics solution will be able to easily mash up data according to their business requirements. This is because Power BI is equipped with an excellent and powerful mashup engine. Power BI also comes with an In-Memory super fast engine, which will allow businesses to build star schema, add calculated or measured columns, and model the data.
Another fascinating aspect of the business analytics solution is it has several data visualization elements. These data visualization elements will make it possible for businesses to easily visualize data and even customize the data to tell a story.
Here are some of the benefits of Microsoft Power BI analytics you should know about.
1. Power BI Smoothly Integrates With Existing Applications
One of the best things about Power BI is that it can be easily integrated with the existing business environment of an organization. This will allow businesses to report capabilities and adopt analytics with ease.
2. Securely Publish Reports
The business analytics solution, Power BI comes with innovative and advanced tools that will allow businesses to securely publish reports and easily set up automatic data refresh. As a result, users will be easily and quickly able to avail the latest information.
3. Unique And Personalized Dashboards
Information dashboards are one of the highlighting features of Power BI. Users will be able to easily customize the information dashboards in Power BI to meet the exact requirements of their business. The ability to embed BI reports and dashboards in the apps will allow businesses to offer a fine and unified user experience.
4. There Aren't Any Speed Or Memory Constraints
The process of shifting the existing BI system of an organization to a cloud environment may seem like a complicated process. However, you will not have to worry about anything because the Power BI embedded will eliminate speed and memory constraints, which guarantees the data to be quickly retrieved and analyzed.
5. No Need For Specialized Tech Support
Another impressive aspect of Power BI is that it offers agile analysis and inquiry to businesses. There is no need for any kind of specialized tech support to get agile analysis and inquiry when you are using Power BI. Power BI also supports the use of intuitive graphic design tools and a powerful natural language interface.
6. Strikes A Balance Between Performance And Simplicity
The DAX scripting language and in-memory analysis technology of Power BI are both examples that show how the business analytics solution has managed to find a balance between simplicity and performance.
7. Power BI Offers Support To Advanced Data Services
Businesses who are using the Microsoft Power BI analytics tool will be able to easily integrate it to Cortana, Bot framework, and several other advanced cloud services.
8. Rapid And Accurate Business Intelligence Extraction
Power BI allows businesses to transform the enterprise data into beautiful and rich visuals, which in turn helps them to accurately extract business intelligence to make smart business decisions.
9. Easily Access Data
Power BI can be easily integrated with Microsoft techs like SQL databases and SharePoint documents. However, businesses will also be able to integrate Power BI with non-Microsoft solutions.
In fact, the business analytics solution can be connected to approximately 60 software solutions that are commonly used by businesses like Google Analytics, Salesforce, SAP, Hadoop, and Spark.
10. Can Be Easily Implemented
Implementing cloud-based business analytics solutions often calls for the need for highly skilled IT professionals or engineers. However, you don't have to worry about anything like that because Power BI can be easily implemented. In some cases, all you need to do is to create an API key and simply plug it into a software system.
11. Low Costs
As mentioned earlier, businesses that are using Power BI will be able to quickly and accurately analyze data. This will allow businesses to make smart and informed decisions on the underperforming and growing market. Apart from that, businesses that are conducting internal data analysis with Power BI will surely be able to save money.
12. Easily View Reports
Another interesting benefit of using Power BI is that you will be able to access and view the reports from multiple devices and platforms. You will be able to see native applications for Windows, Android, and iOS devices.
Conclusion
The innovative and advanced set of tools that are included with the cloud-based business analytics solution has the potential to offer actionable insights to businesses. The wide range of benefits offered by Power BI will help organizations considerably improve on business intelligence.
Talk to our experts to know more.