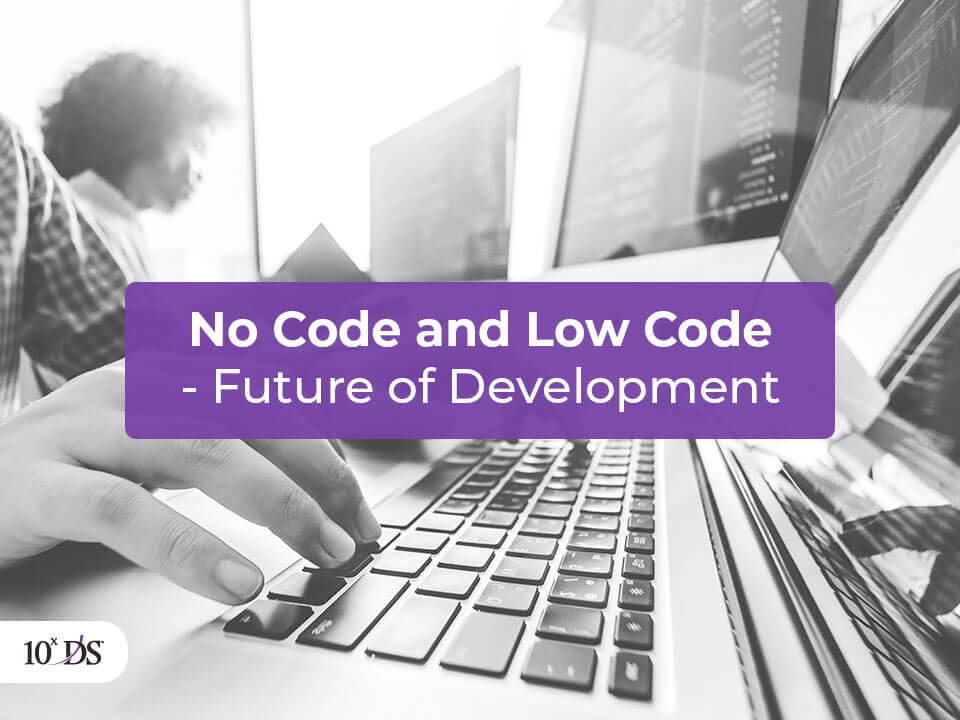 No Code and Low code – The Future of Application Development
Businesses are running at a faster pace and the practice of application development has also joined this race. We are seeing extensive adoption of the Low-code development platforms (LCDP) and the No-code development platforms (NCDP), and it is becoming a new norm in software development for IT firms.
While Low-code offers a simplified development environment, no-code platforms require no coding at all. There are few more major features differentiating between the two types. Here they are:
| | | |
| --- | --- | --- |
| Features | NCDP | LCDP |
| App Creator | Can be managed by any end-business user | Require professional developers who can work within the platform's constraints |
| Core Design | Tend to function off a model-driven, declarative approach where the end user dictates an app's design through drag and drop manipulation or simple expressions | Depend more on hard code to specify an application's core architecture |
| User Interface | Rely on a pre-set user interface layer which simplifies and streamlines an app's design | Provide greater flexibility in UI options at the cost of additional coding and complexity requirements. |
While Microsoft PowerApps, OutSystems and Appian are Low-code platforms, Amazon Honeycode, Airtable, Google AppSheet, Salesforce.com Lightning Platform, Webflow and Zapier are few no-code platforms.
Let us have a deeper look into some of these platforms.
1. Microsoft Power Apps – LCDP
Gartner Magic Quadrant placed Power Apps as a leader for Enterprise Low-Code Application Platforms in their 2019 report. The Forrester Wave also recognized Microsoft as a Leader in LCDP in their Q1 2019 report. Power Apps offer features like App Creation, App Running, App Sharing, Cloud-Based Services Integration, Workflow Automation, Collaboration Support, Environments & User Policies Settings, Custom APIs as well as Office 365 & Dynamics 365 Services Connection. Connectors like Common Data Service, Cloud storage, Excel, Microsoft Translator, Office 365 Outlook, Office 365 Users, Oracle, Power BI, SharePoint, SQL Server and Twitter makes it much more seamless.  Many solutions can be built with no prior coding knowledge. CSS writing is almost not required since PowerApps Studio offers enhanced convenience through drag and drop, change and modify features within the Studio environment, similar to the MS Office features. Apps can be easily shared among the same domain users (or organization), with sharing of data source and users can un-share anytime too.
Additionally, Power Apps portals provide a great way to allow both internal and external audiences to view and interact with data in the application and should be a consideration as a pillar in an organization's overall web strategy.
While it is supported in devices like iOS, Android, Desktop, and web, it can be adopted by Small, Medium Businesses and Enterprises.
2. Outsystems – LCDP
Gartner 2020 recognized Outsystems as a multi-experience Development Platform.  It offers a vast list of connectors that makes it much popular.  Major connectors are Facebook, Twitter, LinkedIn, SalesForce, ZenDesk, Jira, Paypal, Twillio, Quickbooks, UPS, Okta, Box, DropBox, Amazon EC2 and Google Drive. Its features help to build applications into production in much less time compared to other technologies, also ensuring good performance and safety. Here are some of the features:
Access Controls/Permissions
Code Refactoring
Collaboration Tools
Compatibility Testing
Data Modelling
Debugging
Deployment Management
Mobile Development
Web App Development
Reporting/Analytics
Source Control
The application is supported in devices like iOS, Android, Desktop, and web.
3. Amazon Honeycode – NCDP
AWS on June 24 announced the beta launch of Amazon Honeycode, a new, fully managed low-code/no-code development tool that aims to make it easy for anybody in a company to build their own applications. All of this, of course, is backed by a database in AWS and a web-based, drag-and-drop interface builder. With connector like Amazon Web Services (AWS), the major features offered are:
Prepare app data in tables (Looks like a spreadsheet, works like a database)
Create with app builder
Personalize for each team member (An app that helps your team track tasks)
Notify team members instantly (Automatically send emails and mobile notifications whenever key data changes)
Automate workflows
Web / Mobile App Development
It is accessible from anywhere, to update anytime through a browser or Honeycode's Android & iOS apps.
Conclusion
We are witnessing software disruption with low-code and no-code platforms gaining relevant entry as well as sustenance through improvisation and innovation. More and more companies are now embracing this massive transformation to enable instantly customizable business process applications.
Talk to our experts to identify areas that can be automated using no-code and low-code platforms and which is the best tool to adopt for your business scenario and IT environment.