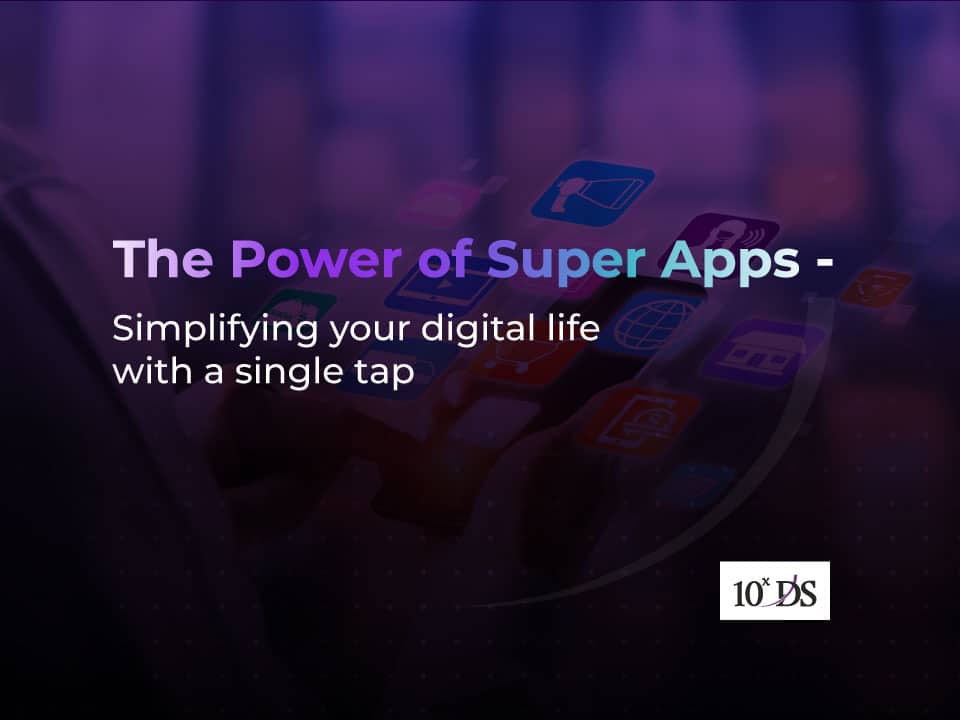 The Power of Super Apps – Simplifying Your Digital Life with a Single Tap
According to the Mobile App Download Statistics & Usage Statistics (2023) published by BuildFire, with over 6.3 billion smartphone users across the world, the mobile app industry is thriving. 88% of mobile time is spent on apps and the average smartphone owner uses 10 apps per day and 30 apps each month. Using a lot of apps on smartphones can lead to several problems, including limited storage space, battery drain, performance and speed issues. Security and Privacy concerns also come innate with each app. Malicious or poorly designed apps may have vulnerabilities that hackers can exploit to gain access to your personal data or compromise your device's security. Using multiple apps increases the number of permissions you grant, potentially compromising your privacy and personal information. Switching between different apps with varying user interfaces and navigation styles can lead to a fragmented user experience and also causes cognitive overload and reduced productivity.
While the statistics mentioned above are from 2023, the solution to this problem was suggested more than a decade ago by the Chinese tech company Tencent. They coined the term "super app" in the early 2010s, specifically in relation to their popular messaging app WeChat (known as Weixin in China). WeChat was one of the pioneers of the super app concept and played a significant role in popularizing it. Tencent recognized the potential of integrating various services into a single platform, and WeChat evolved from a simple messaging app to a multifunctional platform offering features such as messaging, social networking, mobile payments, ride-hailing, food delivery, online shopping, gaming, and more. WeChat's success and the concept of consolidating services within a single app led to the term "super app" being associated with this type of application.
Super apps are mobile applications that offer a wide range of services and functionalities within a single platform. Instead of using multiple apps for different purposes, super apps aim to consolidate various features and services into a single, comprehensive application. The concept was popularized by apps such as WeChat, Grab, Alipay, and Gojek. These apps started as messaging or payment platforms but quickly expanded to include an array of services like ride-hailing, food delivery, shopping, financial services, social networking, and more.
Some of the successful super apps are:
1. Gojek (Indonesia)
Gojek, initially a ride-hailing app in Indonesia, has evolved into a super app offering a wide range of services. It includes transportation services, food delivery, grocery delivery, payments, beauty services, on-demand services, and more. Gojek has a strong presence in Indonesia and has expanded to other Southeast Asian markets and Europe.
2. Alipay (China)
Alipay, operated by Ant Group, is a super app that provides various financial services and beyond. It started as a digital payment platform and expanded to include features like money transfers, bill payments, wealth management, investment services, insurance, food delivery, ride-hailing, hotel bookings, and more. Alipay has a massive user base in China.
3. Paytm (India)
Paytm is an Indian super app that began as a digital wallet and payment platform. It has grown to offer a wide range of services, including bill payments, mobile recharges, ticket bookings, money transfers, banking services, online shopping, and more. Paytm has become a popular choice for digital payments and financial services in India.
4. Uber (United States)
While Uber started primarily as a ride-hailing platform, it has transformed into a super app over time. Uber now offers services such as food delivery (Uber Eats), package and courier delivery (Uber Connect), bike and scooter rentals (Jump), and even financial services (Uber Money).
By offering a diverse array of services, super apps aim to enhance user convenience, streamline daily tasks, and create comprehensive digital ecosystems.
Key characteristics of super apps
1. Service Integration
Super apps integrate multiple services and functionalities, allowing users to perform various tasks without switching between different apps. For example, within a super app, users can order food, book a taxi, pay bills, and chat with friends all in one place.
2. Ecosystem Expansion
Super apps often partner with other businesses and service providers to expand their offerings. This allows users to access a wide range of services seamlessly, creating a comprehensive ecosystem within the app.
3. Payment Solutions
Super apps often incorporate digital payment systems to facilitate transactions within the platform. Users can make payments for goods and services, transfer money to friends, and even access financial services like loans and investments.
4. Third-Party Integration
Super apps may also provide APIs (Application Programming Interfaces) to allow third-party developers to integrate their services into the platform, further expanding the range of offerings available to users.
Super apps provide a multitude of benefits to users, combining convenience, efficiency, and seamless experiences. By consolidating numerous services and functionalities within a single platform, users can streamline their daily activities, such as messaging, social networking, shopping, food delivery, ride-hailing, and financial transactions. This integration saves valuable time and storage space on smartphones, enhances user convenience, and simplifies the overall user experience. Super apps also often offer additional advantages such as personalized recommendations, loyalty programs, secure digital payments, and access to a broader ecosystem of services and partners. Overall, super apps empower users by providing a comprehensive and efficient solution to meet their diverse needs in a unified and user-friendly environment.
The future of super apps is promising, driven by the increasing demand for seamless, integrated, and comprehensive digital experiences. As technology advances and user expectations evolve, super apps are likely to play an even more significant role in shaping the way we interact with digital services and access information in our daily lives.
Talk to our experts to know more.