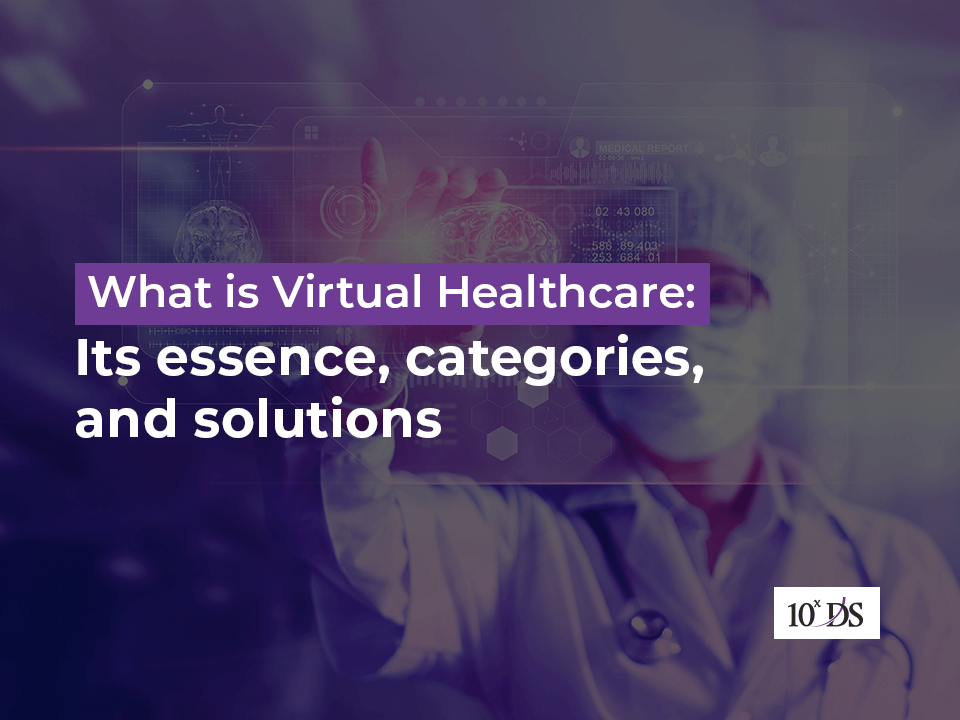 What is Virtual Healthcare: Its essence, categories, and solutions
Even before the global pandemic struck the world, virtual healthcare and virtual hospitals have started featuring in medical specialties. However, not until the COVID-19 pandemic hit the world, with several patients around the globe unable to get in-person visits, virtual healthcare and virtual hospital solutions started giving the world a much needed helping hand. Virtual healthcare offers patients, doctors, and health stakeholders the ability to share data, relevant content, and also perform online consultations and interactions. Virtual healthcare provides enhanced convenience, a better way to access care facilities virtually, improving healthcare provider-patient interactions.
Another major development is the virtual health-facilitated automation, robotics, AI, mobile applications, and the use of such emerging technologies to ease the burden on the clinicians by streamlining mundane administrative processes and routine tasks. This allows them to spend more time on their quality healthcare practice rather than spending their valuable time on administrative tasks. For instance, virtual assistants, chatbots or even specifical web or mobile applications can manage appointment scheduling, prescriptions, and even transcribing doctor's notes automatically into the electronic medical record so that they can spend their time on more important activities such as treating, engaging in face-to-face interactions with their patients. With the enhancement in mobile and web application developments, the entire consulting process can be performed online, especially during the pandemic and post-pandemic scenarios where people have started fully utilizing the remote or online convenience.
What is Virtual Healthcare: Its essence
Virtual Healthcare, as the name suggests, is any kind of medical or health consultation that happens remotely leveraging modern communication technologies and applications, instead of face-to-face consultations that happen in person. The three core aspects of Virtual Healthcare are virtual visits, Electronic Health Record (EHR) and digital apps. Virtual visits allow patients to book consultations with a doctor or healthcare provider online, to have secure, two-way digital communication instead of the patient physically going to a hospital, clinic, or doctor's office. These communications include live video chats, a phone call, emails, or instant messaging. An Electronic Health Record (EHR) is crucial to maintain health records online, showing the patient's interactions with the healthcare system. Modern-day digital apps offer patients the ability to securely access their personal health information online and better manage their health on their own.
Telehealth vs Virtual Healthcare
Many people confuse virtual healthcare with telehealth. Actually, telehealth is a component, a part of the virtual healthcare system, that provides the ability for the patients to connect with health care provider or vice versa, whether via telephone or video conferencing equipment or application, encompassing the tech that connects a provider with a patient. However, virtual healthcare includes the entire provision of care, not limited to telehealth. There are several types, categories and solutions designed and developed to service remote-based patients. Virtual healthcare also ensures real-time communication between an actual health care provider and patient, enabling better care, especially helping patients in the underserved or inaccessible areas or locations.
What are the different categories of Virtual Healthcare
Virtual health care includes three core areas or categories such as telehealth, digital therapeutics, and care navigation.
1. Telehealth
There are three major subcategories in telehealth including synchronous (telemedicine), asynchronous (store and forward) aspect and remote patient monitoring aspect. The synchronous category consists of live, two-way audio interactions between patients and providers, for instance, the video conference visits that allow doctor-patient interactions. Another type of synchronous communication or information exchange involves live two-way interaction between providers. For instance, there are video conferences between doctors or health care providers to review pharmacy prescriptions. The asynchronous sub-category of telehealth services includes provider-to-provider transmission of recorded health history. For instance, we can see such examples when sending a lab test, X-ray, MRI, to a specialist to request a clinical opinion on the patient's condition. Another variety of asynchronous type of telehealth service can be provider-to-patient transmission of patient information. For instance, a provider emailing/ texting a patient to check on them in post-visit follow-up, and the patient sharing photos of a condition, disease, disorder or injury for review and diagnosis.
Remote patient monitoring can involve the sharing or the transmission of collection of electronic personal health/ medical data for review by a remote provider.
2. Digital Therapeutics
Replacement therapies are evidence-based therapeutic interventions which make use of software, application, or technology to prevent, manage or treat a medical condition, instead of conventional treatments. For instance, some devices complement traditional treatment by educating patients on when and how much medication to take, or some type of sensory stimuli delivered through a tablet computer help insomnia or depression patients to get better.
Treatment optimization helps optimize medication, improving, or monitoring the value of pharmaceutical treatments. For instance, improving patient medication adherence, and monitoring side effects of medication, are some examples of how treatment optimization can help.
3. Care Navigation
Patient self-directed care involves the ability to access their own medical or personal health information. For instance, a website/ mobile app with secure, 24-hour access to personal health information can offer patient's the ability to undergo self-directed care.
E-triaging is another care navigation method where some tools or applications can provide support in searching for and scheduling appropriate care based on symptoms/conditions, also knowing the price and quality of providers.
10xDS Virtual Healthcare Solution
The pandemic forced several healthcare organizations to make a huge leap forward in their digital transformation roadmaps. The crisis also made us realize that virtual healthcare may even be the preferred option for many patients.
10xDS has come up with a solution that can enhance the practice of healthcare providers and provide a hassle-free virtual experience for their patients. There are three core modules including the hospital admin module that can help create, customise, and manage doctor schedules and appointment bookings seamlessly. The patient portal or module of the solution includes features that allow patients to register, book appointments, have easy access to their doctors, medical records, order lab tests and medicines. The doctor's portal or module helps the doctors to manage their schedule, check appointments, have an overview of all their patient's profiles and provide real-time diagnoses.
High-level features of 10xDS Virtual Healthcare solution
Booking Virtual Consultations
Manage Bookings Manage records
Online Prescriptions
Booking Lab tests
Virtual Pharmacy
Chatbot Assistant
Healthcare Dashboards
Conclusion
Virtual healthcare will play a huge role in the future of healthcare. Health care stakeholders will likely need to adopt new business models leveraging emerging technologies, applications, and solutions to set themselves up to get ahead of the curve and succeed. For patients and healthcare givers, the ability to identify diseases earlier, proactive interventions, remote caregiving, among others can help ensure patients have a better say and more active role in their health and wellbeing. A "virtual first" healthcare system can expand access to care, significantly transforming the healthcare system.
10xDS virtual healthcare solutions enable patients to enjoy greater convenience, healthcare givers are able to utilize enhanced flexibility in schedules and better access to patient information, and healthcare administrators can reduce medical expenses and boost operational efficiency.
Talk to our experts to know more!