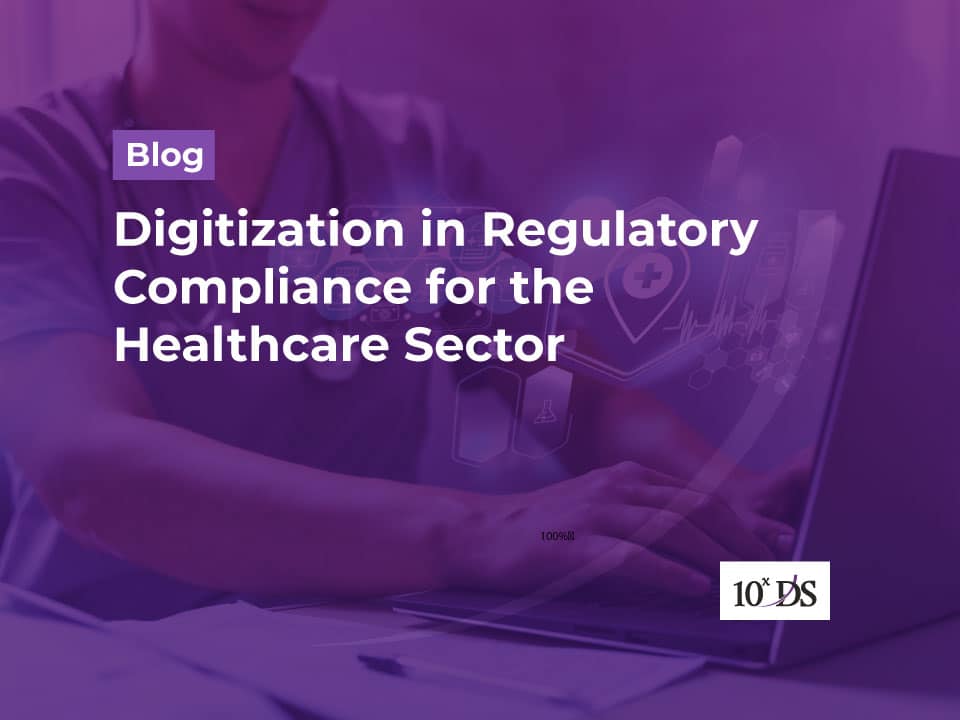 Digitization in Regulatory Compliance for the Healthcare Sector 
Healthcare organisations are subject to a wide range of regulations and standards, such as HIPAA, GDPR, FDA regulations, and many more. All healthcare organisations and providers are required to comply with these stringent and complicated laws to safeguard patient information, maintain excellent patient care, protect healthcare workers, and combat fraud. The organisations that fall under these regulators' purview have a responsibility to stay abreast of evolving regulations and maintain policies that comply with them. Businesses that do not comply risk financial penalties, public embarrassment, and even criminal charges.
In the past few years, advances in technology have changed how patients are cared for. IoT devices and internet video conferencing give patients access to real-time health data and medical experts from a distance. Nevertheless, all of these connections produce a tonne of data. A primary technology goal for several senior leaders in the health sector continues to be adhering to the laws governing the secure storage, access, and sharing of this data.
But keeping track of the ever-increasing number of organisations and people who fall under their regulatory purview and successfully ensuring compliance can be too much since it calls for close examination of a number of factors specific to each entity. This can be particularly challenging given that these regulators have a certain amount of personnel and financial resources.
Regulatory compliance for healthcare through technology
Businesses can use compliance automation technologies to speed up compliance-related tasks like risk assessments, control evaluations, testing, and the creation of corrective actions.Automation of compliance processes uses artificial intelligence (AI) to replace manual compliance procedures. The burgeoning field of digital technology known as "Regtech," or simply "Regtech," intends to simplify regulatory compliance and, eventually, even automatic.
AI-powered solutions, for example, can analyse data to identify trends or outliers in practise that could be indicators of a potential compliance issue. This makes it possible for medical professionals to identify potential issues and trends early on and take the necessary action.
Depending on the demands of the company, automation of AI-driven analytics across departmental silos can provide useful, comprehensive insights into compliance risk, from supply chain to operations to patient experience. In summary, these data can assist healthcare organisations with investment prioritisation, more effective planning, and quicker reaction to unexpected disruptions.
Benefits of automating healthcare regulatory compliance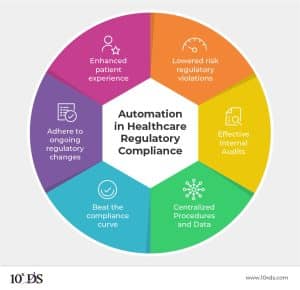 Challenges
The regulatory compliance that oversees healthcare businesses and personnel is complicated. It's critical to pinpoint the difficulties that pose a risk to upholding compliance. To secure patient data from cyberattacks, it is crucial to adopt modern security infrastructure and systems at all levels. Attacks will target the gaps in your security measures, eroding your organization's credibility over time. The cornerstone of every healthcare cybersecurity programme is risk assessment. Also, there should be both fundamental and sophisticated security measures in place, including network segmentation, vulnerability scanning, penetration testing, and multi-factor authentication. By doing this, you can make sure that there is defence in depth, meaning that if one security measure fails, another will take its place. It is also advisable to regularly train those responsible for safeguarding the security of your patient data on cybersecurity.
In relation to the aforementioned, compliance officers' attempts to create regulations that prioritise cybersecurity are also strongly related to telemedicine. Regulating telehealth continues to be a major concern for compliance officers, mostly due to the fact that it is new, as telemedicine approaches to patient care and services have rapidly increased these days.
Hiring and retaining talent is also critical, as their knowledge base will make it simpler to execute policies that satisfy the regulatory criteria in the healthcare industry. The regulatory compliance procedures could potentially be compromised by a lack of diligence. Annual risk assessments, ongoing reviews of external and internal business agreements, conflicts of interest, and any potential system weaknesses are all part of the due diligence process. But the effectiveness of this will always depend on how well the organisation can accurately evaluate, analyse, and change them.
Conclusion
As regulations continue to develop and evolve over time, it is anticipated that healthcare compliance will increase. These adjustments reflect the increased hazards and emerging technologies that healthcare organisations and practitioners must deal with. Even while automation can increase the accuracy and efficiency of regulatory compliance, it is still crucial for healthcare professionals to understand how to manage rules and use their knowledge and discretion to ensure that they are following the letter and the intent of the law. For successful compliance and the promotion of high-quality patient care, ongoing staff education and training will be essential. Although compliance requirements may become more onerous in the future, businesses will find some welcome relief from these requirements thanks to digitization.
If your organisation needs to ensure regulatory compliance, trade the anxiety for digitization at 10xDS.