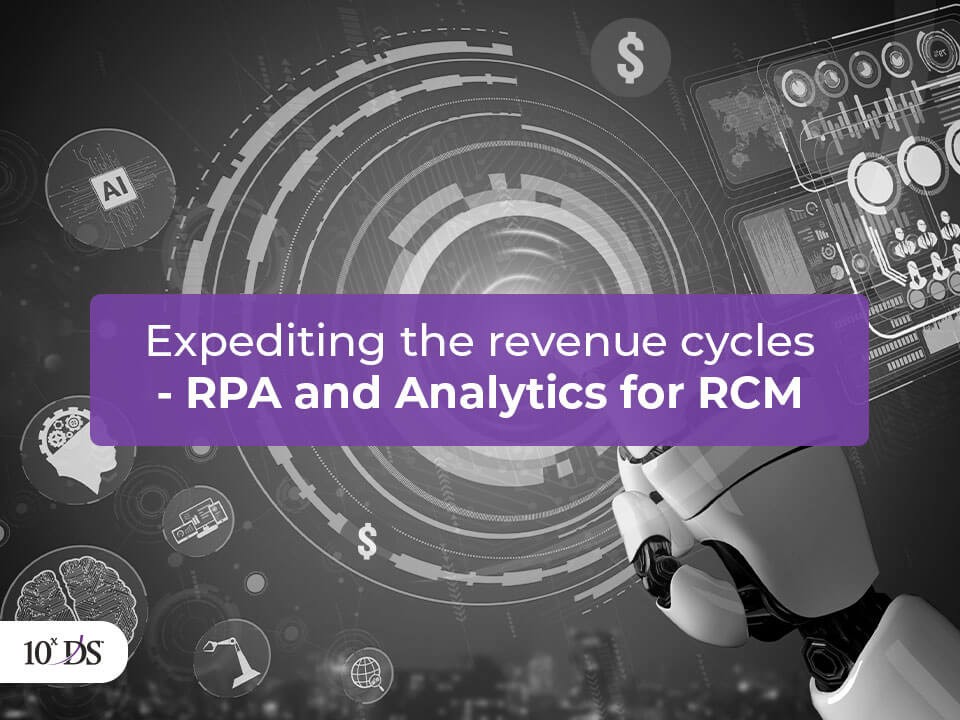 Expediting Revenue Cycles – RPA and Analytics for Revenue Cycle Management (RCM)
Health insurance coverage is growing, and a large number of patients have moved from out of pocket expenditure to health insurance cover from various insurance providers. With that, the struggle for hospitals increases with respect to charge lag, first pass from insurance providers, time to dispatch invoices and revenue realization. These challenges add up to problems faced in the Revenue Cycle Management (RCM) process in healthcare institutions. RCM refers to administrative and clinical functions that contribute to the capture, management, and collection of patient service revenue. It is a term that includes the entire life of a patient account from creation to payment.
Challenges in RCM
While hospitals employ administrative teams to manage the process, there are several bottlenecks faced such as:
Disparate systems
Voluminous data
Huge number of medical codes
Billing errors
Obstacles related to IT structure
Lack of appropriate financial policy
Failure to monitor the entire claims cycle
But these challenges can be overcome by leveraging emerging technologies like Robotic Process Automation (RPA) as it is a non-invasive technology that can automate repeated rule-based processes to achieve faster transaction processing and anomaly resolution. It can also aid for error-free and efficient coding. It reduces claim denials and enables faster turnaround time for claim to payment by eliminating manual errors in the payment processing.
Why RPA and Analytics is the future of RCM in Healthcare
The RPA heatmaps below highlight the processes having high automation potential. Further, it also lists the data analytics techniques, reveals trends, metrics and insights that would otherwise be lost in the mass of information like cash collected, rejection analysis, among others. The insights can then be used for data-driven decision making and to optimize processes to increase the overall efficiency of a business or system.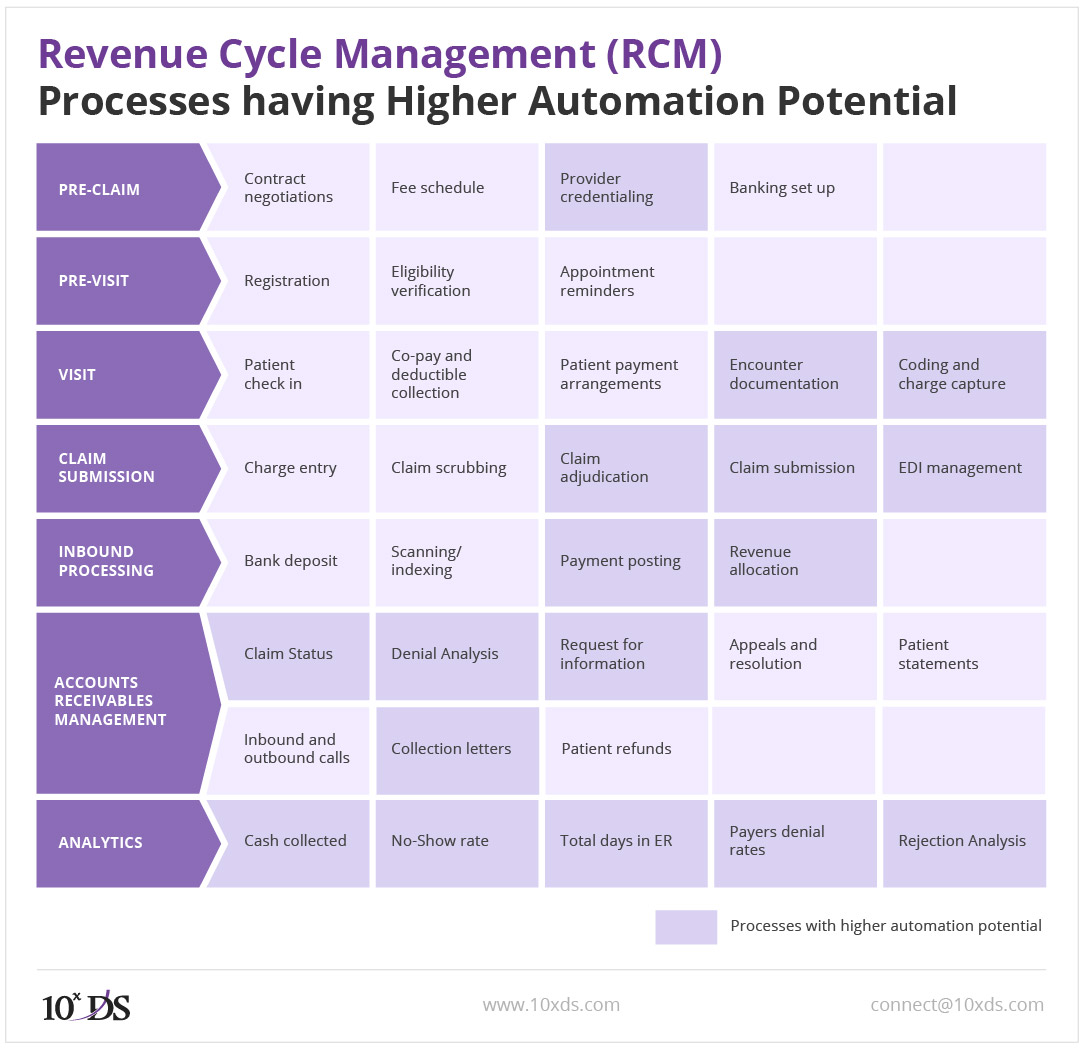 Let us discuss some use cases in detail.
Few Use Cases of RPA in Revenue Cycle Management
1. Validation of Benefits Process
An otherwise tedious process of validating benefits of each patient by extracting report from EHR, logging into each insurance providers portal, checking the benefits eligibility and preparing documents for further processing can be made seamless through RPA.  Here is how:
BOT downloads the report from the EHR and saves the report into a shared folder. BOT picks the file from the folder and proceeds to process the cases listed.
For each case, the BOT checks the name of the healthcare coverage provider to identify the workflow path to follow.
BOT logs into the insurance portal and gathers the following information: Eligibility-Effective and termination date, Plan type, Information of the subscriber if the patient is a dependent, and any preexisting condition / clause.
BOT checks if the provider is Primary Care Provider (PCP), If yes, BOT confirms PCP name as per insurance records to determine: Co-pay for office visit, Coinsurance for office visit, Deductible or Out of pocket.
If not a PCP but a specialist, then BOT determines for both the office visit and treatment the following: Copay, Coinsurance, Deductible, Out of pocket maximum, and Referral requirement for Office Visit.
Locate PCP and source to obtain authorizations for treatments.
BOT gathers all the benefits information based on client requirement and it will prepare one of the following: Spreadsheets , Screen shots / print added onto the EHR as notes, Standard verification form, BOT triggers mail to the team lead informing completion
2. Insurance approval/rejection status check process
Insurance approval or rejection status check is a manual process and with RPA, it can be transformed into a smooth one like below:
BOT accesses Hospital Information System (HIS) and extracts patients' information whose claims must be processed.
BOT segregates / differentiates patients based on the insurance provider.
BOT accesses the website of the insurance provider.
BOT keys in the required information in the website and submits the form for approval / rejection by the insurance provider
BOT maintains a log indicating cases submitted and awaiting response.
BOT accesses the website after a certain time to check the approval / rejection status of the form
BOT retrieves the claim status from insurance website and updates the respective patient's claim form section within the HIS
BOT creates a real time dashboard showing the necessary analytics with real time status
The daunting challenges faced by healthcare organizations in sourcing and integrating information from various internal and external sources such as clinical applications, lab systems, insurance portals, and many other disparate systems can transform using advanced technologies like RPA and analytics.
Advanced Analytics use case in Revenue Cycle Management
In the analytics front, 10xDS worked with the Healthcare Group to demonstrate the capabilities of Advanced Analytics to derive actionable insights. They assessed the needs by understanding the current process and data availability to develop an analytics solution catering to the specific requirements and helped by:
Cleansing, enriching, and processing data using tailored data processing steps
Generating insights and trends by feeding the cleansed data into an analytics platform
Developing an exploratory analysis to view the revenue cycles from various perspectives
Creating models to forecast the revenue after the exploratory analysis
The solution helped to derive insights and trends to help decision making and gain greater visibility into the revenue cycles and helped forecast the revenue with enhanced accuracy. The solution also helped to provide insights on some of the key KPI such as the charge lag, first pass ratio, time to dispatch, pareto analysis by payer, redispatch ratio, procedure / clinic contribution ratio, physician revenue and revenue projections.
Conclusion
Creating a positive margin and strategically moving from volume to value is a major win every Health institution is aiming for and by adopting advanced technologies, they are looking to gain competitive advantage, to get ahead of the curve and lead from the front. Investing in exponential technologies also helps in reducing costs, increasing access, and improving care.
Talk to our experts to jump on the automation journey to streamline your RCM process.