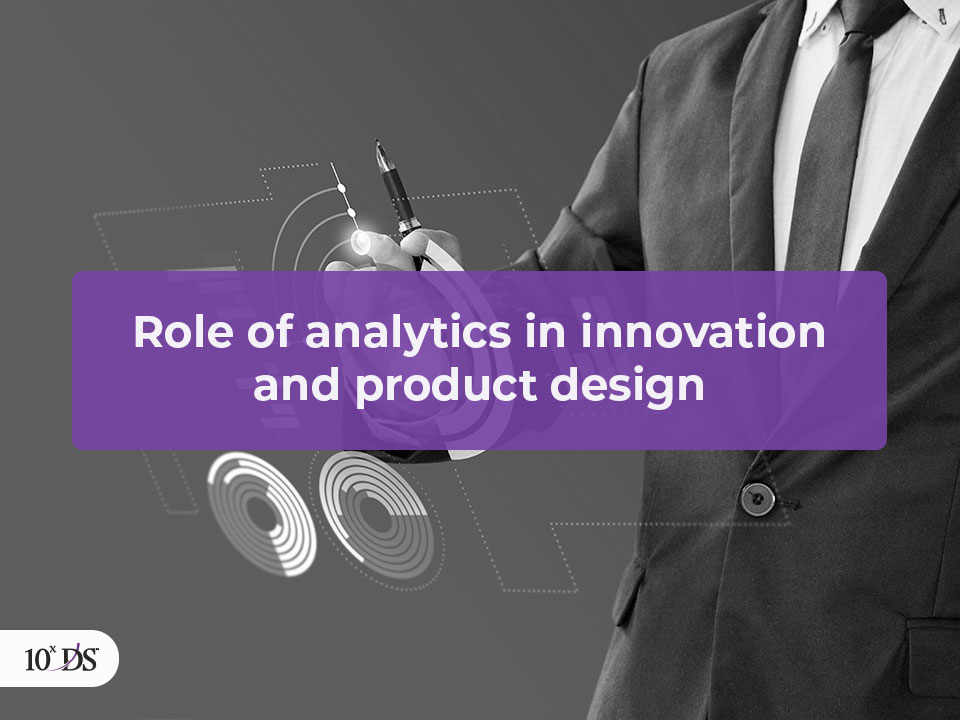 Role of analytics in innovation and product design
Product Management leverages analytics for product improvement and the insights gained helps product teams to measure and understand how well the products were meeting user expectations. To unlock the true power of data analytics and design, companies should have a great understanding of how product design, development and data can be brought together to connect different ideas and approaches to innovate.
With the recent advances in AI and advanced analytics, data as a business input is helping the decision-makers in several areas of product development and how a truly great product can satisfy customer needs. When it comes to design thinking, world's biggest brands use it to focus on the customer needs and product innovations.  Data and design when brought together can unleash the ability to conceive and develop customer-centric products, solve complex business problems and significantly improve performance.
Why is the blend of data analytics and design thinking important for product development?
One of the primary reasons why the blend helps is in understanding the vital human centred design process. Data helps in addressing user needs and with design thinking we think from the customer's perspective and create better business benefits. This helps in creating better products.
Design thinking and analytics use cases
One of the best examples is the framework developed by IBM called IBM Design Thinking, specifically for product innovation and development. The concept here is to have the customer at centre of innovation for solving problems and creating innovative solutions. The best part of this approach is that the customer is involved, becoming a vital part of the product innovation and development process. This way the key data of customer experience is tracked from conceptualization phase till the product release. Another famous example of the application of design thinking is of Apple using customer centricity to focus on connecting people with each other. This is an innovative approach to product conception and development where the customer has a huge say in the design and the data is used to improve the product and the self-confidence of the customer by developing a unique stylish device that extends them.
One of the leading American multinational consumer goods corporation faced significant challenges struggling with its premium skincare brand in the 1990s mainly because the brand was being perceived as old-fashioned and not relevant to the target market. They needed to revolutionize their thought process and bringing in new ideas for innovations become the market leader in this segment. They brought in a blend of Design Thinking and product analytics to launch a new brand, buying an already established skincare leader and Re-invent their existing brand. For this purpose, they leveraged user research, the initial step of design thinking, helping them to get data inputs to infer some useful insights. The brand was actually well known in the market and had considerable potential. However, the existing customers, being price-sensitive and minimally invested in skincare they had to look for alternatives. So, they used the insights to focus on 'non-customers' to innovate and reinvent the brand. They focussed on the unexplored non-customers who are distant from the other market segments. The value propositions provided by the reinvented product is not being satisfied by any competitor. So, keeping the same brand name and reinventing the brand through innovation really helped the company.
Let's have a look at some of the key areas where analytics help product development:
1. Product viability
One of the key areas where analytics can be handy is to assess the product viability. Managers can verify product concepts and the developers can test, learn, adjust and retest to speed up the product design and launch process using analytics.
2. Decision making on product development
Data Analytics plays a key role in making the decision-making on the product development more seamless, objective, reliable, and much faster. This can help in better decision making, augmenting experience and expertise playing a valuable role in product development.
3. Measuring Development Progress
Product analytics can be leveraged by product team members to understand how the features are working and whether there are issues. While creating a product roadmap analytics has a critical role to play as the team can create a more accurate roadmap telling where the product is in the development stage, and where you want it to be and finally what all things can be done to achieve it.
4. Customer Experience Insights
One of the most powerful factors that makes product analytics so useful is its use in understanding why customers are buying the product, what all factors contribute to choosing the product and how they are using it. These key insights help a lot in improving the product considering the feedback and responses from the customer.
5. Unlocking the power of Product Analytics
Product analytics and design thinking can significantly improve product development and the chances of success. The past data of the attributes such as customer product engagement level, sales information, and other key indicators and metrics contributing to the success of the product can significantly help product development. There are many organizations investing in analytics, blending with design thinking capabilities to gain breakthroughs and product successes. It's time for organizations to think ahead and leverage the untapped potential of data analytics to analyse the past, derive actionable insights, forecast the future, and make right and timely decisions on product management.
How 10xDS can help?
10xDS is driving digital transformation by leveraging our expertise in data and analytics technologies and deep sector experience to enable organizations make effective strategic decisions.  Our strong portfolio of data and analytics services includes Information Management, Big Data, Business Intelligence and Advanced Analytics solutions for assisted and semi-automated decision making.
Want to gain further insights into 10xDS Analytics solutions and Analytics practice? Talk to our Analytics Experts!