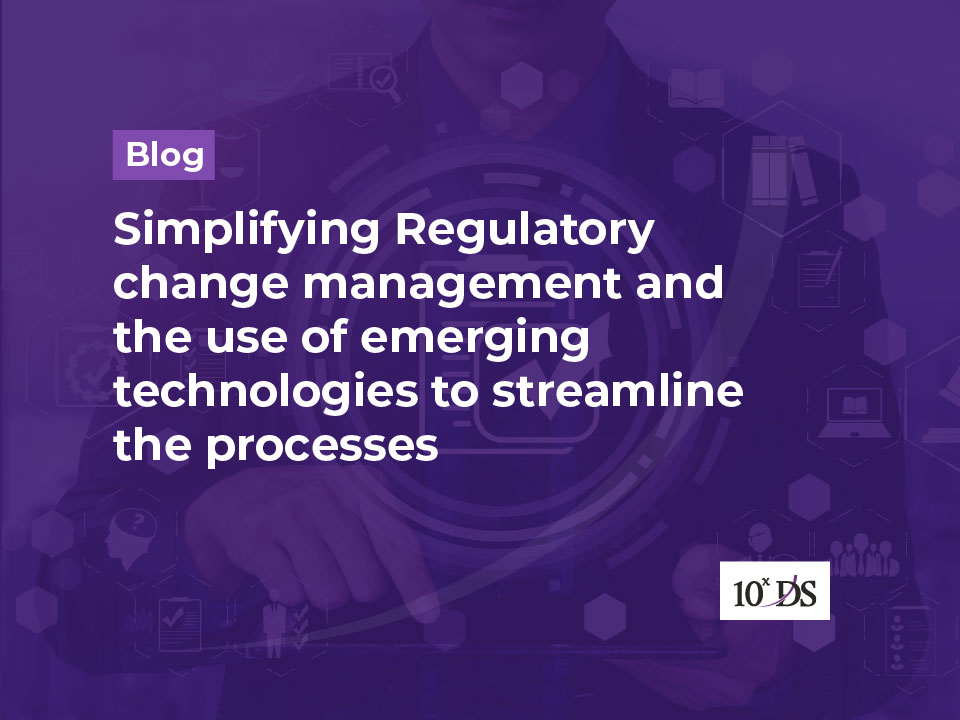 Simplifying Regulatory Change Management and the use of Emerging Technologies to streamline the processes
Adherence to a systematic change management approach to apply the influx of new rules on the production floor is essential in light of the ever-evolving landscape of compliance in regulated sectors and the ongoing corresponding upgrades that occur. All compliance items and related rules must be recorded using a standardised procedure. New rules, revisions to existing regulations, and the elimination of obsolete regulations all add complexity to the process of staying compliant. The compliance department needs a system to follow in order to keep up with the plethora of regulatory changes that occur in any given industry.
The application of AI and ML to enable technology is progressing thanks to established initiatives to alter relevant regulations. For better efficiencies and information correlations between new external data (including emerging risks), existing internal data, risk and compliance programmes and associated business metadata, and regulatory obligations, businesses should aim for specific use cases within the risk and compliance framework.
An organisation can either (a) manually update its compliance management system or (b) employ an automated solution. The manual procedure is time-consuming and requires a compliance team to monitor the compliance landscape for any shifts and manually incorporate such shifts into the compliance system. The automated system, on the other hand, provides a more time- and labour-saving way to adapt to new circumstances as they arise. Companies of all sizes can benefit from automation, but small and medium-sized businesses that lack dedicated compliance teams or the manpower to handle increased responsibilities can reap the greatest rewards.
In order to accomplish change management in the compliance process, let's examine the stages of compliance change management process and the accompanying process improvements.
1. Application of NLP, Semantic Analysis, and others to Extract Meaning from Text
Monitoring the flow of new, updated, and retired compliance items from a sector's primary regulators is essential for performing automatic compliance updates. Natural language processing (NLP), semantic analysis (SA), and data extraction algorithms (DA) based on pattern recognition are used to make sense of the numerous documents, web pages, and news feeds that include updates and changes. Most compliance papers are delivered in PDF or Word format without logical or repeatable organisation patterns, such as specified naming of sections, precise repetitive wording for rules, etc., making automation difficult. That's why sophisticated linguistic abilities are required of the automation system: they need to mimic the workflow of a human operator.
If compliance updates are provided in the form of an image or scan, optical character recognition (OCR) may be required before the data can be processed using natural language processing (NLP). Automation of these procedures has significant benefits since it allows the compliance team to focus on monitoring rather than trying to keep up with the potentially high amount of revised compliance items entering their business.
2. Revising Regulations When They Have Been Added to the Compliance System
When new compliance items are added to the system, they are reviewed by various departments, such as legal, subject matter experts, executives, etc., to make sure that all essential steps have been taken before they are released to the production floor.
Given the scope and complexity of this undertaking, a systematic approach to project management is essential. To make sure everything gets done on time and that the right people are managing the different parts of the project, its better to use a shared calendar that everyone involved can view. Timely job completion and implementation are guaranteed by both a well-organized plan and an established escalation mechanism.
3. Policy and procedure manuals should include sections on compliance
Once all of the necessary paperwork for making compliance changes has been signed off on, the changes may be issued and put into effect on the manufacturing floor. Production workers are then provided with updated policy and procedure manuals reflecting the changes or additions/deletions, guaranteeing that they will follow the most recent compliance regulations.
4. Compliance Checks in Motion
The audit team updates its checklists and processes at the same time as production implements the compliant production process. This allows for proper quality control of the proposed modifications. In addition, the quality assurance function is revised to guarantee the efficiency of the quality control procedure, and the quality assurance group's suggested changes to the production side and audit procedures are put into practice.
5. Examining the Potential Dangers of the Latest Required Change
Risk management teams initiate risk analysis and mitigation as compliance production and audit teams collaborate on new compliance's implementation. The compliance item findings from the quality control audits and quality assurance tests provide risk management teams with a wealth of information from which to draw conclusions about whether or not the organization's risk exposure has been reduced as a result of the new level of compliance.
The risk team then gives each new compliance item a score based on how well it reduces risks. In the end, it generates a comprehensive report that highlights potential danger spots and suggests countermeasures. The production audit makes suggestions for improving compliance with suggested actions. The report has to provide specifics on the kind and type of risk, as well as the importance of that risk.
To realise a unified approach to managing compliance-related changes, it is necessary to integrate with a centralised risk compliance and audit system. With this structure, all parties involved in risk, compliance, and audit may work together to reduce the organization's exposure to risk and ensure that it remains in compliance. Both a workflow engine and a project management module should be included in the system. Regardless of the size of the business, it is unsustainable to run the compliance, audit, and risk department with a focus on merely adding more employees without also considering well-coordinated change management and process automation.
Regulatory operations that use Automation see a productivity boost of 40-50%.
Important rules exist across all sectors, and as businesses want to increase their level of automation, many have realised that regulatory compliance is a prime area to focus on. From a business's point of view, compliance is all about following the rules set out by authorities in order to guarantee the safety of sensitive information and to protect the personal details of both workers and consumers. The procedures involved in upholding these regulations are often consistent, rule-based, dependent on structured inputs, labour-intensive, and repetitive. This is a utopian situation for any business aiming to realise RPA at scale. Those that have adopted RPA are claiming positive outcomes, including:
With the capacity to rapidly deploy bots based on demand, the availability of jobs shifts substantially. Robots can do tasks at a cost savings of 20-35% compared to human workers, and they greatly limit the possibility of human error by adhering strictly to predetermined protocols.
However, when businesses pursue RPA, hyperautomation or Intelligent Automation, they frequently put more emphasis on the technology's benefits than on the tasks they intend to automate or the potential dangers that may arise as a result. It's crucial to take a step back and figure out how to successfully monitor and manage your bots when you're working in a regulated business, but that doesn't mean you should stop innovating.
The following four variables should be taken into account prior to deploying hyperautomation, Intelligent Automation (IA) or RPA:
Do not wait to include IT – Because automation solutions like RPA doesn't need a deep understanding of technology, it's typically pushed by the business side. However, in order to get the most out of hyperautomation, IA or RPA, it needs to be implemented company-wide, and in that case, IT needs to be involved from the start. Having solid IT general controls is crucial for firms that are pursuing RPA implementation. The dangers of illegal access to the bots, excessive access to the bots themselves, data loss, or data integrity concerns must be mitigated by the implementation of suitable security, change management, and IT operational controls.
The Importance of Internal Auditing Prior to implementing a bot: It is important to involve internal audit or other internal control teams in the process design and discovery phases to assist uncover surface risks and to ensure that suitable governance and controls are developed.
Justify, justify, justify – All your bots' design and development processes should be well documented. The needs, system access, designs, and actions of a bot should be well-documented and versioned, then kept in a single location where team members can easily retrieve them when needed. This is crucial, as auditors will need to know if the bot's behaviour is consistent with that of a human, with the exceptions that inevitably arise.
Make sure the results are correct – Protection of data while processing is essential. You can't just "set it and forget it" since it does things well the first time. By keeping an eye on logs and raising alerts for unusual processing activity or problems, those responsible for compliance should ensure that automated operations run smoothly and reliably.
Conclusion
A dynamic and adaptive framework for managing change may be achieved through the integration of IT enablement, subject matter professional resources, and a regulated process to facilitate the real-time, continuous identification and evaluation of global regulatory responsibilities. Key goals are to provide a proactively managed process that traces regulatory requirements (and other change triggers) all the way to the most suitable company operating model, process, and related risk and control frameworks and elements. End-to-end global compliance management consists of a coordinated and synergistic regulatory ecosystem that links a company's source data ingestion, regulatory obligations listing, compliance testing, automated reporting, and integration to meet local and global regulatory expectations and support strategic business objectives. Implementing cutting-edge new technologies like hyperautomation, intelligent automation, machine learning, artificial intelligence, advanced analytics, and others is the only way to maintain command, remain ahead of the curve, and effectively handle all the essential regulatory requirements.
Talk to our Experts to kickstart your Digital Transformation journey, with hyperautomation, AI, Analytics, and any other emerging technologies to streamline your regulatory change management processes.