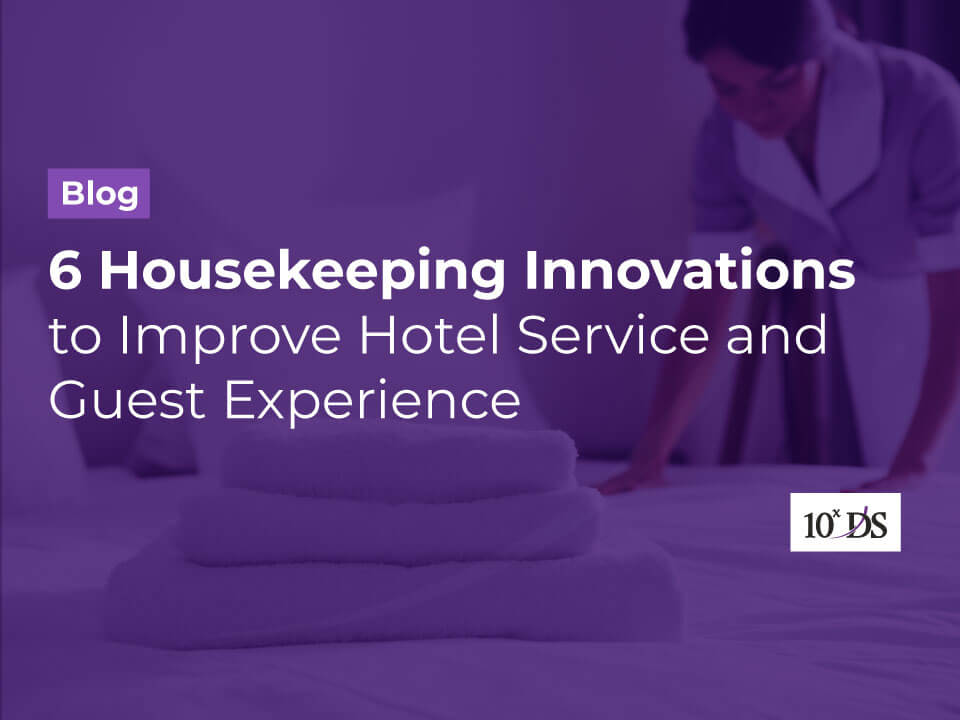 Six Housekeeping Innovations to Improve Hotel Service and Guest Experience
People would choose your hotel again and again only if you provide them with good services. If your services are not up to the mark, chances are that your guests will write negative reviews about it on your Google business pages or other reviewing sites, which will directly impact the number of visitors coming to your hotel.
One of the most important things a visitor expects from you when they choose your service is a good night's sleep in the suite. This is easier said than done. Before the guest is allowed to enter the room, you must make sure that it is properly serviced, but that's not just it.
Let us discuss some of the advanced housekeeping innovations to equip your housekeeping team and drive digital transformation in your hospitality business. Incorporating them efficiently will enable your team to render excellent hotel service and it will improve the overall guest experience. This will in turn benefit your business in the long run.
1. Automated Housekeeping and Maintenance System
In a large property with more than 100 rooms available, keeping a proper schedule for housekeeping and maintenance is not easy. The best solution to address this challenge is to digitalize the process.
Get an effective housekeeping and maintenance solution for your property and configure it by including all your rooms and other areas that require regular maintenance and housekeeping. The system would allow the staff to create a ticket for housekeeping and maintenance of each suite at the right time and close the ticket when the work is done. There are many other ways in which the ticketing system in Microsoft teams can help automate the ticketing process
2. Cleaning Schedule Automation
Again, when there are numerous rooms to clean, it becomes a hectic task for the managers to assign the task to each employee. Moreover, it is also important to identify which room is currently not occupied and keep those rooms ready for the next occupancy.
With the incorporation of a cleaning schedule automation tool or software, housekeeping managers can easily assign cleaning tasks to staff.
3. Integration Of Smart Room and Door Lock System
Most guests do not appreciate cleaning being carried out when they are inside. With a smart room and door lock system, the guests can set the room to DND (Do Not Disturb) mode. This would help housekeepers know if the guests are inside the room currently and wish to be left undisturbed.
Also, it would be best to do the cleaning when they are out. If you have installed a smart room and door lock system for the rooms, the occupants can alert the housekeepers for any service when they require it.
4. Automated Check-In and Check-Out
Hotels can upgrade to an AI-integrated system for check-in and check-outs. When a guest checks in, it gets updated in the housekeeping system and thus housekeepers can be alerted of the service delivery.
Similarly, when the guest checks out, the housekeepers can be alerted instantly, and they can do the maintenance works right away and make the room ready to be occupied for the next guests.
5. Adoption Of Digital Checklists
When it comes to housekeeping, there are many routine tasks to be performed without fail. What if the housekeeper forgets one? The guests will complain and will eventually damage the reputation of your business. Well, with a digital checklist, it is possible to ensure that all key housekeeping tasks are carried out on time.
It will alert the concerned housekeeping in-charge about tasks that need immediate attention. A digital checklist will not only help in the execution of housekeeping chores but also contribute to the quality and efficiency of the staff.
Making your staff get familiar with it should be part of the staff training. Another merit of it is that it will help the management to keep a good track of the quality patterns and maintain a record of quality analytics.
6. The Communication Channel Between Housekeepers
In a large hotel, there are multiple housekeeping tasks, and each task is assigned to different employees. For instance, the duty of housekeeper A could be to maintain the room while housekeeper B could be assigned with doing the laundry.
It is important to ensure that there is proper and timely communication between both of them. For this, the management can introduce an automated daily communication channel or integrated application for the same. This would enable the housekeepers to report the details to the right in charge on time.
Microsoft Teams can be a useful application offering an extensive and easy-to-handle ecosystem for communication among the team members and the management. The application offers several video and audio-conferencing options and a wide range of features like messaging and location sharing.
Microsoft Services
Microsoft offers cloud-based services, especially Microsoft 365 and Office 365 offering many convenient features to users, anywhere and anytime. For instance, you can effectively escape from the headache of installing, updating, and maintaining the software on-premises. Since its cloud-based, the applications are easy to use from anywhere and anytime.
Final Thoughts
Automating the housekeeping workflows benefits the management, the housekeeping staff, and the guests. As far as the staff is concerned, it will provide them with a clear path to walk, making them more systematic in their work approach. They will know what to do, when to do and how to be prepared for that. In the long run, the adoption of automated housekeeping systems will result in or contribute to reduced cost, increased guest satisfaction, and improvement in efficiency. To make things work better for you and your staff, it is essential to train them before implementing automation.
Aiming to become a growth-oriented enterprise in the hospitality industry? Talk to our experts to help you automate your processes, enhance efficiency, and enable innovations leveraging our wide range of automation services.