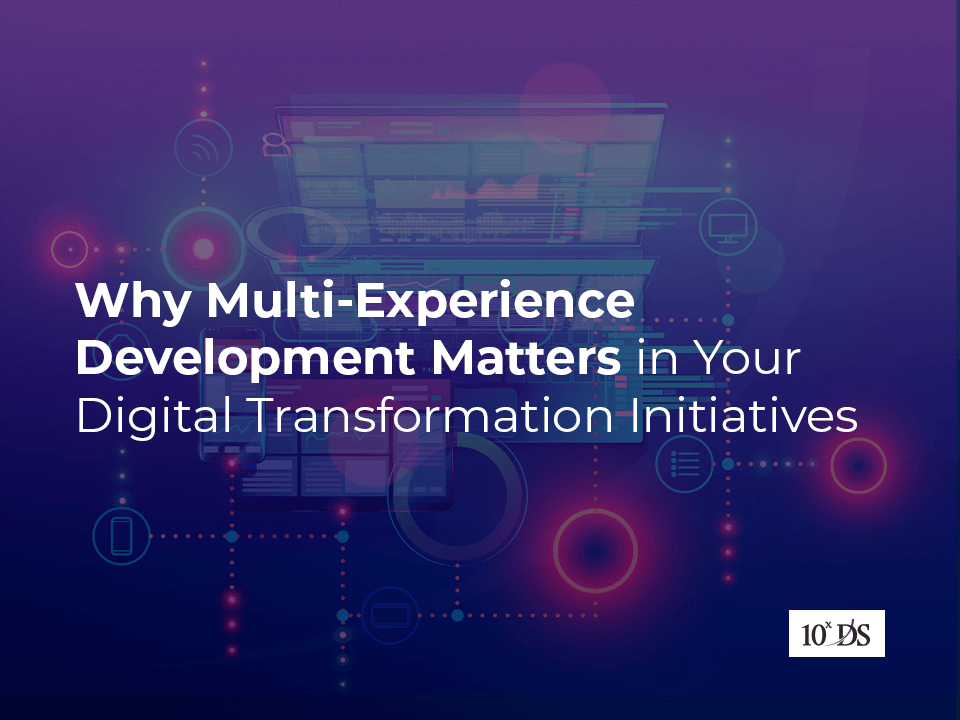 Why Multi-Experience Development Matters in Your Digital Transformation Initiatives
There is no denying that technological revolution is happening at an unprecedented scope and scale today. This has in turn reduced the lifespan of several technological trends. Until the year 2019, most of us were discussing the need to go Omnichannel. However, that's not the case anymore.
The adoption of innovative and advanced technologies like Mixed Reality (MR), Virtual Reality (VR), Artificial Reality (AR), chatbots, wearables, and more has resulted in the evolution of Multiexperience. However, the most important thing businesses and individuals need to understand is that multiexperience is different from omnichannel.
Omnichannel is focused on tapping the touchpoints of users across multiple channels. On the other hand, multiexperience consists of developing fine, fluent, and engaging customer experiences across apps, websites, and modalities of text, touch, and voice, irrespective of the channel.
Why Multiexperience is Important
Gartner recently predicted that over 25 percent of mobile applications, conversational apps, and progressive web apps at large-scale businesses will be run or/and built with the help of multiexperience platforms. The upcoming multiexperience wave will have a profound impact on B2C businesses.
In recent years, we were able to witness that business strategies have become increasingly people-centric while technology has started to become people-friendly. As a result, the multiexperience wave will replace technology-literate individuals with people-literate technology.
At the moment, multiexperience is focused mainly around immense experiences, which makes use of VR, AR, sensing technologies, and multichannel human-machine interface. However, multiexperience is all set to transform itself into an ambient experience in the future.
This means that businesses should start evaluating their value proposition. In addition to that, they must consider exploring development options, that are beyond web development and mobile apps. This will enable businesses to align with industry and user demands.
The emergence of multiexperience development will make it possible for businesses to go beyond traditional methods of connecting with their customers. They will even be able to develop AR, wearable, chat, and voice experiences for customers for supporting their digital business.
Why Businesses Should Consider Adopting Multiexperience
1. Better Operational Efficiency
One of the major reasons why businesses should adopt multiexperience is that it will help companies to carry several internal operations inside just a single space. This will enable businesses to easily streamline different business processes, as each process will be present in one system. Multiexperience also allows organizations to create valuable, faster, and efficient digital experiences. 10xDS has developed chatbots and solutions leveraging conversational AI platforms to automate engagements, enable quick responses that feel authentically human, in core business processes. We have enabled companies to enhance operational efficiencies by delivering multiexperience for customers across a diverse spectrum of industries for multiple services such as customer care, booking, information services, legal advice and more.
2. Reduce the time to market applications
Another advantage of enabling multiexperience is that brands will be able to considerably improve their development time, by nearly 10 times. The credit for this goes to streamlined digital processes and reusable code. Businesses will also be able to shorten feedback cycles by using multiexperience. This will help them when it comes to honing and creating their digital experiences.
3. Eliminates Security Risks
Businesses that are enabling multiexperience will be able to get a detailed or comprehensive view of their software system landscape with all apps feeding to one single platform. As a result, it will help businesses to eliminate Shadow IT and other potential security risks.
4. Enable Controlled Deployment
Most business owners and analysts will be well aware that it might take a week or more for organizing a single cloud-based deployment. However, businesses with the right multi-experience development platforms (MXDPs) or MXDPs will be able to send information directly to their cloud service provider like Amazon Web Services. In addition to that, MXDPs will offer a full-distributed environment, which will in turn offer better efficiency. This is achieved by streamlining the process of deployment.
Everything you should know about Multi-experience Development Platform
 One of the biggest barriers when it comes to creating an MXDP is aligning business experience and IT. Do you know that approximately 45 percent of people have admitted that the major challenge for project completion is the lack of skills on the developer's side to create a fine multi-experience.
As per the Gartner study, AWS cloud solutions and other types of cloud-hosted AI service are going to be the most commonly used technology for supporting MXDP, which will be followed by android development and back-end mobile services.
Conclusion
MXDP has the potential to build integrated software solutions, which can run across various devices for addressing the digital journey of users. The multi-experience platform is capable of fulfilling the increase in devices, apps, and other modes of interaction.
It is crucial for organizations and enterprises of all size to extend product and service experiences to their customers. The application market is rumored to accelerate technologies such as Progressive Web Applications and immersive and conversational applications. Therefore, adopting MXDP is something that all types of businesses should consider.
Talk to our experts and identify opportunities for Multi-Experience Development in your digital transformation initiatives.