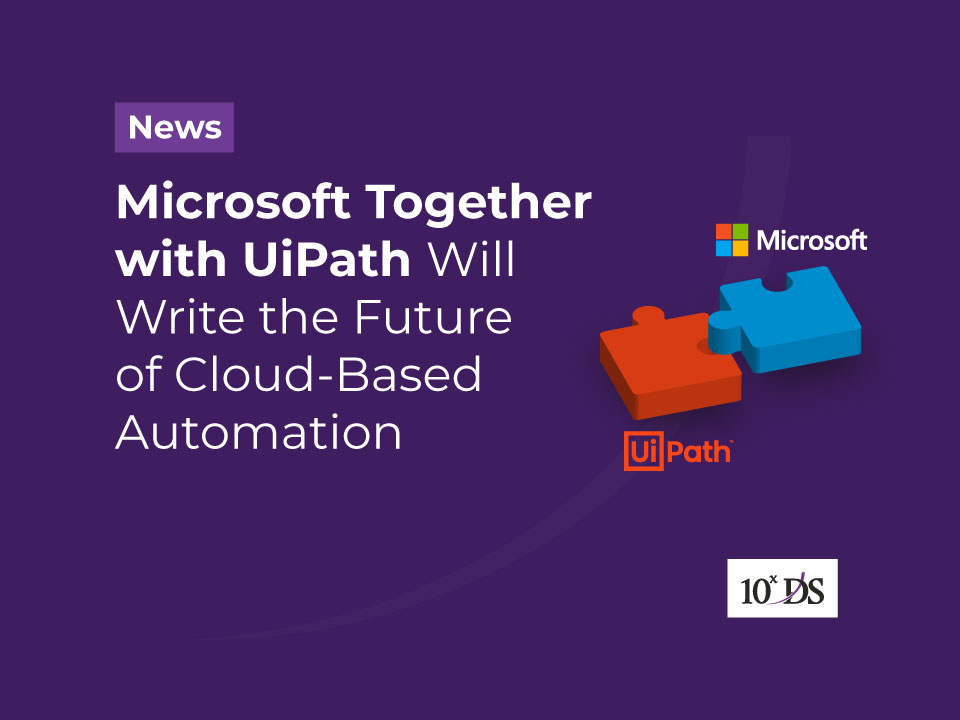 Microsoft Together with UiPath Will Write the Future Of Cloud-Based Automation 
UiPath has already established its name as a global software company for designing and developing software that supports robotic processes. The Romanian-based company has now decided to partner with the tech giant Microsoft. The strategic partnership, which is going to be one of the rarest of its kind, will unfold a series of integrative solutions across the cloud services offered by Microsoft.
As per the reports, the services from the integrated services will be made available to their joint customers. The report about the integrated services was officially delivered by UiPath at a recently held conference named 'Forward 5 Global User Conference.' Both tech companies, Microsoft and UiPath, aim to avail their respective customers of state-of-the-art integration and automation services.
UiPath's Mission and Vision
UiPath stands to deliver automation at its best. The company believes that an enterprise or a company will achieve its full potential when it reaches the stage of unlocking all its automation capabilities. To reach this level, companies need to have access to a comprehensive and easily executable automation platform.
UiPath offers this through its RPA aka Robotic Process Automation. RPA for its share consists of every capability that an organization would require when it needs to enhance its digital business operation.
Microsoft Azure – the best cloud platform for UiPath
According to reports, UiPath is likely to give more emphasis on bringing about collaborative solutions via Microsoft Azure. It considers Microsoft Azure as its dearest platform for cloud integrations. Reciprocatively, Microsoft also gives UiPath a special status of an enterprise automation partner.
Enhanced productivity scope for customers
The integration is expected to enhance the scope of productivity for users of both services, Microsoft and UiPath. With the integration, users of Microsoft Office will be able to have access to the automation capabilities offered by UiPath without leaving their native interface.
Moreover, if any customer wants to have unlimited access to the services offered by UiPath, they can purchase them from within Microsoft Azure Marketplace. On a further level, users can also avail of private offers to either purchase or integrate UiPath services. It is also reported that UiPath's integration with Microsoft Power Platform will be rolled out by 2023.
Microsoft's Cloud + AI Group's Executive Vice President Scott Guthrie is expected to give more details about the integration, development, and execution of the automation processes via UiPath at the Forward 5 User Conference.
Meanwhile, Daniel Dines, Co-CEO and Co-Founder of UiPath noted that the work in the future was going to be determined by automation. He added that the nature of business functioning was increasingly becoming influenced by automation.
The current trend of automation taking control of the business will continue to grow in the future. UiPath was going to play a significant role in that transformation.
The most noteworthy point in the context of collaboration between Microsoft and UiPath was the prospect of automation and how it was expected to unfold in the future. Tomorrow's automation will largely stem from the cloud. This is where the integration with Microsoft Azure becomes a major turning point for UiPath.
80 Plus Superclass Integrations
It is not the first time that the news about Microsoft and UiPath integration excites the techies in the virtual world. The duo has already come out with about 80 plus superb integrations. The integrations that are available to the public now include those with Microsoft Teams, Dynamics 365, Power Platform, Office 365, Azure AI Solutions, SQL Azure, and Azure Data. Through the latest partnership that has been announced, Microsoft is expecting to increase the market share for the integrated offerings.
As of now, UiPath has an established, growing, scalable, and wide UI platform. It equips a wide range of people involved in automation projects to make use of its services, ranging from RPA developers to testers. This can help improve the quality and quantity of their business outcome.
What are the prospects of the integration?
The integration hopes to bring about several changes to the existing way their presently integrated services and platform function. For instance, many of the commercial cloud services offered by Microsoft will have their respective integrated versions with UiPath.
Similarly, most of the UiPath services and products will have their entry into Azure Marketplace. The joint market will open new horizons for specific solutions, products, and activities.