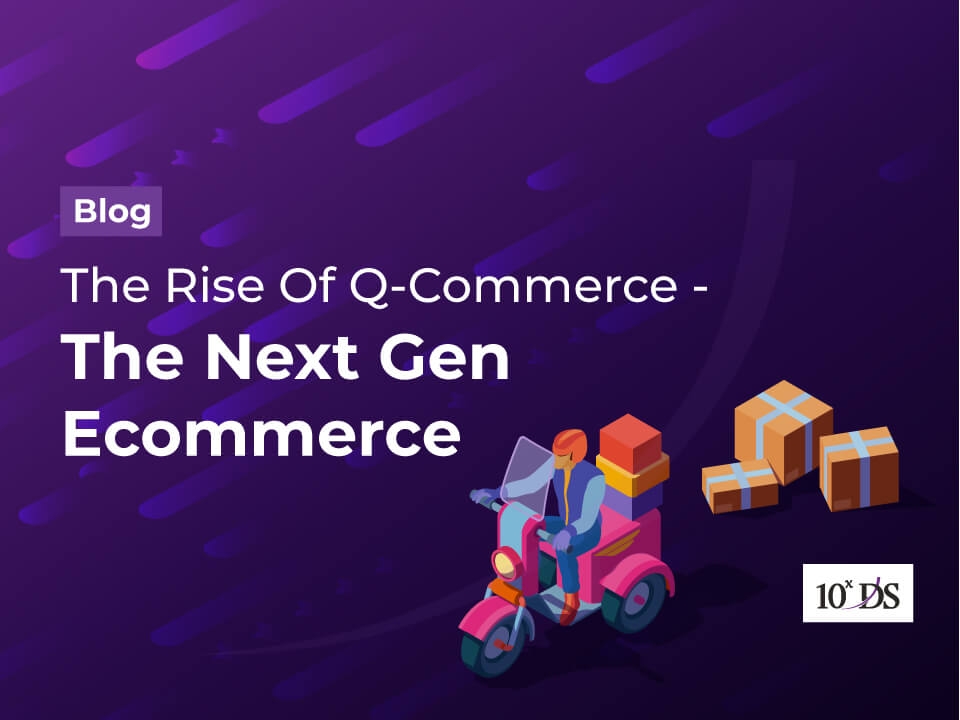 The Rise Of Q-Commerce – The Next Gen Ecommerce  
If there is one thing that people are most worried about today, it's time. Everyone's busy and twenty-four hours do not seem to suffice. In this context, a concept like Q-commerce has much significance. So, let's have a look at what it entails.
What Is Q-Commerce?
Q-commerce is a term used to define quick commerce. As the name suggests, it refers to on-demand delivery. It's an offshoot of e-commerce but a more convenient, sophisticated, and advanced concept. If e-commerce offers you the chance to order things from the convenience of your home or office, q-commerce brings to your table, products, as you wish, the way you want, delivered to you much faster.
Q-commerce is the fastest growing business concept in the modern world, particularly in the post-pandemic phase. According to studies, the COVID-19 pandemic itself was one of the driving factors for the quick acceptance of a modern concept like Q-commerce. Other factors are urbanization, the aging population in developed countries, smaller households, and people's growing busy lifestyles.
Rising Consumer Expectations of Speed Trigger On-Demand Services
If people were happy with the 24 to 48 hours delivery system in the past, they are looking for even faster options today. In line with their rising expectations for speed, businesses are improving their speed of delivery too. This has led to fierce competition in this arena. It appears people don't really bother about paying the extra price if the service provider offers to deliver products on-demand rather than keeping them waiting for the next one or two days.
How Did the Pandemic Offer a space to burgeon for Q-Commerce?
If people's time concerns gave rise to a novel concept like Q-commerce, it was the pandemic that gave it space to burgeon and reaches its true potential. The COVID-19 pandemic locked up the majority of people around the world in their homes. They depended on the internet to minimize the boredom of sitting at home.
Many became concerned about the risk of getting exposed to the virus should they visit a grocery shop. This was the time when many retailers began to offer quick commerce or on-demand delivery of goods at the doorstep of scared consumers. The demand for such services continues to exist even after the intensity of the pandemic has considerably diminished across the globe.
Hundreds of businesses worldwide, offering a wide range of commodities – food to pharmaceuticals to grocery, emerged as modern q-commerce services. The maximum turnaround time they would need to deliver an order is around 30 minutes. Some of these vendors outdo others by availing their services round the clock 24/7.
Customer Experience – A Decisive Factor for The Survival Of Q-Commerce Players
With more and more players emerging day by day as q-commerce services, people get a chance to try out multiple alternative options. The survival of the fittest theory comes to work out here for the vendors. Only the services that win the trust of the customers by offering features like accessibility, variety, and speed get the organic atmosphere to survive.
On the flipside, service providers are forced to offer quality services for a reasonable and competitive price, enabling customers to assume greater authority over choice. If any player fails to meet the expectation of the consumer, they will suffer badly in the competition.
What Will Be the Future Of Q-Commerce?
It is expected that most of the retail outlets will begin to offer Q-commerce facilities as well in the future as the conventional shopping practices keep diminishing day by day. When customers can order and get things in less than 30 minutes from local shops, people are most likely to prefer them to the usual e-commerce services. All types of businesses – cafes, restaurants, grocery shops, pharmacies – can make use of people's new craze for Q-commerce should they implement the services carefully and effectively.
Challenges to the success of Q-commerce
Speed is the major challenge for a business that wants to venture into quick commerce. The one and only reason for people to prefer q-commerce to other shopping alternatives will be the speed of delivery. If a service provider fails in that, the customer will have already said goodbye to their service.
In order to prevent that, they would need to invest more time and resources in updating their delivery systems in place. More innovative, emerging technologies and sustainable practices could be adopted to optimize the delivery speed. Similarly, the delivery partners or the riders who materialize the whole thing must be rewarded fairly and a good support system must be there in place to make them feel empowered.
Technologies and optimizations that can enable Q-Commerce Growth
Q-commerce companies should leverage emerging technologies such as advanced analytics, hyperautomation, RPA, and Artificial Intelligence (AI) to make this process almost touchless. Such technologies can be used to optimize courier and order matching, increase visibility, and track important metrics such as order lead time, On-Time In-Full (OTIF), delivery performance, and ultimately customer satisfaction.
Sales Operational Efficiency
Advanced Analytics solutions can help q-commerce companies better understand stock turn, sell-through and weeks of supply and identify top and bottom sellers by comparing sales with product placement and display, analysing customer purchase data and performing market basket analysis, comparing sales by location, anticipating & targeting, analysing market data to understand trending products, using historical data to predict future sales, among others.
Inventory Optimization
Q-commerce companies should ensure that the inventory levels are managed properly to maximize availability, reduce waste, and also constantly adjusted to meet customer demands. The demands may vary based on customer demographics, local events and promotions, and competitive offerings, among others. Automation solutions can streamline the stock reporting and validation process, enabling a significant reduction in cycle time to generate reports, increased data accuracy of the reports, and more.
Supply-chain Digitization
Supply chain automation is one of the key investments q-commerce companies should make to streamline all supply chain points to keep up with the demand. Few of the key areas where analytics, automation and AI can help include integrated forecasting, store replenishment, warehouse procurement, purchase order creation, and to ensure operational constraints are factored in such as storage space issues, unloading capacity, and commercial agreements such as vendor lead times, minimum order quantities, packaging configurations, among others. Leveraging automation can significantly improve productivity, efficiency, and accuracy in the planning processes.
Conclusion
Q-commerce has the highest growth potential for tomorrow. It's truly the next-gen e-commerce. Rising customer expectations shouldn't be considered a negative aspect, but rather this should be the very reason which should drive, scale, and optimize a novel concept like quick commerce. The incorporation of innovative ideas and technologies and a good support system are the only workarounds to address the existing challenges for Q-commerce and to expand it to the next level.
Talk to our experts to know more!