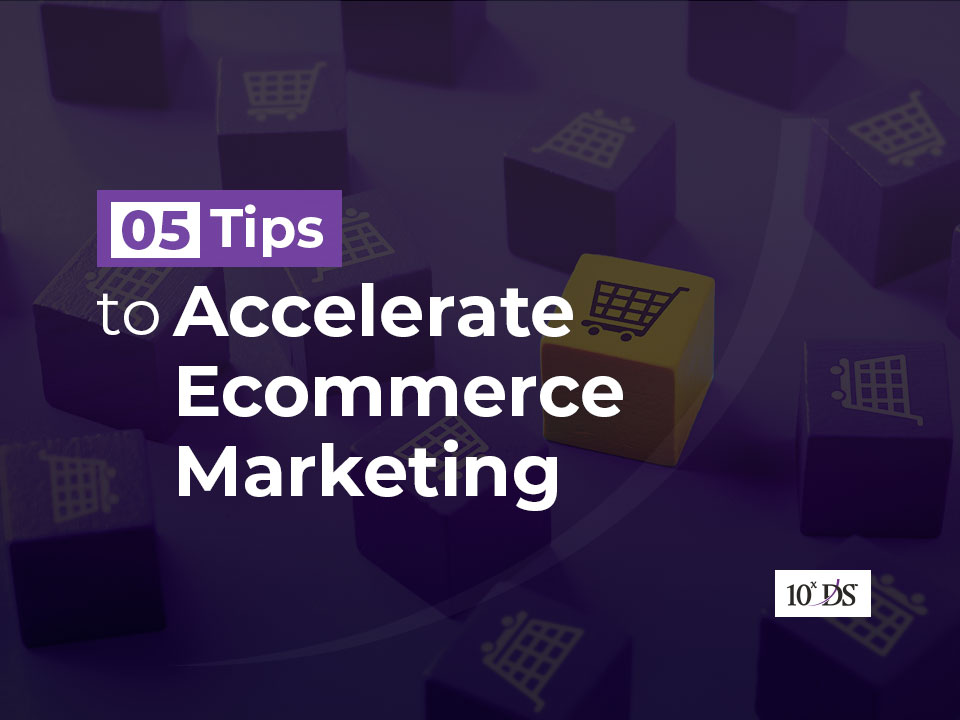 5 Tips to Accelerate eCommerce Marketing
Did you know that the first internet sale was made in 1984? The field of eCommerce has considerably evolved since then. Ecommerce marketing, which is also known as digital eCommerce marketing is a proven technique used to drive brand awareness and boost sales for different types of eCommerce businesses.
In other words, eCommerce marketing can be defined as the practice of generating sales, brand loyalty, and awareness for an online store or eCommerce website. eCommerce businesses use different strategies such as email marketing, pay-per-click advertising, and search engine optimization to achieve the desired results they are after.
eCcommerce websites marketing enables organizations to make use of cost-effective channels like social, email, and search for acquiring more customers and growing their business. If you are getting started with your eCommerce business marketing plan, then here are a few strategies to help you.
1. Ensure That Your Website Is Mobile-Friendly
A recent study revealed that 35 percent of online shoppers use their smartphones as primary shopping tools. Another interesting statistic is that the revenue generated from mobile devices reached the 600 million dollar mark in the year 2020.
Since several customers shop through their smartphones, eCommerce businesses must ensure that their website is mobile-friendly. This is why it is best to opt for a responsive design for your eCommerce website.
The search engine giant, Google has been considering mobile-friendliness as an important ranking factor since April 2015. So, if you want your eCommerce website to get a higher rank on the search engine results page of Google, then it is essential to design a mobile-friendly website.
2. Leverage The Power Of Social Media Platforms
Your eCommerce website will surely be a critical element when it comes to your eCommerce marketing strategy. However, you should not just focus on one single element. Instead, you should leverage the power of popular social media platforms to reach more customers.
Businesses should realize that online purchases are happening not just through eCommerce websites. They are also happening through Pinterest, Instagram, Facebook, and other popular online platforms. So, if your business does not have an active account on these platforms, then you are missing out on the chance to reach and connect with more potential customers.
Create profiles on all popular social media platforms and encourage customers to follow you. You can use your business social media account for sharing interesting content that includes articles, photos, exciting offers, and special deals.
Social media marketing offers advanced targeting options to businesses, which can be an excellent strategy that will help your business to find and target users who are interested in your products and services.
3. Publish Content About Products
Several eCommerce businesses make the mistake of not publishing content about their products on their website. Creating a blog exclusively for your website and adding informational guides will help your customers to easily and quickly learn about your products.
If you are a business that sells baking supplies through your website, then you can share advice and recipes with customers by writing articles. You should also consider linking the articles or content to the products on your website. Using relevant keywords in the website content and blogs might help your website to acquire a higher Google rank for certain search terms.
4. Use Pinterest-worthy Images
There is no denying that Twitter, Instagram, and Facebook are the largest social media platforms out there. However, Pinterest can also be very useful for eCommerce businesses. If website visitors see something interesting on your website, then they may save it and pin it to their boards.
If the product image looks interesting to others, then they are most likely to re-pin it. Your product image may get circulated throughout the platform, which may result in increased traffic to your website. However, this will happen only if you are using Pin-worthy images.
5. Suggest Related Products
When online shoppers are browsing through your website, they do not have any salesperson who will suggest related products to them. This is why businesses need to get smart and make their website serve the function of a salesperson.
If someone is looking for laptops, then you would want to suggest them laptop bags, keyboards, and other related items. You could also show the customer laptops from different brands.
eCommerce websites that are not making use of product suggestions will fail to impress their customers. If you are able to suggest related products to customers who are visiting your website, then you will be able to get more sales and increase revenue in the long run.
Conclusion
It is important to understand that eCommerce marketing is not just about bringing people to your eCommerce website or online store. Instead, it is also about offering a rich and engaging user experience that would make customers want to revisit your website to make more purchases. The above-mentioned eCommerce strategies if implemented properly can help you achieve this.
Talk to our experts to learn more and help you build results-driven online stores.