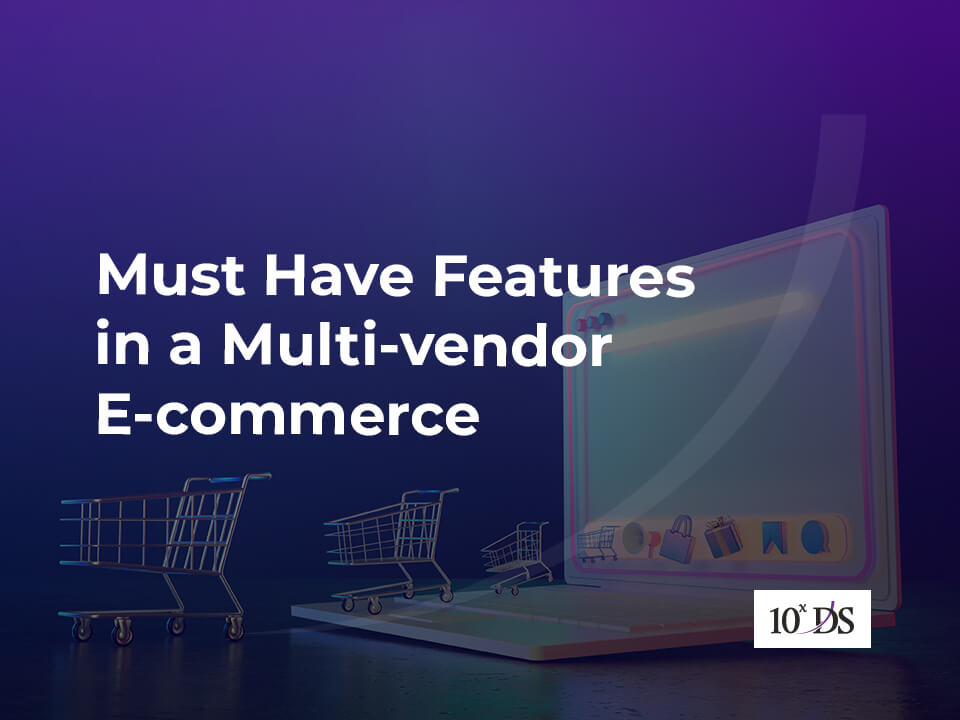 What are the must have Features in a Multi-vendor e-commerce website?
A recent report from Statista revealed that cross-border e-commerce sales may hit the 3.53 trillion dollars mark by 2022. The E-commerce industry has made considerable changes to our shopping habits and lifestyle. Today, we are able to shop for a wide range of products in the comfort of our home.
The e-commerce industry has not just made shopping simple and convenient for customers, but they have also presented new opportunities for businesses to grow and build a strong online reputation. This has resulted in the launch of several multi-vendor e-commerce sites that include Alibaba, eBay, and Amazon.
What Is A Multi-Vendor eCommerce website?
Most online shoppers would have probably purchased products from multi-vendor e-commerce websites. However, most of these customers do not know what a multi-vendor e-commerce website or store really is. A multi-vendor store or website is a platform, which allows third-party vendors to sell their products in a single place. In other words, a multi-vendor e-commerce website or store is a big online marketplace, which has various shops run by different vendors or sellers.
According to a recent survey, approximately 21 percent of e-commerce businesses have been listed on a multi-vendor store or marketplace already. One of the best things about multi-vendor marketplaces is that they are capable of offering greater practicality and to customers when compared to single-vendor marketplaces.
Multi-vendor marketplaces will have more products than single-vendor stores because there are multiple sellers. Apart from that, multi-vendor marketplaces also offer a cost-effective solution to vendors who are looking to sell products online.
Now, let us take a quick look at some of the must-have features of a multi-vendor e-commerce marketplace.
1. Multi-Vendor Control
Merchants or vendors who are setting up shop in a multi-vendor e-commerce marketplace will need a certain level of control to manage their business operations. Merchants should be able to manage, handle, and keep track of their business activities without any hassles.
In addition, vendors and merchants should be able to manage price, delivery time, mode of shopping, and other aspects of their business. This means that a multi-vendor e-commerce website should be able to offer the following features to merchants.
Control over individual inventory management
Control over shipping, product change, COD, discounts, and more
Automatic splitting of orders and payments
2. Robust Reporting
Vendors will surely need access to information and data regarding their sales and business. The data and graphs available in the back-end will enable vendors to gain a better understanding of sales trends, which will allow them to better promote their business. This is why it is crucial for multi-vendor e-commerce platforms to have a robust reporting system.
A multi-vendor e-commerce platform should be able to offer the following details to all vendors and merchants operating within the platform.
Information about top-rated and highest sold products
Information and data to make forecasts like the last four orders, top search items, and more.
Allows instant tracking of abandoned sales and cart.
3. Secure Platform
Security is another important and essential feature that all multi-vendor e-commerce platforms require. Customers will not prefer to buy products from e-commerce stores that are not secure, and vendors are less likely to sell their products on such a platform. So, you will need to ensure that your multi-vendor e-commerce platform is safe and secure.
You will need to implement the best security practices to increase the security of the store. This will not just protect the online store from malicious activities, but it will also make the store look trustworthy to customers and merchants. Here are a few security practices that you will need to implement on your multi-vendor e-commerce platform.
Use HTTPS
Do not store sensitive user information or data
Make sure that the store is PCI DSS complaint
Ensure that user-level information is secured
Select a secure development platform
4. Multiple Payment and Multilingual Options
Multi-vendor e-commerce platforms need to ensure that a wide range of options are available to customers when making payments. You should try to integrate the platform with multiple payment gateways. Apart from that, you could also consider including the Cash-on-Delivery (COD) payment option. Cash on Delivery payment is a popular payment method in several countries.
You will be able to ensure a better online shopping experience for customers by allowing them to view the store in their preferred language. If you allow customers to make payments in their currency, they will surely love to shop with you again.
Conclusion
We can come up with a list of many more features that can be useful for multi-store e-commerce platforms. However, in this blog we have highlighted some of the most important and must-have features for every multi-vendor e-commerce platform to create a perfect online marketplace.
Talk to our experts to help you with our comprehensive suite of e-commerce development services and build results-driven online stores.