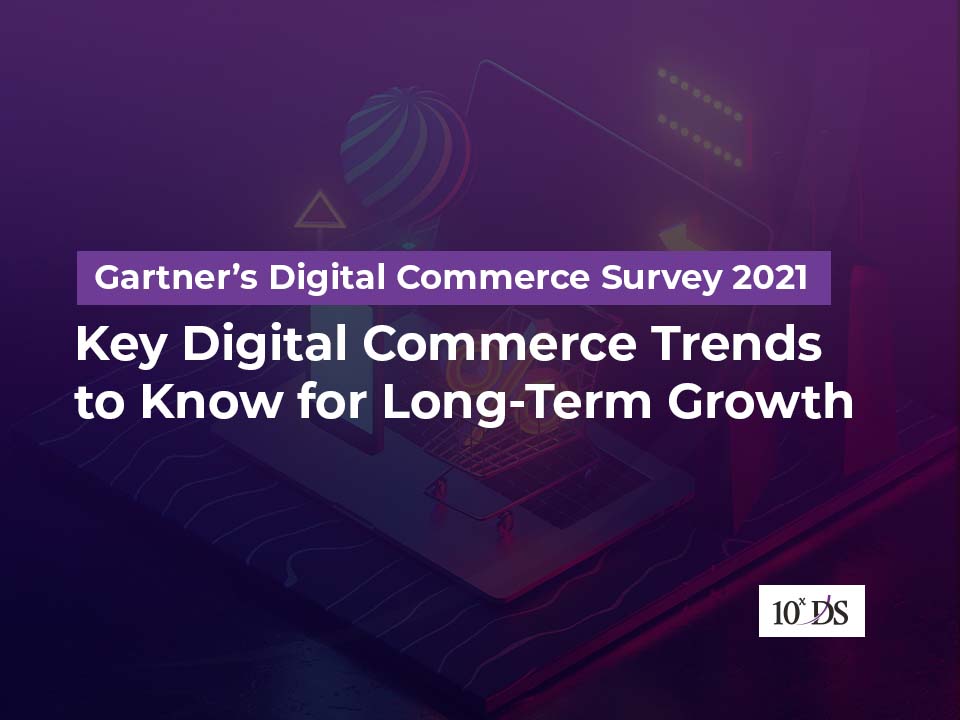 Gartner's Digital Commerce Survey 2021: Key Digital Commerce Trends to Know for Long-Term Growth
The Coronavirus pandemic has considerably changed the buying behavior of customers. This has in turn skyrocketed digital commerce to the top of the priority list of several businesses. An inaugural 2021 Digital Commerce Survey was conducted by Gartner recently. The primary purpose of the survey was to get a better understanding of how marketing leaders viewed their digital commerce performance, strategic priorities, and capability maturity.
Most CMOs who participated in the survey reported that they were able to exceed or meet their digital commerce revenue profitability and targets last year. CMOs will be able to use the findings from the Gartner survey to make better and more informed decisions, better understand the current landscape, and improve performance and maturity.
It was also reported that approximately 86 percent of leaders who participated in the survey stated that digital commerce is going to be an integral route to the market in the upcoming two years. Here are some of the digital commerce trends that can boost your go-to-market digital commerce strategy and investment plans.
What is Digital Commerce?
It is important to note that digital commerce is not e-commerce, it is actually more than that – an amalgamation of several elements put together into a marketer's strategy blueprint. It encompasses a wide array of strategies, tactics, and tasks to make the entire marketing process more thorough.  To put it more simply a digital commerce strategy and plan can include aspects like blogs, product descriptions, social media updates, digital ads and promotions, marketing analytics, customers service and satisfaction, and more.
Digital Commerce Trends For 2022
Nearly seventy percent of the surveyed leaders agreed that the pandemic forced their companies to quickly launch digital commerce and build an online presence for their company. Taking immediate actions to meet customer expectations and launch new channels has helped several digital marketing leaders to surpass their profitability and revenue goals in 2021.
Several experts in the digital commerce industry firmly believe that the newly developed customer habits will surely outlast the COVID-19 pandemic. They also claim that customers will be eager to return to the hybrid model of interacting and engaging with brands.
As a result, B2B and B2C businesses will have to future-proof digital commerce capabilities if they want to account for digital commerce's transformational aspect successfully. Creating a roadmap for evolving the capabilities of digital commerce, setting expectations with robust planning of scenarios, and socializing the challenging outlook jointly with other leaders will help you close the gap between future performance and high expectations.
Increase Digital Commerce Maturity
It is evident that businesses with higher levels of digital commerce maturity were the ones who were able to exceed or hit their targets in the previous year. Advanced digital commerce companies will be able to easily set up or scale up new routes to the market when the landscape evolves or changes.
The data obtained from the Gartner survey indicates that B2B businesses are actually lagging when compared to their B2c business counterparts. Approximately 41 percent of B2C organization leaders have agreed that they do have the performance and talent to successfully deliver on digital marketing strategies. The percent of B2B leaders who feel the same is around 27 percent.
All CMOs have finally recognized the positive connection between performance and maturity. This will surely serve as a catalyst and wake-up call for businesses that currently have a low level of digital commerce maturity.
Investing to ensure a Sustainable Revenue Growth
Irrespective of the maturity level of their organization, nearly 90 percent of the surveyed leaders stated that they will be making investments in additional capabilities for driving digital commerce growth. It has also been reported that several leaders will be prioritizing CX as one of their short-term business goals to meet the immediate expectations for a fine, engaging, and seamless experience.
A few months or years from now, leaders will also be making investments in digital commerce products and services, which can be distributed with the help of the latest digital business models.
Companies will have to strike a balance between their long and short-term investments. The digital commerce maturity level of their company will play a critical role in finding such a balance.
Conclusion
CMOs will have to play an integral role when it comes to setting up the digital commerce vision for their company. That said, they will surely face a challenge in balancing the risk appetite of the organization against how willing they are to further disrupt the organization's status quo. About 69 percent of the surveyed leaders have made it clear that a test and learn approach will be adopted to boost the belief in digital commerce and the risk appetite of their organizations.
10xDS Digital Agency leverages the expertise of a robust team of Digital Marketing Strategists, SEO specialists, marketing and customer analytics experts, User Experience Architects, Creative Designers, and state-of-the-art technologies to create amazing customer experiences. We can help you embark on your journey to success with a clear and effective roadmap, digital strategies, and a plan for a fruitful digital commerce venture.