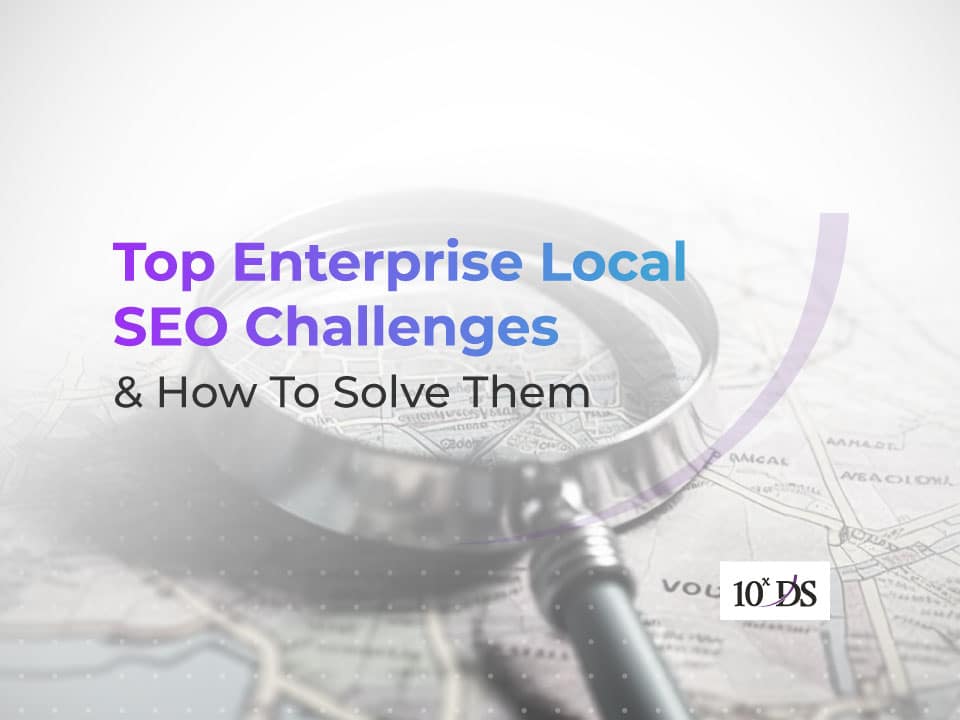 Top Enterprise Local SEO Challenges & How To Solve Them 
To be successful with local SEO, corporate brands need to be familiar with "National" SEO, Google Business Profile, and the way Google and other search engines treat priority search inquiries in different regions. That's why corporate search marketers face an incalculable amount of obstacles when it comes to local SEO. Prioritizing local SEO, comprehending its obstacles, and learning how to overcome them are crucial components of your SEO strategy as you develop your company's SEO strategy. A targeted local SEO plan will increase your traffic and sales.
So, what are the most typical issues encountered by company local SEO initiatives? Let's find out.
1. One of the keys to Successful SEO is Knowing whether to focus on a National vs a Local Campaign.
Knowing whether to prioritise a "local" SEO approach above a "national" SEO strategy, and vice versa, is a significant difficulty for businesses. This is reasonable since it isn't always clear which option is better suited to meeting your needs. It might be tough to identify if your target top keywords have local intent.
Nonetheless, it is crucial to the overall strategy's success since it will greatly affect the degree to which your activities contribute to the achievement of your business's objectives.
You can improve your keyword strategy and see how your SEO budget is best spent if you have a firm grasp on the local phrases that Google prioritises.
Poor site design or keyword approach might cause you to lose a significant amount of visitors.
2. Deciphering the Meaning of Local Searches
So, what, precisely, do we mean when we talk about "local search intent"
Since you know what people are looking for, you can anticipate the kinds of features they'll find in search results and know what information to highlight.
For this topic, there are four basic sorts of search intentions to focus on:
Intentional searches on a nationwide scale.
Semi-national search queries.
Search queries with local purpose.
Queries that are extremely specific to a given area.
The characteristics of the search engine results pages (SERPs) provide clues as to the category into which your target search queries fall.
1. Queries Involving National Search Intent
Due to the lack of "local" results, it is safe to assume that Google does not consider these queries to have any local intent.
If a significant fraction of users were to modify their searches to include geographic terms, the search engine results pages (SERPs) would likely change to include some local results.
2. Questions With Regional Search Intent
There is a roughly equal split between national and local clicks on queries like [bank], therefore a map pack may be returned. Some may be seeking a local branch, while others may be trying to access the bank's main page.
3. Searches With a Geographical Focus on Local Areas
Depending on the search engine, you may get a map pack in addition to a specialised page for a single city or state.
4. Queries That Aim to Find Something Very Nearby – Hyperlocal Search Queries
For hyper-local keywords, the searcher's physical location is crucial and has a major influence on search engine results page (SERP) rankings.
While conducting a search with hyper-local purpose, proximity to the establishment is of paramount importance. With this search, the map pack clearly takes up the majority of the search engine results page (SERP). Google is probably correct in concluding that such searches demand extremely localised outcomes for the user's satisfaction.
Identifying Search Intent
Examine the current search engine results pages (SERPS) in various regions.
Seek out a map component in the search engine results page.
Verify city or state-specific resources/pages.
Check the labels and the addresses, titles and URLs
Do a coherence analysis and draw an intended conclusion.
How To Create A Strategy For Many Search Intents
1. National Level Strategy
A lot of research and credibility is essential for national-level campaigns. If you find that your target keywords appear in searches with minimal to no local intent, you should focus the bulk of your SEO efforts on your primary domain. You may increase your ranking with the aid of the backlinks you generate.
2. Semi-Local Approach
To strengthen the content and authority of your primary site and add a single new emphasis area, you'll need to put a lot of time and effort into semi-local keywords. You need to improve your Google Business Profile listings for semi-local keywords so that they show up in the map pack.
3. Local Approach
If you discover that Google perceives your keyword as local, the structure of your site will become very crucial. Including a list of state or city pages on your site might boost traffic.
4. The Hyper-Local Approach
You should create a directory of state and city-level sites and optimise them for near-me keywords with particular location pages if your top keywords are very localised.
The layers may vary in appearance based on the orientation, however, they may generally look something like this:
Site map index.
Local page.
Urban resource page.
Article pertaining to a certain locale.
5. Relying on a Centralized Database for Geolocation Information
Local listings management services like Yext and Uberall have made this less worrisome. There are multi-location firms that don't have a "single source of information" for their locations. If you not yet worked on this, it is important that companies do it.
6. Improving Store Finder Performance
The development of shop finders is a service that is often contracted out. In principle, there shouldn't be a problem here, but we've observed a couple of situations when this has backfired.
7. Search for Store Locators
For search engine optimization purposes, a shop locator should be a simple, connected set of state, city, and location pages that can be simply navigated by a machine or user. Nevertheless, many businesses provide a shop locator page with a search box to help you discover a store near you.
8. Location Page Content is Helpful
Brands frequently allocate resources on developing a locator on their website while leaving no funds for content.
A simple "about us" page listing the company's name, address, phone number, product/service categories, etc. is quite acceptable. The SEO performance, however, may be enhanced by creating a location page with unique, augmented content pertinent to the place and themes you are seeking to rank for.
Groupings and Categories are of Highest Importance
Search engine results pages (SERPs) increasingly prioritise local results for e-commerce-related inquiries. Often, the winning companies in Local Packs include a connection from their local sites to their primary categories. You might think of it as telling Google that these specific areas are important to your business.
Administration of Google's Business Listings and Optimisation
Creating a Google Business Profile (GBP) shouldn't be difficult for businesses; after all, it's just a collection of yellow pages listings for your locations. But, there are a gazillion ways in which GBP may go wrong for a company.
1. Keep an Eye Out for Similar or Duplicate Listings
A company may have many entries on Google, however duplicate listings are against the guidelines. For a variety of reasons, it's crucial to remove duplicate entries from your company's listings. When you have two or more listings on Google, the information displayed to searchers and Google itself may be unclear and contradictory.
Google might not always display the listing for your company that has the most accurate information. Customers might therefore be diverted, which could lead to a decline in sales.
Several listings may receive reviews, which lowers the total number of reviews for each distinct company listing. Your rating may be impacted badly by this. When duplicate listings are accessible by other platforms and apps, they can have a snowball effect.
2. Keep an eye on your listings always
Your listings in GBP are always changing. Pictures and comments are being uploaded by users. If Google decides that it can get more reliable information from a third party, it will replace your data with it. You can't just set and forget about GBP. Develop a method to track how often your GBP pages are updated.
Conclusion
Don't overlook local search optimisation when planning your business' SEO. To assist you accomplish your business objectives, our 10xDS- Digital Agency experts can handle all your SEO and digital marketing requirements. To start with local SEO for your company, talk to our experts!