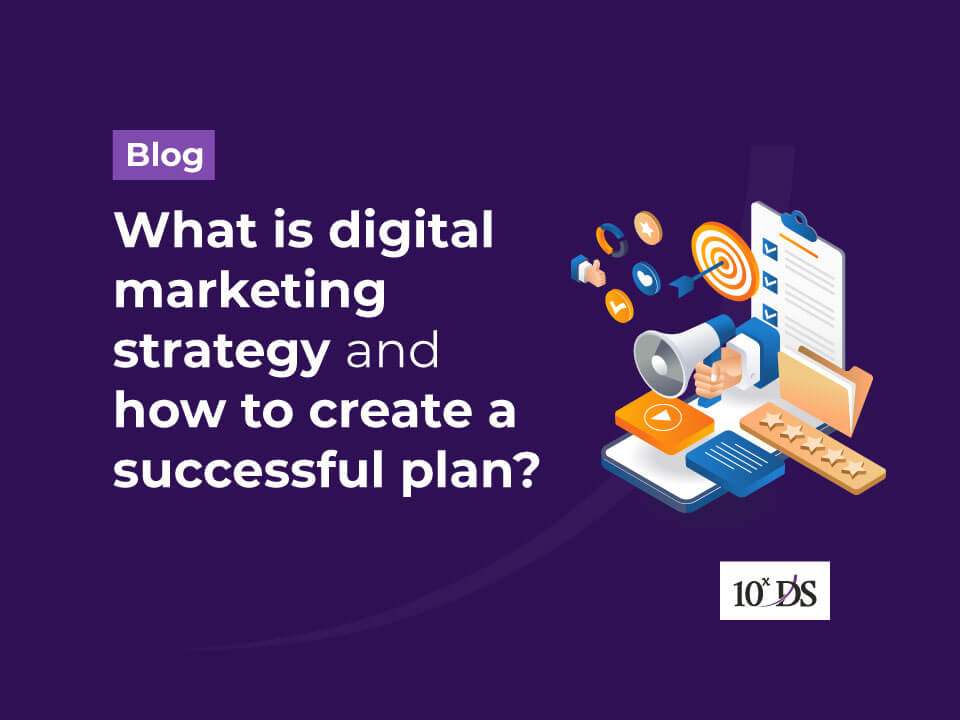 What is digital marketing strategy and how to create a successful plan?
The term "digital marketing" refers to a set of digital strategies, technologies, and data that are integrated together. This gives marketers the ability to improve the ways in which they engage in dynamic conversations with buyers and influencers, as well as how they target, acquire, and keep customers. A series of planned actions that are carried out online in order to achieve certain company goals is known as a digital marketing strategy. To put this into more layman's words, this refers to carrying out consistent activities at the appropriate moment using the digital channels that are most appropriate for the purpose of increasing income and improving connections with your audience. The scope and scale of your enterprise, as well as your ultimate objective, will determine the degree of sophistication required for your digital marketing approach. The first several months after a business debut may require simply a few basic actions on few digital channels.
To enhance the manner in which marketing has dynamic interactions with influencers and buyers, and to better target, attract, and keep consumers, digital marketing depends on an integrated collection of digital strategies, technology, and data. These days, digital marketing plays a crucial part in propelling the expansion of most companies. The most successful companies work tirelessly to improve their digital marketing strategies, integrate their online and offline offerings, and adopt innovative technology that can give them a leg up in the marketplace.
A Digital Marketing Strategy Framework
A digital marketing strategy lays out the objectives, strategies, channels, campaigns, and media that will be used to achieve those objectives, as well as the metrics that will be used to evaluate the effectiveness of those initiatives. While there is no one best method for developing strategies, the following should be included in every digital marketing strategy:
A perspective or vision on how digital marketing strategy and implementation may fuel business expansion. In order to maximise profits, a company may set as a goal expanding their client base and hence their lifetime value. As a result, encouraging consumer participation or converting existing clients into repeat buyers might be a marketing goal.
There is an established framework for the digital marketing team and management to follow. Leaders in digital marketing, for instance, are tasked with establishing and supervising budgets, recruiting, technology selection, and campaign planning to facilitate the implementation of the strategy.
A comprehensive plan outlining the short- and long-term aims of the digital marketing initiative is needed. New customer acquisition is a subset of the broader digital marketing purpose of improving lead quality, generating more sales among identified prospects, and growing brand recognition.
An analysis of the team's current level of expertise in the knowledge areas, tools, and procedures are essential to achieving digital marketing goals, as well as a strategy for improving any identified performance gaps.
Let's talk about the importance of organising your digital marketing efforts.
Your desire to continue to learn.
In other words, it is based on genuine information.
It sets limits on how you can behave
Better return on investment is the result.
It prompts a revaluation of your connections to the target demographic.
It's true that planning ahead improves performance in any area. Consider the following benefits of developing a plan for your digital marketing efforts:
It encourages you to keep studying. Every facet of your company has to be considered when you lay the groundwork for your digital marketing strategy. To develop a well-executed and cutting-edge digital marketing plan, it is also necessary to do in-depth research about your target market, major rivals, relevant trends, and related areas. Creating a strategy is a fantastic opportunity to learn more about your company.
It's based on genuine information. After putting your plan into action and doing the analysis, you'll have a wealth of information at your disposal on your brand's strengths and weaknesses. With that knowledge in hand, you'll have a wealth of opportunities at your disposal for developing your company.
As a result, your behaviour will be organised. Having a well-thought-out plan in place for your digital marketing might keep you from floundering around in the dark without one. If you take the time to develop a plan, you'll have a much clearer idea of how to maximise your business's potential by integrating several forms of advertising.
Improves return on investment. When your behaviour is organised, you engage in fewer activities and commit fewer errors. A well-thought-out strategy can help you identify your limitations, anticipate challenges, and implement effective solutions. You may boost profits with less work, expense, and time spent.
To re-evaluate your connections to the target market. If you're using a digital marketing approach, you'll be able to see your interactions with consumers and prospects in a whole new light, and that includes every point of the buyer's journey. Customers should be at the centre of your company strategy as you seek methods to deepen your connections with existing ones and forge new ones.
The requirement for a digital marketing plan has been established; now let's brainstorm some ideas for one.
How to create a Digital Marketing Plan and Strategy
Think carefully about what you want to accomplish and define your goals
Try to learn as much as you can about your target market.
Generate potential leads
Nurture the leads
Respect your regulars and your champions.
Launch an automated marketing system
When it comes to digital marketing, there is no silver bullet. While implementing our recommendations, maintain a critical mind and pick the solutions that go best with your brand.
1. Initial Action: Planning and Objective Setting
You should start by wondering if your current content can be improved so that it achieves better search engine rankings. In terms of search engine optimization, consider the following uses:
When optimising for Google, it helps to structure material in a certain way;
Lighten the load on your page by decreasing the size of your photographs or images;
Gain inbound links from other high-quality, relevant websites to boost your online reputation.
Examine how your content stacks up against the competition. Maybe they've discussed important issues that you were unaware of. Using an SEO tool like Ahrefs or Moz, you can see which of your rivals' sites appear in the top 10 for particular keywords; you can then utilise this information to plan your own content around these subjects.
The data you collect might lead you to decide to increase the amount of video material on your website or the number of reviews you display.
You may safely solicit feedback on your brand and customer service by asking for input. Of course, you can't expect a perfect response rate, but you can still learn plenty of useful information to include into your digital marketing plan.
It's crucial to pick the right digital marketing platforms for your company. Use only as many channels as are absolutely essential, and don't overwhelm yourself.
After you've done your homework and gleaned some useful information, you can next establish some reasonable objectives.
2. Learn more about your target demographic.
The second thing you should think about is the target demographic for your product or service. Create a "buyer persona," or a fictionalised representation of your ideal client, complete with information about their demographics, purchasing patterns, and online activity. Blend your guesses with hard facts, like that gleaned from Google Analytics. You may use the information you collect to target your audience more precisely with display advertising and emails.
3. Obtaining Potential Customers or Generating Leads
The next thing to do is to improve lead generation and look for other methods of doing so.
Users' contact details (email addresses, names, phone numbers, etc.) can be collected using services such as MailChimp or SendPulse which provides forms for future use. You may make forms that can be submitted over many channels by including links to your various chat windows.
Google Ads also allows you to gain subscribers with extremely specific display advertising. With this service, you may retarget a user based on their browsing behaviour, allowing you to show them adverts that are more likely to be of interest to them.
Social media platforms like Facebook might help you reach a wider audience. It utilises the vast amounts of user data Facebook collects to provide targeted advertisements in the Newsfeed and Messenger Chats. The following is a sample of the Masterclass advertisement that is based on prior website usage.
To revitalise your connections with your current audience, you might also propose that they contact you via a different media. By way of illustration, a chatbot may solicit an email address from a Facebook audience. Another option is to include a recommendation to subscribe to your Facebook chatbot in a newsletter email.
Viral methods of generating leads are another option. For instance, you may hold contests offering freebies to those who meet a certain criterion, in the hopes that they would sign up for your mailing list.
As for how to offer the freebies and notify the winners, you may use a combination of Facebook or Instagram and giveaway emails.
Competition on Facebook
Influencer promotion is another popular strategy for expanding one's readership. Influencer marketing occurs when a well-known figure, looked up to by thousands of followers, promotes your company to their audience. People are more likely to follow the advice of a friend than they are to pay attention to paid advertisements, making word-of-mouth a powerful marketing tool.
4. Nurture the Leads
After a lead has begun communicating with your company, lead nurturing may be used to nudge them closer to making a purchase. Emails, chatbots, and social media may all assist, but the method you use will determine your success. To successfully market your product without annoying your contacts, you must impart knowledge to your target market and provide them with something of value in exchange for their inclusion in your contact database. Additionally, you may encourage your audience to provide more information in return for more tailored articles and promotions. For example, you may engage, entertain, and cultivate your audience by emailing a survey.
Sharing material according to the user's position in the sales funnel is also recommended. Gradually shift from an informative tone to a more sales-oriented one as readers get closer to making a purchase decision.
5. Respect your regulars and your champions
You shouldn't cut ties with a customer who has already made a transaction from you. In the email that follows a sale, you should express gratitude, request feedback or a review, and offer up some sort of upsell or cross-sell.
It's important to supply first-rate service and high-quality goods if you want to attract and retain customers. Treat your most loyal clients like royalty by providing them with special access to premium content and customised offers.
To encourage consumers to spread the word about your business, you might provide special savings to those who introduce new customers to your brand.
6. Establish Marketing Automation
Optimizing processes through automation is essential after you learn what works and what doesn't for your digital marketing approach. Whether a subscriber is in the onboarding phase, the purchase phase, the cart abandonment phase, or any other phase in between, you can quickly set up automatic email workflows to send sequences of emails to assist them.
The strain on your company's sales and customer service personnel can be greatly reduced with the help of chatbots. The chatbots available on Facebook Messenger, others such options may assist with tasks as varied as answering frequently asked questions, reserving a hotel room, and providing feedback on a job application. You may quickly and simply programme responses for your chatbots with the help of our user-friendly editor. Booking.com's virtual assistant is a fantastic example of a chatbot since it helps you plan your trip and reserve a hotel. Microsoft offers teams and booking application to help customers book the time of people they want to speak to. Even chatbots can be integrated with teams.
Time management is also a possible plus. One positive aspect is the ability to plan ahead of time for campaign creation by scheduling push alerts to websites and mobile devices. The converse is true, though, and it's possible to automate social media posts and even have a chatbot on Facebook Messenger. You may use it to organise your advertising efforts.
Conclusion
To begin, a digital marketing strategy is a pre-emptive, data-driven approach for marketing and communication activities across all channels and touchpoints. Since all marketing strategies are based on this broad framework and goal, the marketing strategy is the driving force behind all marketing efforts. Once the plan is established and articulated, the marketing team may begin implementing the methods that will bring about the desired outcome. The benefits of adopting a digital marketing plan for your company are numerous. There is a plethora of options for internet content dissemination. All of these options are different in terms of cost, reach, utility, and function. Your firm needs a unique and effective blend of channels. We advise not limiting yourself to a single strategy, especially if it doesn't pan out as planned, and instead leaving plenty of leeway for experimentation across all channels and techniques.
Talk to our experts at 10xDS Digital Agency to discuss your business's development potential and learn how to take advantage of our full suite of Digital Agency services!