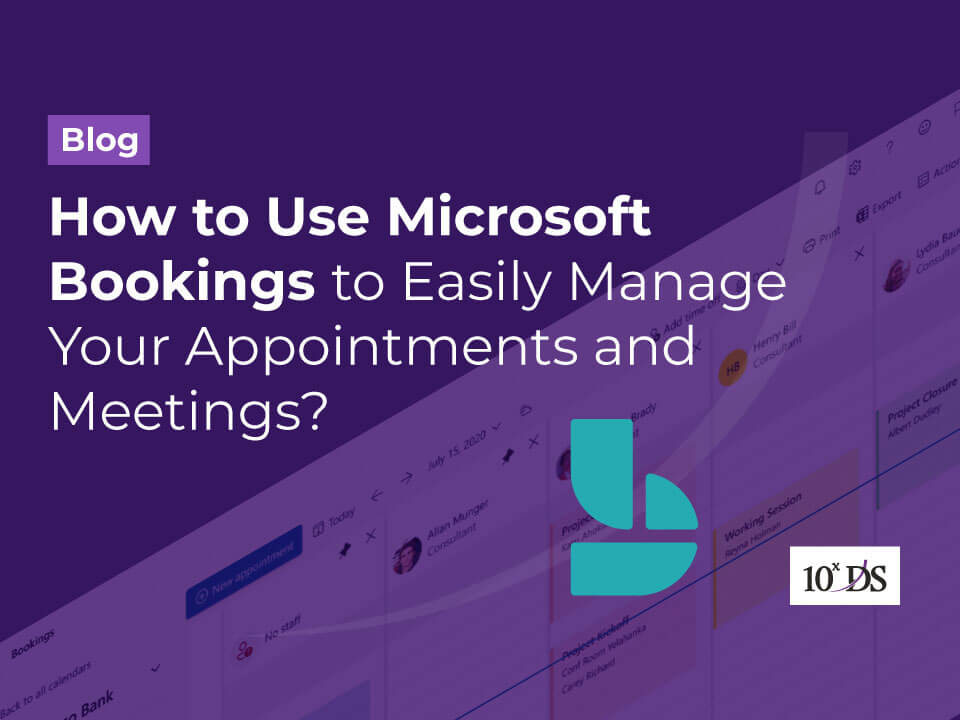 How to Use Microsoft Bookings to Easily Manage Your Appointments and Meetings? 
Remote working has become the norm of working in several organizations. Studies indicate that working from home is a trend that several employees will continue to prefer for many years to come. While there are so many advantages to remote working, one of the major challenges that most companies face is keeping their staff and clients up-to-date.
A possible solution to this is carrying out meetings and appointments whenever they are necessary. Microsoft Bookings in this context comes in handy. It is not only suitable for internal users but also ideal for external users such as clients or customers.
What is Microsoft Bookings?
Microsoft Bookings is an app that comes bundled with Microsoft Office 365 suite. This app is specifically designed to help users set up online appointments and meetings. With this app, you can easily set up your appointments so that if there are any available time slots left, your clients or staff can keep note of them and fix meetings with you.
The app can be easily integrated with your Office Calendar too. If you want to notify your clients or staff of your available slots, you can share the link of your Microsoft Bookings with your clients so that they can do the booking from their end after checking the slots on the calendar. When a slot is booked, a calendar invite is generated and sent to both parties involved in the meeting.
Conducting online meetings through Teams using Microsoft Bookings
Besides your Office Calendar, Microsoft Bookings can be linked with your Teams app too. Hence, if you want to conduct the virtual meeting through Teams, it is pretty easy. This integration also guarantees the option to keep every involved member reminded of an upcoming meeting.
What are the key advantages of using Microsoft Bookings?
There are numerous advantages your business can enjoy by using Microsoft Bookings. In fact, when you compare the benefits of this modern workflow solution with the conventional methods of booking appointments, you will realize how innovative and simplified is this solution.
1. Quick and easy integration options
As an application that is bundled with Office 365, it is beyond any doubt that Microsoft Bookings will integrate well and seamlessly with Teams and Calendar.
Once you have done the initial setup, your Bookings app will connect to Teams and Calendar. Depending on your workflow and the nature of the meeting, you can launch the respective app and use the Bookings integration easily.
2. No need for back-and-forth correspondence
Another greatest advantage with Bookings is the transparency it offers. With it on your side, you do not have to check with your client about their convenient timings to fix a meeting or remind them about the upcoming meeting which has been already fixed.
After setting up the Bookings app, you can share its link with your clients. They can go through your available slots and book a meeting according to their convenience. There is no confusion and no need for any back-and-forth communications.
3. Option to track conversion
It might be of your interest to know which meetings resulted in actual sales conversions and which didn't. When it comes to Microsoft Bookings, there is an option to keep track of all your business conversions. This special feature was added quite recently, and it allows each appointment to be identified with an ID for easy tracking.
How to schedule a meeting through Microsoft Meetings?
Microsoft has come up with a user-friendly procedure for scheduling meetings in its Meetings app. To set it and schedule a meeting or manage an appointment, all you need to do is open your browser and Go to your Office Portal by loading office.com.
After that, go to "All Apps", and select "Microsoft Bookings" from the apps tray. Locate and click on the "Get it Now" button. Once the app is open, enter your details such as business name and type. Once the Bookings account is correctly configured, you can incorporate it with your existing Calendar.
If all members in your office have configured the Bookings app, you will be able to see their available time slots on the calendar too. This will help you to ensure that there aren't any duplicate bookings. Similarly, it gives you a quick view of all the important upcoming meetings. As a result, you will hardly miss any essential meetings.
If you want to allow your staff members to use Microsoft Bookings, then you don't really have to purchase a Microsoft 365 account for all of them. With a single valid Microsoft email account (Outlook account), your staff can receive invitations for the meetings that you schedule and attend them via Microsoft Teams. Again, Teams can be configured using the same email ID.
Conclusion
Microsoft Bookings is an easy-to-use appointment booking application that has numerous benefits in today's context. What makes it even more popular, and desirable is its easy integration options with Calendar and Teams and the diverse use case scenarios for both internal and external purposes.
Talk to our experts to maximize the capabilities of Microsoft solutions, and streamline your applications using our portfolio of Microsoft services, products, and tools!