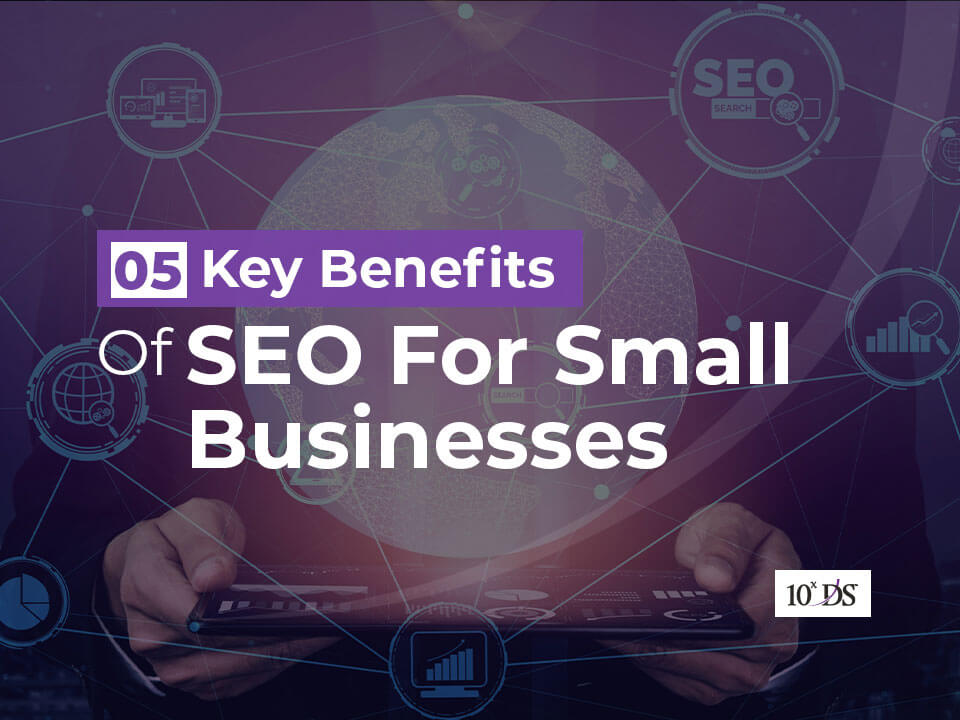 5 Key Benefits Of SEO For Small Businesses
Search Engine Optimization (SEO) helps businesses of all sizes to build a strong online presence for their brand. There is a common misconception among several small businessmen that SEO is costly and it works only for large businesses. The reality is that small-scale businesses have a lot to gain from search engine optimization services. Businesses that do not practice SEO will struggle to grow and they may also find it really hard to acquire new customers.
SEO makes it possible for small business owners to create user-friendly and fast websites that rank higher in the search engine results page of Google (and other search engines). This is highly important considering the fact that among the search engines, Google has been dominating by far, maintaining 86.86 per cent market share as of July 2020, according to Statista. SEO brings in more and more potential customers to your website and it may eventually boost the conversion rates too.
If you are a small business owner who is wondering why he/she should invest in SEO, here are a few benefits of SEO for small businesses that will explain why.
1. SEO Helps Small Businesses To Create A User-Friendly Website
One of the major perks of SEO is that it allows small businesses to easily create a smooth, fast, and user-friendly website. Several people still believe that SEO means just optimizing search engines, but it actually means a lot today. Search engine optimization is also about considerably improving user experience.
A well-designed, uncluttered, and clean website will encourage website visitors to spend more time on it. This will in turn lower bounce rate and improve page views. Likewise, websites with relevant and informative content that helps customers to solve their problems and addresses their questions will also lower the bounce rate.
2. SEO Helps Small Businesses Attract More Customers
A well-designed professional website can do wonders for your business. For starters, it will help your business to stand out from the rest of your competitors. In addition, an SEO-optimized business website will help you to lure in more customers to your business. In fact, businesses with SEO-optimized websites are more likely to grow when compared to businesses that don't have such a website.
SEO is one of the most effective methods you can use to bring in customers who are trying to find your services or products. If you are ready to spend a small sum of money and put in the effort, SEO will bring targeted traffic to your business website.
3. SEO Helps You Build Trust
As mentioned earlier, implementing the right SEO practices will help you to secure a higher ranking in Google's search results page. Getting featured on the top Google search results means that Google is considering you as a genuine, useful, and relevant source of content. It also means that Google is preferring you over other websites.
When your website pops up in the top search results, it will create a good impression on website visitors. Your business will also be able to build trust among customers gradually. Loyal customers are more likely to refer your business to their friends and they will continue to buy products or services from you.
4. SEO Improves Conversion Rates
Websites, which are optimized for Google and other search engines, load at a faster pace when compared to websites that aren't optimized. Most SEO optimized websites are also compatible with both mobile and desktop devices. This means that customers who are visiting your website will get a fine and engaging experience on multiple devices. This will encourage them to spend more time on your website and check out products/services.
SEO optimized websites are also user-friendly, which means website visitors can easily navigate through the website and find what they are looking for. If your business website doesn't look good or functional well on mobile devices, you may lose a large number of customers. If it does look good and function well, you will be able to attract more customers.
5. SEO Offers Great Insights
Several people often fail to realize that one of the best things about SEO is that it offers valuable insights regarding customer behavior. Businesses will be easily able to identify the time of the year, month, or day when customers were most active. You can also tell customers from which region or area visited your site most and a lot more.
There are a number of free but excellent SEO tools like Google Analytics and Google Keyword Planner that will help you with your SEO marketing strategy. Google Keyword Planner helps you identify keywords that are relevant to your business or nice while Google Analytics gives you plenty of valuable information about customer behaviour.
Conclusion
Most businesses invest in search engine marketing because it offers long-lasting results that can help them grow. SEO offers an excellent opportunity for small businesses to compete against large-scale ones without wasting too much money or resources.
Investing in paid campaigns will surely give you results, but you will need to keep spending more money on the paid promotions to work. SEO helps you to build a loyal group of customers without spending a fortune, which is why SEO will continue to be important for small businesses if they want to succeed.
Talk to our experts to learn more about digital marketing and see how we can help you to take your business to new heights.