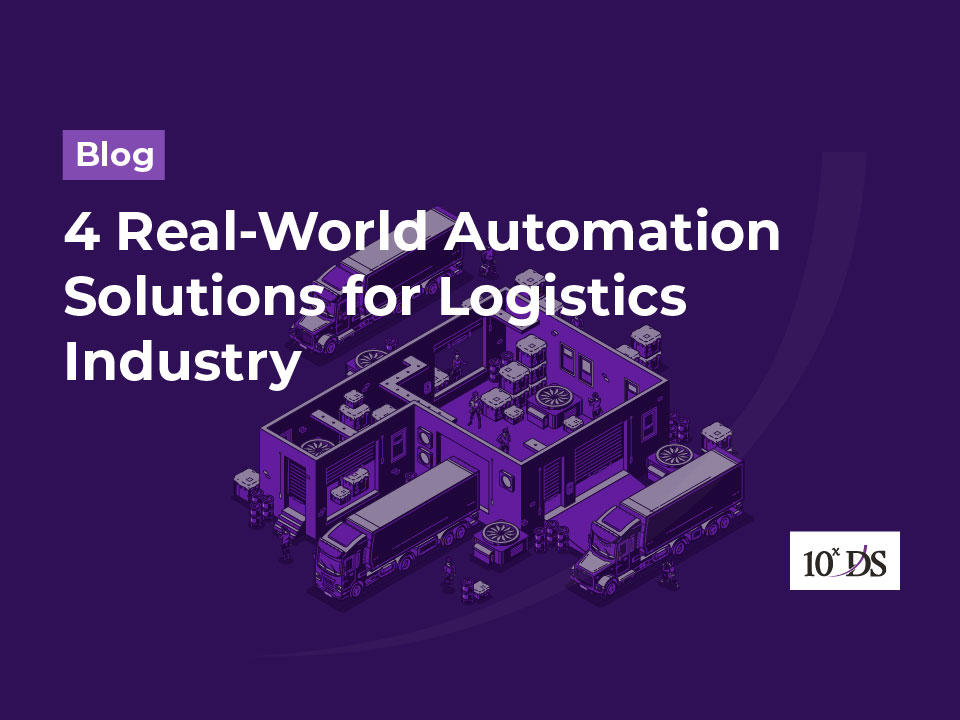 4 Real-World Automation Solutions for Logistics Industry
The Logistics industry is witnessing an unprecedented change as new entrants are shaking up the sector and customer expectations are higher than ever. To stay in the competition companies are aggressively embracing digitization as new technologies are enabling greater efficiency and collaborative working models. According to a whitepaper published by World Economic Forum on Digital Transformation of Industries, there is $1.5 trillion of value at stake for logistics players and a further $2.4 trillion worth of societal benefits as a result of digital transformation of the logistics industry up until 2025.  But only 24% stated they have automated processes to improve the visibility of order and shipment status as per the survey of manufacturing and logistics executives by Industry Week. This clearly shows that manual processes are holding back the ability to handle business growth and the associated transaction volume in the logistics industry even as the sector benefitted from the advent of ERP Supply Chain Management modules.
While automated vehicles and IoT are quickly adopted by the industry, Intelligent automation is gaining traction more than ever. Let's review together some of the areas where the exponential technologies can do wonders in the sector.
1. Inventory processes
Inventory control is the core of Supply Chain. Inventory levels need to be monitored by manufacturers and suppliers in order to see if they have enough inventory to meet customer demands. Scheduling replenishments also require continuous monitoring as warehouse space availability also need to be investigated. We can leverage BOTs to regularly check vehicle tracking systems and websites and retrieve the inventory status. BOTs can be configured to match the data to the original order in warehouse management system for better tracking and faster responses to customer inquiries. If the stock is at the certain level, replenishment orders can be triggered by the BOTs
2. Scheduling and Tracking
Arranging shipments for the goods is a major task in logistics that involves a lot of coordination with Freight Forwarders. The shipment needs to be scheduled based on the selected Forwarder and agrees with them on the method of transit and other terms. The goods need to be tagged with vehicle so that goods in transit can be monitored. If the goods in transit are not tagged properly with the vehicle number and route, the real-time status check will take a hit and suppliers/ customers will not be able to know the status of their orders. Once the loaded goods and vehicle details are collected from loading site, it needs to be updated in various systems. Mostly this information is signed by the Forwarder's vehicle driver in paper
Software robots can be programmed to communicate with Forwarders to arrange shipments and update disparate systems with the details of the shipments so that all necessary physical arrangements can be made. Robots can also extract shipment details from incoming emails, log jobs in your scheduling systems and provide pick-up times in customer/carrier portals. The BOTs can also read scanned documents using OCR method to tag the shipment with vehicle number, route, destination and expected time of arrivals in systems so that real-time monitoring can be enabled.
3. Claims validation
The goods in transit may get damaged and incidents of missing, mis-shipment, defective on arrival are also expected. Forwarders are required to log these incidents into a designated portal along with proofs. This claim of incidents needs to be verified manually by carefully checking the proofs provided. If they are found to be valid, then the settlement process needs to be initiated based on the Master agreement.
Each incident reported by Forwarders needs to be validated based on a set of logic and a set of proofs. This is where Intelligent automation come in handy to validate the proofs and authorize claims. They can further tag the incidents for settlements
4. Payments
AP team makes payment to vendors on a periodic basis. The payment happens either by cheque or as an online payment. The payment process is a clear, rule-based process and doesn't need a dedicated resource for carrying it out.
A BOT can be configured to take up data from ERP and key it into the payment system. Enabling BOT to check the condition of goods received at the warehouse to validate and authorize payments will result in the elimination of manual work. Data entry logic and payment frequency can be configured as well.
Conclusion
In the coming years, there will be exponential growth in the industry with intelligent material handling equipment, autonomous vehicles and several other advancements. Operations that will be highly automated, with each activity leaving behind a digital data point, and the sector will become a mine of structured and unstructured data. By using Automation, AI and Advanced Analytics, logistics companies can transform operations to drive reliability, efficiency and cost-effectiveness.
Talk to our experts to know more and kickstart your automation journey.