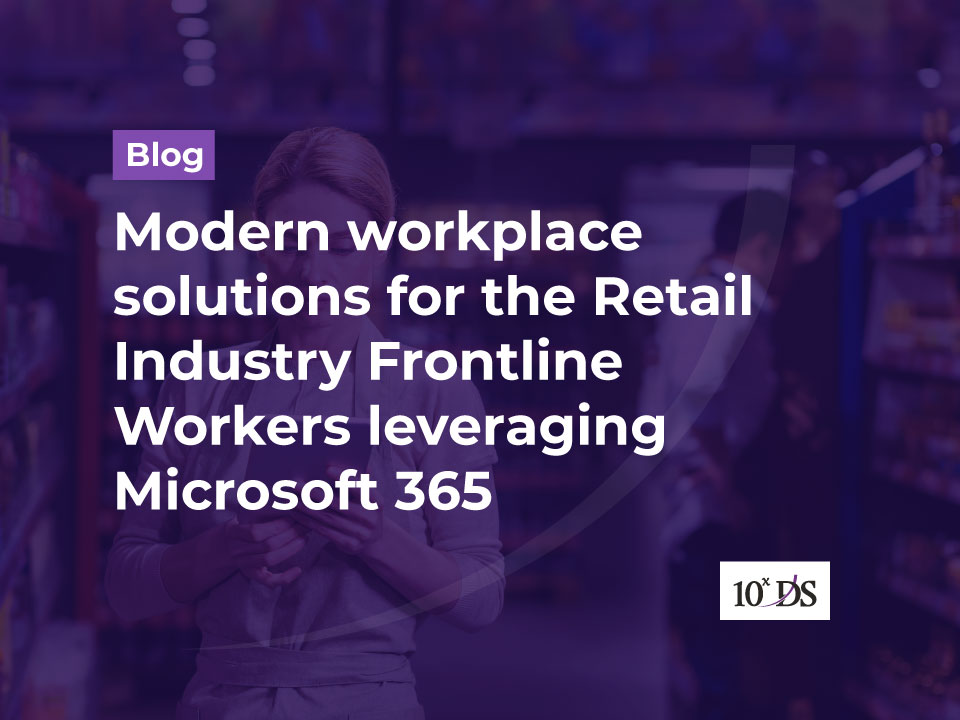 Modern workplace solutions for the Retail Industry Frontline Workers leveraging Microsoft 365
One thing is certain as we ring in 2023 and consider what the past two years have taught us: without frontline employees, none of the crucial and necessary works would have been possible. The importance of the frontline staff to the global economy was thrown into sharp perspective by the pandemic. More than two billion strong, they are the backbone of society, ensuring the smooth operation of everything from supermarkets to hospitals to industries. The economic landscape has changed dramatically because of the pandemic. Customers are looking for more convenient, contactless, and digital shopping options. Adaptive small and medium-sized stores can provide superior customer service. Retailers that often rely on foot traffic could, for instance, set up online demos and consultations by appointment only. Retailers face increasing challenges in keeping up with business advances while also protecting themselves from more sophisticated and frequent cyberattacks. You may rest easy and accomplish more if you take precautions to prevent data and customer information breaches that could cost a lot of money. With Microsoft 365 for business, you get a suite of productivity tools along with robust security protection.
In the retail industry, the frontline employees often serve as the initial point of contact between a firm and its products, brands, and customers. They spend most of their time in the warehouse or on the shop floor, rather than in an office. From government-mandated store closings to shifting consumer preferences, today's shopping environment is more complicated than ever. Teamwork among front-line employees, retail operations, and internal communications is better enabled through Microsoft 365 (M 365) applications.
8 ways in which the retail industry can become more adaptable using Microsoft 365
1. Develop cyber defences and reduce your exposure to threats
Hackers see small and medium-sized enterprises as the next target. Microsoft Defender for Office 365 is equipped with cutting-edge solutions to protect your company's sensitive data, including client information, product blueprints, and more.
2. Limit the people who can see your private data
Information Rights Management allows you to put limits on files, such as "Do Not Copy" and "Do Not Forward," to lessen your worries about confidential company data getting into the wrong hands.
3. Connect teams, collaborate more securely to enable flexible retailing
Retailers are always confronted with new difficulties, such as sudden fluctuations in customer demand, significant supply chain disruptions, and mandatory shop closures. Teams is designed to give workers the resources they need to foster a more adaptive work environment, allowing businesses to be quicker to adapt to changing conditions while maintaining a unified focus on their goals.
With Teams, your sales team can work together from anywhere, whether they're on the go and chatting on their phones, at home and brainstorming product demos, or at the store and reviewing sales figures on their work PCs.
Shifts in Teams is an intuitive tool that streamlines the process of scheduling and managing shifts, saving time for both front-line managers and employees through features like time tracking, availability requests, and shift swapping.
4. The convenience of contactless shopping
Consumers' habits and expectations have shifted drastically as a result of stay-at-home regulations and the ever-evolving digital ecosystem. As retailers continue to create new business models that permit socially distant shopping options, teams can assist in enabling communication around contactless shopping experiences. Walkie Talkie transforms Android smartphones and tablets, into a push-to-talk experience, enabling clear and secure voice communication over the cloud, whether you're in the back office or out on the curb.
5. Strengthen cloud data protections
Using OneDrive for Business, you can keep pricing and other sensitive corporate files off portable devices. And with real-time access, editing, and collaboration, your trusted team can always be working with the most up-to-date versions.
6. Expanding your "virtual" storefront with e-commerce
To increase the likelihood of repeat purchases, Microsoft Teams can be used to manage online shopping appointments or to deliver high-value customer assistance via chat or phone conversations.
7. Don't get bogged down in IT management
Retail industry companies can devote their time and energy on expanding their business. Microsoft 365 apps have powerful security capabilities to help keep their data and people secure. M 365 offers collaboration tools that make it easier for people to work together and make informed decisions.
8. Three-way communication linkups
When you have thousands of people working in different offices all around the world, it's easy for internal communications to become a major headache for your company. Frontline employees often observe how consumers are affected and such things aren't necessarily obvious in the C-suite. Moreover, the frontline workers do not always have the necessary tools to communicate among themselves, so the top-level decisions don't always play out as anticipated on the shop floor. The use of shadow IT to bridge the gap in frontline communication is common, however this can lead to compliance difficulties when information is transferred outside of the company's control. So it's better for retail companies to put their entire staff on the same network to foster closer ties among departments and departments within the company as a whole, all while ensuring the privacy of sensitive data. Opening up a line of communication between upper management and employees to increase the rate of sharing information and the frequency of sharing it can be significantly useful because everyone is on the same page regarding the company's objectives.
Conclusion
People in businesses like retail push the industry forward by going above and beyond for customers, improving products and procedures, and forging relationships between departments and teams. By providing modern workplace solutions using Microsoft 365 applications to their frontline employees, stores can ensure brand uniformity, more transparency, and improved customer service throughout the company. With M 365, retailers finally have the unified interface they need to keep moulding the future of retail. Microsoft 365 applications provides you with the adaptability and security your retail company needs to thrive.
Talk to our experts to learn how to leverage Microsoft services, products, and solutions to boost productivity, spur creativity, and accelerate growth.