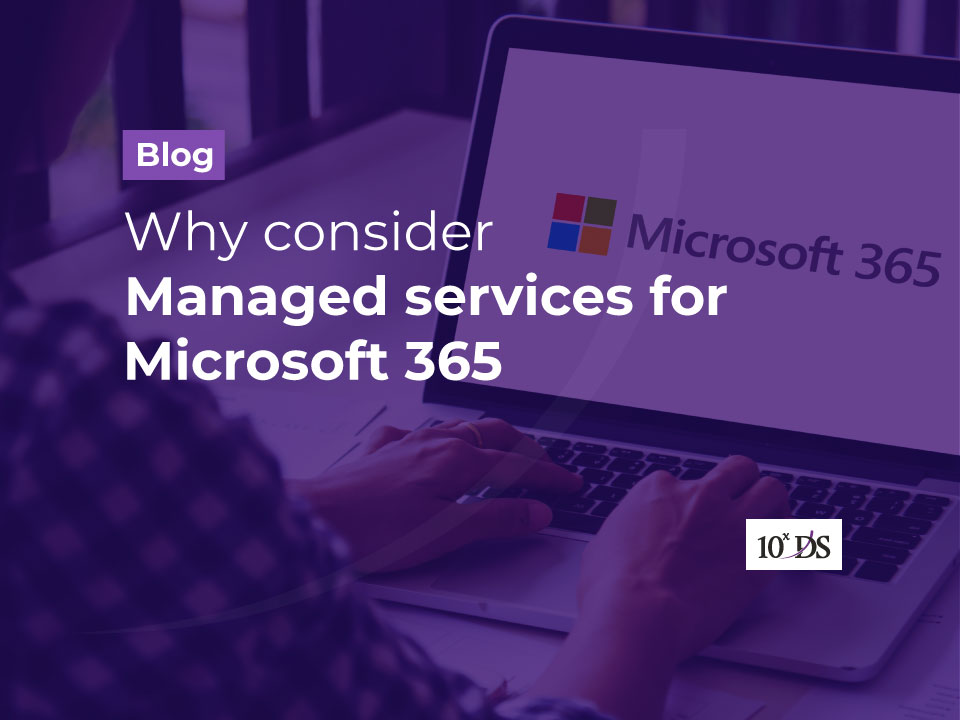 Why consider Managed services for Microsoft 365
Before we discuss about Managed services for Microsoft 365, let us try to understand what Microsoft 365 (M 365) is. M 365 is designed by Microsoft to help organizations achieve more with innovative Office apps, intelligent cloud services, and world-class security. Within M 365, there are home plans, education plans, business and enterprise plan available for users. Microsoft 365 includes several features, services and benefits helping individuals and organizations to be more productive. Let's try to understand the modules available within M 365.
Exchange – It is the messaging and collaboration platform for email, calendar, contact information, and tasks. It can be accessed on most devices, including Android, iOS, and Windows 10 devices.
SharePoint – It is for the team or communication-focused sites for efficient collaboration and communication. Through SharePoint, employees can share files or folders with others inside or outside the organization.
Microsoft Teams – Teams provide a central hub for collaboration within the organization and allows to implement a chat-based workspace. Teams is also available as a mobile app, which lets people stay up to date both in the office and on the go.
Microsoft Endpoint Manager – Endpoint Manager provides transformative modern management and security that meets customers where they are and helps them move to the cloud. In addition to Intune and Configuration Manager, Microsoft Endpoint Manager includes the Device Management Admin Center (DMAC) and Desktop Analytics.
Windows 10 Enterprise – Windows 10 Enterprise is one of the primary components of your Microsoft 365 subscription. Windows 10 meets the needs of large and midsize organizations, providing users and organizations with the tools, services, and support to enhance their personal and organizational productivity
Microsoft 365 Apps – Microsoft 365 Apps includes the Microsoft productivity suite of applications, such as Word, Excel, PowerPoint, Outlook, and Teams for both Windows and Mac devices.
With the diverse features of M365, there are no limits to what organizations are able to achieve. However, organizations need to remain updated with the latest versions and tools, centralized and properly licensed, integrated with your variety of applications for better collaboration, and very importantly compliant with data privacy regulations. Ensuring this is a full-time job for the IT team and a nightmare, this is where a Managed Service for Microsoft 365 comes for help. Certain organizations are cautious about moving to the cloud considering the complexity involved in migration without realizing that redundant technologies are way more expensive and demanding. There is no denying that M 365 is an incredible tool to support several aspects of business but without the right help, organizations fail to utilize its full potential. Let us look at few of the major benefits of M365.
4 Reasons why consider Managed Services for Microsoft 365?
1. Intelligent deployment and utilization of Microsoft 365
When it comes to M365 services, major concern that businesses have is the underutilization of the services and yet paying fully for the subscriptions.  The cause is actually the Microsoft licensing structure.  A Managed Services Provider (MSP) can help choose the right license fit for the business. Moreover, MSPs have streamlined onboarding and offboarding processes hence license optimization is possible. Not every user requires every app available, hence the MSPs analyse user roles and use cases to determine the ideal license.
2. Higher productivity and happy employees
Different tools coming together for their disposal would benefit the employees to manage their work productively. MSPs can help employees leverage Microsoft 365's collaboration tools to get more work done. From simple task automation to implementing collaboration, chat, meeting, and communication strategies and having all the required apps built in Power Apps available through Microsoft results in faster delivery and greater client satisfaction. MSPs also help in process improvement and manage critical systems end-to-end. Organizations can utilize the readily available or easily customizable training materials, adoption strategies, and best practices.
3. Security and Scale
M 365 is a secure and robust platform with more than 1,000 security and privacy controls. MSPs security experts configure Microsoft 365 environment using strict information governance standards and access controls to secure organizations data against any internal and external threats. Some MSPs even provide another security perimeter ensuring all your data is secured. With MSPs, organizations can scale on real-time without worrying about any other hassles.
4. Dedicated round-the-clock Support
With MSPs, organizations have immediate access to industry professionals who are equipped with the knowledge and skills to resolve issues impacting any of the Microsoft 365 services. End-to-end support can be availed on adding or removing users, resetting passwords, creating groups, updating spam filters, permissions governance, and more.
Conclusion
This is not an exhaustive list and the benefits of choosing Managed Services with Microsoft 365 extend well beyond this blog. Today's digital workforce requires round-the-clock access to the apps that move business forward, whether they're working between flights, a laptop at home, or using their phone to collaborate on the go. M365 services seem to enable just that. While organizations strive to take their business forward with M365, MSPs are of great help. If you are evaluating options of MSPs, talk to our experts to know more.