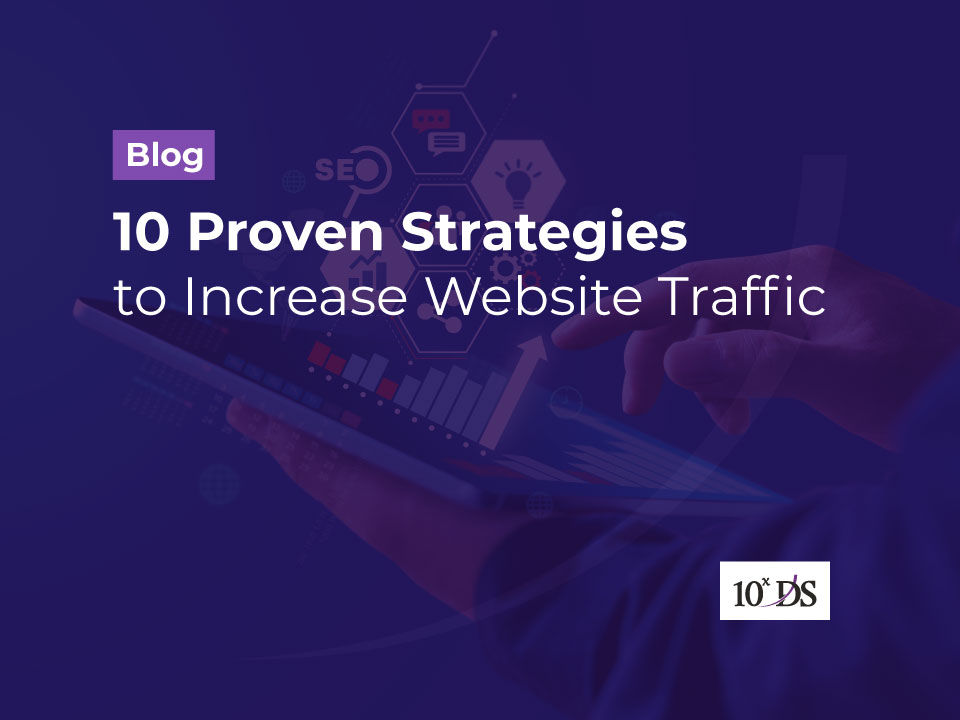 10 Proven Strategies to Increase Website Traffic
It can be difficult for many companies to think of fresh strategies to enhance website visitors. Misinformation abounds on the internet regarding how to increase traffic, leading some to repeatedly try the same ineffective methods.  In theory, whether you're a fresh marketer or a seasoned pro, you know that getting strangers to visit your site is the first step in any good inbound campaign. However, putting it into action might be challenging. That first step is often overlooked in favour of more pressing concerns, such as improving the bottom line or keeping up with the newest marketing trends. It's important, but it shouldn't be an afterthought in your marketing strategy. Stop thinking that traffic generation is unachievable, and it will become a major focus in your marketing plan. Getting more people to visit your website isn't a game of chance; there are several tried-and-true methods that have proven successful in the past. In this blog, we'll go over some of the most effective strategies for attracting new visitors to your website.
Here are ten tried-and-true methods that have been shown to bring more visitors to your website. Ready? Let's get going.
1. Search Engine Optimization
The success of your website relies heavily on your SEO efforts. The success of your site's search engine optimization (SEO) campaign may depend on a variety of factors, but on-page optimization may be the most important of them (to appear in search engine results pages). Google users are more likely to visit a site that appears higher in the search engine results page (SERP).
Title, h1 or header, meta description, alt-text, and URL should all be optimised for search engines and tailored to the page's intended audience. When determining your position in the search engine results pages (SERPs), the content of your site itself is equally crucial. You should always choose keywords that are related to your content. It's important to sprinkle keywords throughout the text naturally, rather than overusing them. It is crucial to understand that the quality of your content is more important than the amount of your keywords you are squeezing in the content.
2. Create Superb Content Materials
Great (useful, substantial, and interesting) content helps in both areas: higher placement in search engine results pages (SERPs) and keeping readers interested once they reach your site. That's why you need to make content that stands out and grabs people's attention to be successful. Find out how you stand out from the competition and why your business is the greatest option for customers' needs.
Since your audience and personas are the ones you want to attract, they are also the best source of information about the searchers you need to appeal to. Your material should revolve around keywords that are related to the issues or aspirations of your characters. Why? For the simple reason that people want answers to those questions. Searchers will visit your site if you provide material that answers their questions or provides a solution to their difficulties.
These days videos are becoming increasingly popular for brands (especially B2B organisations) to use as a means of showcasing who they are and what they do. Including videos on your homepage and in your blog posts, is a great way to boost your site's ranking on search engines and to keep people on your site for longer.
Your material should be readily available when people use Google to look for detailed, reliable responses to their inquiries. Websites with blog sections often produce 434% more pages for search engines to index than those without. In addition, there is a several-fold increase in traffic for sites that release more than 16 articles monthly compared to those that provide 0-4 items monthly.
If you give much thought into the content you put online, update frequently, and consider what your audience wants to see, you should see an increase in site visits.
3. Revamp Out-of-Date Content Material
Google's constantly evolving algorithm really digs fresh takes on old topics, and your visitors will like it too. Changing the layout of individual images or rewriting entire paragraphs are both viable options for updating material. Consider creating an explanatory video or infographic from previously published blog posts.
4. Make sure your site is cognitively easy and fluent for the readers
Cognitive fluency refers to the extent to which a website's presentation matches the expectations of its visitors. A simple way to increase your site's cognitive fluency is to survey your personas (typically your current customers) about the features they would like to see on a site like yours. What do you think their preferred formatting and style might be? Which aspects of the information should be featured prominently? If your website still doesn't meet their expectations, you should probably investigate other methods of website optimization.
5. Join the Conversation in Social Media
Each day, adults spend approximately 147 minutes on social media. Brand awareness, affiliation, and loyalty may be cultivated among this captive (although distracted) audience if businesses use this to their advantage. And, naturally, get more people to visit your website. Being yourself on social media is crucial. It's tempting to follow every craze that comes along, but discerning readers will see right through you. It's not for you if it doesn't reflect your brand's values and principles. Distribute your information (blog posts, e-books, white papers, infographics, videos, etc.) across various social media channels. Followers can be interacted with through replies, retweets, and mentioning them in tweets. Brand-appropriate hashtags should be used. With a compelling video, you can get even the most passive of web surfers to pause their scrolling and pay attention to what you have to say. Create and share short, genuine, and wonderful videos that offer something of value (even if that's simply fun) to your audience.
6. Increase website visits using advertising
Sponsored advertising such as pay-per-click (PPC) and social media ads can help you connect with a wider audience while targeting your ideal customer, despite the fact that organic search is still more effective at driving traffic (around 5.66% better than paid). Both organic and paid search contribute heavily to a successful digital marketing strategy centred on regularly updated, relevant content. About 76% of all traffic to B2B websites comes from search engines, both paid and unpaid.
7. Send Out Email Newsletters That Will Actually Be Read
Email is a one-on-one interaction, but social media is more like shouting from a soapbox in the town square. While automation has made it simpler to send out mass emails, technologies like customization and segmentation make it possible to cater to the unique concerns of each subscriber. One of the highest returns on investment (ROI) of any marketing strategy is content promotion through email newsletters.
Both the subject line and the body of the email should contain intriguing details from the material. Add a way for subscribers to click over to further content. You should check that your emails are accessible on mobile devices. Given that nearly half of all emails are opened on mobile devices, it's imperative that all links be clearly visible. Use subscriber names to make messages more relevant to the recipient. Use professionally designed email templates to improve the email's aesthetics. See which email versions get more clicks and opens with some A/B testing.
8. Give away the Best Content Materials
Increasing traffic may be accomplished in several ways, one of which is through providing prospects with something of value. Maximize your profits and discover new leads by publishing gated content/tools (providing the content/tools in exchange for the user's contact information). Advertise the material and resources on industry-specific forums and LinkedIn Groups to reach a larger audience.
9. Post as a Guest Blogger
Writing as a guest contributor on other people's websites is a great way to get your name out there, raise your site's traffic, and climb the search engine ranks. When looking for pitch websites, it is imperative that you conduct extensive research within your sector. Examine the site's guest posting standards, domain authority, and content quality before agreeing to guest post there. Inquire further whether they will share and tag you in social media posts promoting the article.
10. Swap Backlinks
When it comes to your company, backlinking might have a number of advantages. More exposure and a higher position in search engine results are two of them.  Directory submissions are one source of backlinks, but creating high-quality, evergreen content that helps your target audience is the surest path to attracting natural links. Next, approach other professionals in the field and politely request a discussion. You can up the ante by offering to include one of their links in a post of your own as part of a mutually beneficial backlink exchange.
Conclusion
Using these useful methods, you may entice your ideal customers (your buyer personas) to check out your website. And once you do, it's a question of time until you convert them to leads, then nurture and close them into customers, and finally delight them into promoters. However, keep in mind that attracting the correct audience is step one.
Talk to our experts to learn more about the growth opportunities for your company and how to take advantage of the entire array of our Digital Agency services!