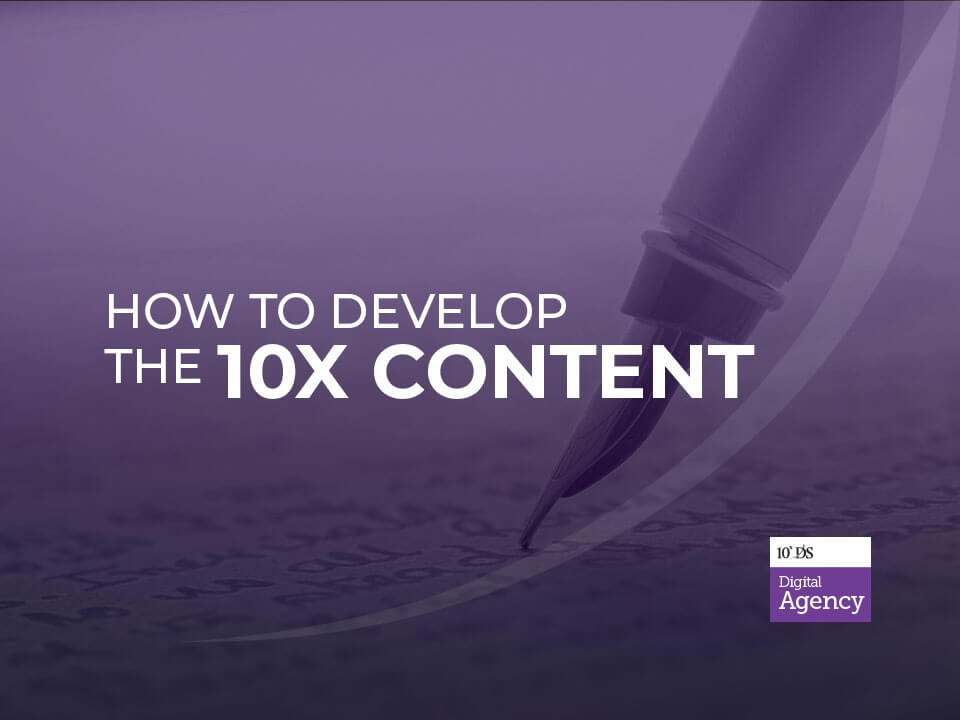 How to Develop the 10x Content
Content development is not as simple as it sounds – you need proper strategy and plan to create the best content that converts. It is vital that your content explains the topic in a simple-to-understand way but you also need to ensure that it delivers value to the reader. If not, you may not be able to see the results as you may have expected.
It is seen that most digital marketers use content marketing as an integral part of their strategies to promote a business or brand. However, they often fail to achieve their goals because of low-quality content. Even having "good" content does not make the cut these days as it used to do a couple of years ago. You need to create excellent content – or 10x content that is ten times better than your usual content.
What is 10x Content?
The term '10x content' was coined by Rand Fishkin, the CEO and co-founder of Moz, to highlight the importance of creating robust content development and marketing strategies. As per Fishkin, 10x content is "content that is 10 times better than the best result that can currently be found in the search results for a given keyword phrase or topic." Although it may sound like a subjective point, there are some qualitative factors to define the attributes of 10x content.
The main benefit of 10x content is that it goes beyond just the words to illustrate and explain the topic. It also increases the probability of ranking higher on the search engine for the given keyword while earning more high-authority backlinks to the page as well. Such pieces of content may also attract more social shares, which may help to generate more potential leads or even result in direct conversions.
So if you want to outrank your competition, you need to develop 10x content for your business website. Here are 5 tips that will help you in that regard.
1. Focus on the Quality
It is a given that 10x content should be of exceptional quality. To do that, you should develop content that is trustworthy and solves the problems of your readers effectively. It is always a good idea to link out to authoritative sources to support the facts and figures that you have mentioned in the content so that it builds trust. At the same time, your content, as well as the stats you have included in there, should be interesting, engaging, as well as useful for the reader.
2. Do Deep Research
Creating content without proper research is likely to be of poor quality. It will not have enough data to support what you are trying to convey and may even fail to keep the reader engaged. That is why you should research the topic well and create a plan before starting to write the article. It is always better to gain a deep insight into your target keywords too so that you can produce content that delivers more value to your audience.
3. Deliver Superior User Experience
User experience is one of the vital ranking factors and can make or break your reputation. Websites with fast loading pages and without annoying ads that cover part of the main content deliver a better user experience while easy navigation and simple-to-find CTA buttons add to it. Therefore, you should also tweak the site settings and ensure that it is optimized to offer a great user experience that not just reduces the bounce rate of your website but also allows visitors to interact with the content.
4. Ensure Uniqueness
All digital marketers realize the importance of having plagiarism-free content on the website. Yet developing 10x content is much more than checking for plagiarism and duplicate content – you need to come up with different ways to create exceptional content that offers far better value to your target audience than what any other article found on the internet talking about the same topic could provide. Again, this starts with keyword research and choosing the right subjects to cover.
5. Include Content Marketing
Content marketing is a tactic that uses strategic measures to draw more visitors to your website and engage with your brand. You need to set specific goals for content marketing, share the best articles on your website across social media and other digital channels, and try other means to promote your content as well. Employing these ideas will lead to better user engagement, increase the chances of content sharing, and in turn boost your website ranking.
Wrapping Up
Developing 10x content should go hand-in-hand with your other digital marketing approaches. However, that does not mean you should only create such pieces of content for your website or that 10x content should entirely replace your existing content marketing plans. Instead, you should continue posting relevant news, blog posts, and other smaller articles to drive customer awareness and engagement on your business website. Just mix it up with 10x content and see the difference.
Talk to our experts in 10xDS Digital Agency to learn more about 10x content and take your brand to new heights with top-notch content and digital marketing strategies.