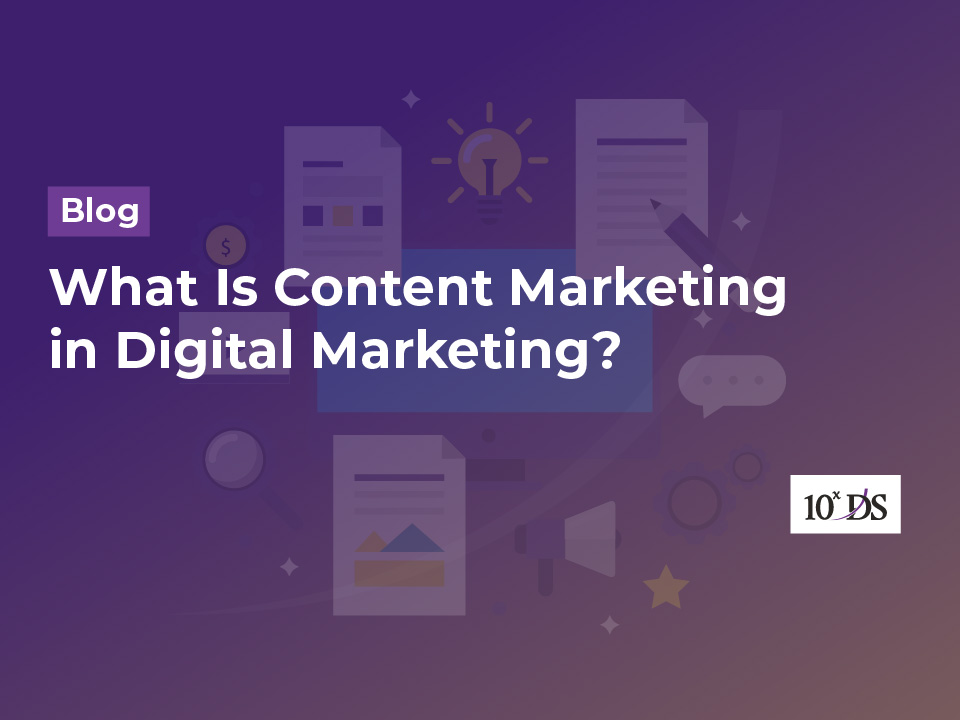 What Is Content Marketing in Digital Marketing?
Digital marketing can be broadly defined as a process of reaching out to the prospective audience through various techniques and strategies, leveraging the digital channels. Though there are different methods of digital marketing available today, content marketing is an integral part of any digital marketing strategy.
Content marketing in itself is only part of the broader strategy in digital marketing. However, it has established itself to be the most efficient one among all strategies. Today, one cannot talk about digital marketing without referring to content marketing.
What is Content Marketing in Digital Marketing?
To understand what content marketing is in the context of digital marketing, you will need to analyze it bit by bit. It is one of the multiple methods used to share information with the target audience, prospects or customers.
Besides this core purpose, it does a lot more. Content marketing involves creating different types of informational materials and distributing them through available online channels. In addition to informing the audience about a product or service, it also entails the responsibility of encouraging them to take action in favor of the brand or company. In other words, content marketing involves a call to action or CTA to optimize conversions.
You can consider your content marketing to be effective if it has done the very purpose of encouraging the reader to take an action. If the customer fails to do that, the content will be deemed ineffective in most cases. This also requires the content to be optimized for conversions.
Various purposes of Content Marketing
Content marketing needs to fulfil these three major purposes:
To inform the Audience
The primary purpose of content marketing is to educate or inform the audience about a product or service. This is easier said than done. In today's content, the internet is full of information. You can't expect the audience to read the entire content you have published on the website and be informed by it.
To make the reader read the content fully, the content has to be engaging. It should be useful to the reader. A reader might be looking for a solution to a problem. The best way to engage him or her is to provide them with the right solution to the problem. By doing so, the reader will first develop a sense of gratitude for your idea and then slowly turn to notice what you are offering.
Serving the Goal
If your content marketing strategy has to be successful, it should serve its primary goal. When you develop content and put it online, you will need to realize what you wish to achieve through the process of content marketing, be it brand building, nurturing customers or prospects, informing the audience, potential lead generation through CTA, among others.
Most companies tend to put brand building at the forefront of their content marketing. So, before you get into the business of content marketing, you will have to establish what goals you are going to materialize through your content.
To Engage the Reader
People surf the internet not only for information. Today everyone is looking for infotainment rather than mere entertainment or information presented in a formal tone. If a reader finds your content both engaging, informative and at the same time a means for having some chilling out time, it is above average in meeting its purpose.
Different types of Content Marketing
Content marketing is done today in different ways. Blogs, emailers, videos, podcasts, e-books, infographics, are some of the best examples. Marketers choose a type of content marketing after figuring out the taste and nature of their target audience.
1. Blogs
Blogging is the most popular and easiest type of content marketing. If you have a website for your brand or company, you can start it the right way. Just add a section called Blogs and start posting useful blog posts on it from to time.
The blogs should be relevant to your business concept and should educate the audience. Blogs created in compliance with your SEO strategies in place have the potential to help boost your website rankings against your targeted keywords.
2. Social media posts
A study reveals that there are approximately 3.7 billion social media users across the world. By using the scope and possibilities of social media, you can reach a space where reach has no bounds. When it comes to social media, there are several of them, for instance, Facebook, LinkedIn, Instagram, YouTube, and Pinterest.
It might take some time to establish a strong presence in social media if you are only a beginner but the time and effort you invest in it will certainly pay off soon. When you create content for social media platforms, make sure they are customized to your audience as well as the platform.
3. Podcast
Lately, podcasts have become quite popular among people across the globe. People love to make use of their time while traveling or working out or gardening. Podcasts help them to make use of their time effectively. If you can use your content marketing through impactful podcasts, they will attract more customers to your brand and business.
4. Infographics
Infographic content marketing means providing content to your audience in the form of attractive images, graphics, and information. The written texts in infographics are short and catchy. If you are targeting busy people or children who do not wish to spend minutes reading or watching your content, you can reach out to them through infographics.
5. Videos
There are a large number of people out there who wish to watch a video and learn about a product or service or solution. By creating videos useful to such an audience, you can engage them and convert them to your potential customers. The videos can be published on your website or linked to your social media channels and ensure wider reach.
Conclusion
Content marketing involves two things – creating content and using them for your marketing purposes. Content marketing will certainly remain the most effective and influential digital marketing method out there. So, investing in content marketing is never going to be a loss or waste of time and effort.
Talk to our Digital Marketing experts and unlock your massive growth potential by leveraging our content marketing services and the spectrum of Digital Marketing services we offer.