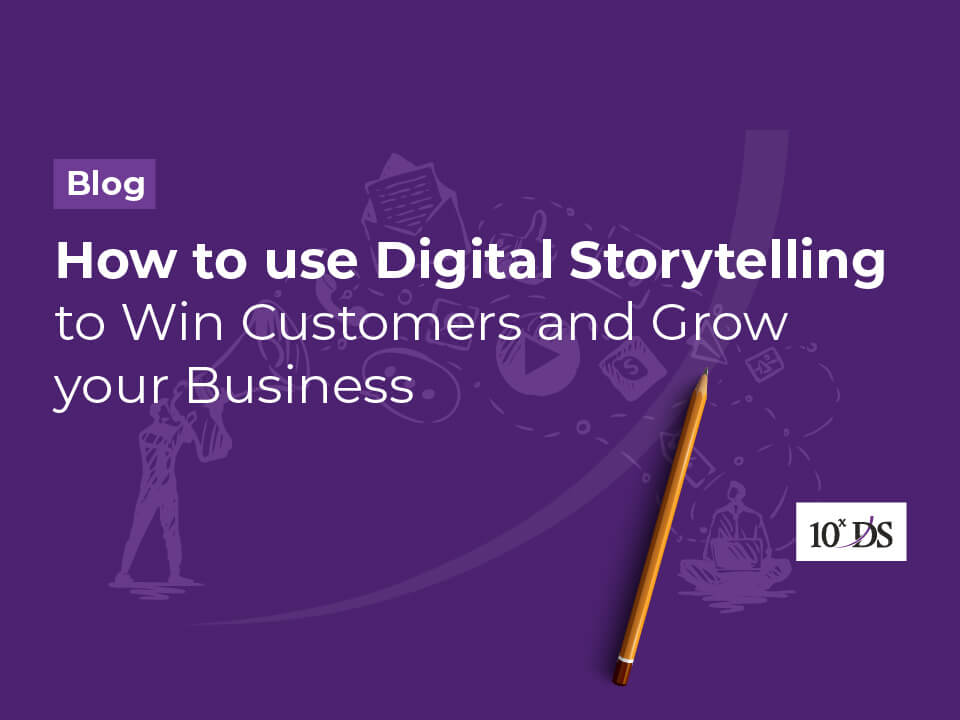 How to use Digital Storytelling to Win Customers and Grow your Business? 
Content is the king when it comes to digital marketing. But do not expect your customers to consume what you throw at them. Information shared with them in the form of boring statements or analyses will fail to impress them. In the modern world, people are looking for infotainment.
Infotainment is a combination of information and entertainment. In the context of digital marketing, businesses that are focussing on winning customers and boosting business growth must capitalize on infotainment and digital storytelling.
Storytelling is not a new method of reaching out to customers. Businesses have been using it for quite some time. The commercials aired between Soap Operas on the Tele are a very good example of how businesses used storytelling to build brand identity and promote their offerings.
With the invention of modern technologies, IT, and social media, the nature of storytelling has been transformed and that's how we have got the novel concept called digital storytelling.
What is Digital Storytelling?
Storytelling stands for a narrative approach. Digital storytelling is adopting a narrative means digitally to reach your target audience and communicate to them about your brand's history, offerings, specialities, values, and more, online.
A narrative approach is adopted here to invoke the audience's curiosity and interest. A formal way of passing the information wouldn't create as much curiosity in the listener about your product as a storytelling approach would.
Different Mediums Used for Digital Storytelling
A variety of mediums are used in digital storytelling. They include the following.
Presentations
Videos
Blogs and articles posted on the company website or social media platforms
Infographics
Photographs
Graphic content
Companies use any of these mediums or combinations of them while targeting their audience. Often the selection of the mediums is finalized based on the type of content one has to share with the targets.
The working of Different Story Structures in Digital Storytelling
It is proven in customer psychology that customers tend to prefer a brand that has already established an emotional connection with them. The perfect way for brands to establish that emotional connection is through storytelling. As stated earlier, there are different mediums for storytelling.
Brands choose mediums after figuring out how many audiences they can target through a particular one. The type of mediums that people use differ depending on factors like geography, culture, age, and gender. But before going further, there is one important area that has to be addressed. What story structure would be more beneficial?
Types of Story Structures
In digital storytelling, there are three common types of story structures and they are the following.
1. The Mountain Structure
Here, a character is introduced to the audience first. This particular character is seen facing a problem that continues to get worse as time passes. When he reaches a point where he can no longer bear it, he discovers a solution and is found relieved soon. Most audiences can relate to this type of story structure as it is pretty ubiquitous in their day-to-day life.
2. Contrasting Views Approach
Here, two characters are presented to the viewer – one struggling with a problem and another dealing with it effectively as he is using the right product or solution to it. Looking at this, the viewer becomes curious about the product that is alluded to and is intrigued to try it out.
3. Hub and Spoke Approach
Here, the hub represents a solution, and the spokes indicate characters from different backgrounds facing different sorts of problems. All the characters find a particular product or solution as effective to their problem.
The storytelling approach is effective if you want to portray to your audience that the product or service that you are investing in is good for several problems or ideal for various groups of people from diverse backgrounds.
Advantages of Digital Storytelling
Sharing stories to create an emotional connection with the audience is a very old proven method and it happens to be very effective in the modern digital marketing scenario too.
1. It helps you connect with the Target Audience Easily and Quickly
Today, people see lots of ads and marketing content through different channels, most often in the form of outbound marketing. Oftentimes, they find them irritating or boring and there is a huge tendency to skip such content unless there is something striking. By way of incorporating a unique storytelling approach, brands can ensure that their marketing content doesn't go unnoticed.
2. It works as an Inbound Marketing Tool
People are fed up with pushy or penetrating ad materials and they tend to shy away from them. Digital storytelling is a way for companies to attract customers towards them rather than reaching out to them or pushing them with ad content.
3. It creates an Emotional Connection and Builds Trust
Since storytelling has a more profound nature and the capacity to build an emotional connection with the audience, it can serve as an effective tool to build trust among the audience.
Conclusion
Digital storytelling, by far, has proven to be an effective marketing method of the present time. With technology making life easier and simpler as the days pass, people are showing less and less interest in boring scripts and lengthy pieces of information. On the other hand, digital storytelling has all the potential to engage them.
Talk to our experts in 10xDS Digital Agency to take your brand to new heights with top-notch content and digital marketing strategies.