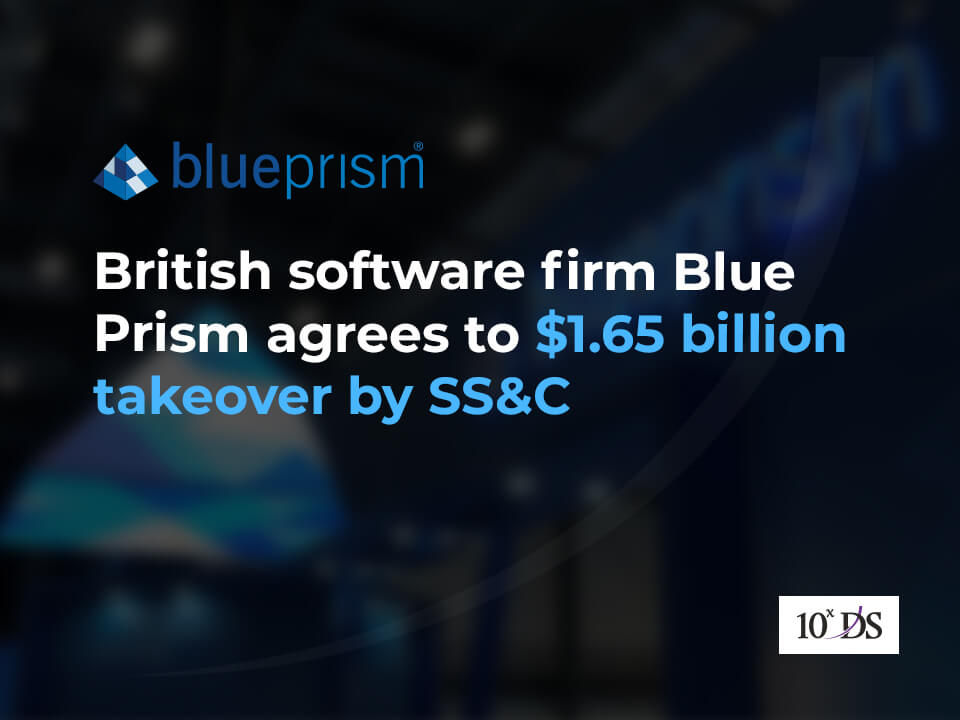 British software firm Blue Prism agrees to $1.65 billion takeover by SS&C
British software firm Blue Prism, one of the pioneers in the RPA (Robotic Process Automation) market, agreed to a takeover bid from the American Hedge fund and private equity administrator SS&C Technologies. SS& C won the bid in a 1.24 billion pounds ($1.65 billion) offer, after outbidding Vista Equity Firms.
SS&C Technologies Holdings is the leading hedge fund and private equity administrator in the world. The company is also the largest mutual fund transfer agency. After the acquisition is complete, Blue Prism will be integrated with the Chorus Intelligent Automation Solutions business, which is one of SS&C's portfolio companies. Chorus caters to complex, regulated industries, with 580 customers word-wide across sectors such as banking, financial services, insurance, and healthcare. These industries perfectly align with Blue Prism's customer base.
Blue Prism chief Jason Kingdon said that the combination with SS&C will offer access to significant capital resources and investment in R&D alongside access to SS&C's extensive 18,000 customers. It will help in ensuring that Blue Prism remains at the forefront of the next generation of Intelligent Automation and continue to provide innovative products and services. Ultimately it can also hold immediate value for shareholders and benefits for the stakeholders.
According to Bill Stone, the CEO of SS&C, a core part of SS&C's value proposition is to drive efficiencies for customers and Blue Prism can help in fulfilling this.
The combination of Blue Prism's market-leading RPA solutions and SSC&S's top position in the industries can deliver the best service and experience for the customers.
About Blue Prism
Blue Prism Group PLC, a UK based software company, is a market leader and one of the pioneers in Robotic Process Automation (RPA) delivering connected Digital Workforce across global enterprises. The company offers enhanced operational capacity and ability to streamline mission-critical operations and business processes catering to a wide range of requirements, offering advanced security, compliance, and scalability. 10xDS is a Blue Prism partner streamlining processes of organizations and enterprises across the globe, leveraging Blue Prism Digital Workforce Platform.