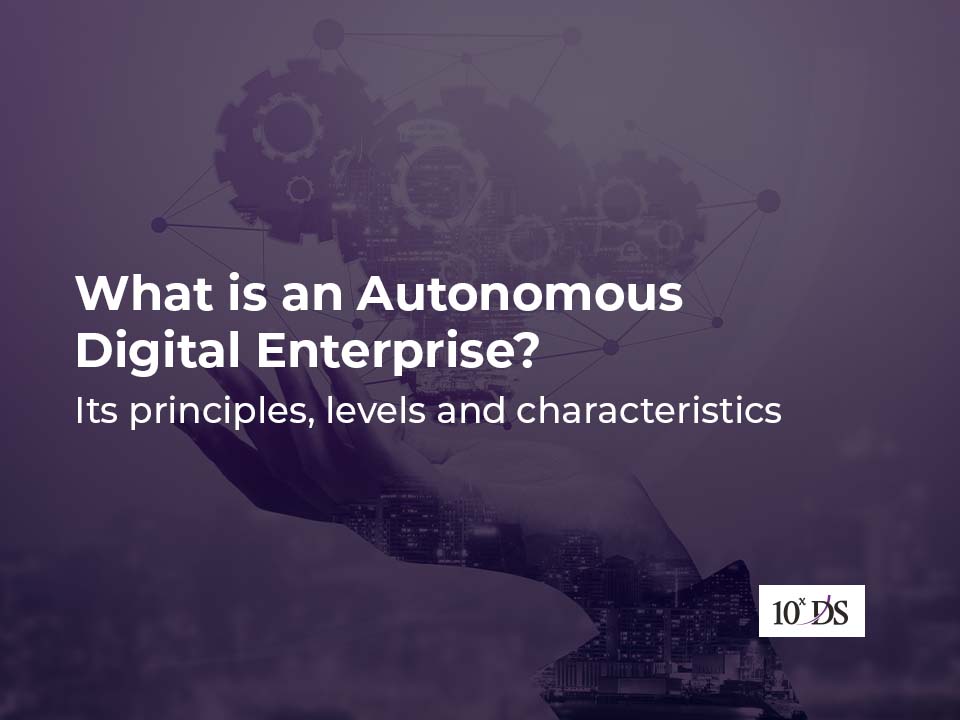 What is an Autonomous Digital Enterprise? Its principles, levels, and characteristics
These are unprecedented times, and enterprises all around the world are making changes and adjustments, exploring innovative ideas to cater to this "new normal". For many companies the major change is in the use of automation and exponential technologies to transform processes, as a step towards becoming autonomous enterprises. Recognizing the needs of the time and anticipating the future of business, companies are trying to drive resilience along with efficiency by leveraging emerging technologies like (AI), machine learning (ML), and automation to streamline operations and processes. Several businesses spend huge amount of their revenue on running enterprise operations, but unfortunately, most of these are managing technologies and innovations of the past. Simplifying technology management by working towards becoming an autonomous digital enterprise should be the next logical step for companies.
What is an Autonomous Digital Enterprise?
Successful companies are characterized by some common traits such as they all have incorporated ways to gain agility, customer centricity, and actionable insights. As agile organizations, they create innovative operating models that integrate business, operations, and technology to function as standalone businesses within the business domains. They have an advanced ecosystem that leverages technology to connect and cater to every touchpoint in the customer journey, ensuring they meet and exceed customer expectations. These organizations also have the know-how to glean actionable insights from data to drive actions and make decisions faster. Organizations that have already mastered these key traits are on the path to an Autonomous Digital Enterprise. This means they have evolved to a state where they can sustain their business today while securing their future.
An autonomous enterprise learns and adapts to changing situations and business landscapes by automating processes and integrating operations and processes previously performed and managed by humans. Intelligent Automation leverages automation and AI technologies to mimic human actions and thinking. As the organization grows in automation maturity, it embarks on the journey to complete automation, reducing the dependency on human interventions across every facet of the organization.
Principles of an Autonomous Digital Enterprise
According to a research article by Harvard Business Review Analytic Services, autonomous enterprises follow and are driven by three key principles: Context, Insights, and Actions. Here the "Context" means the structural and behavioural model enterprises have in place, "Insights" refers to the insights gleaned by leveraging Artificial Intelligence/ Machine Learning (AI/ML) to operational data, and "Actions" means the application of advanced automation technologies like Intelligent Automation or Hyperautomation to proactive, preventive, and reactive scenarios.
Following these principles, enterprises can look towards becoming autonomous. However, if organizations want to become completely autonomous, in the truest sense of the word, they should have intelligent, interconnected, technology-enabled, value-creating systems, with a super strong data foundation in place. They should also be leveraging AI/ML and hyperautomation or intelligent automation technologies to all its business processes and associated operations, also enabling smooth interactions with stakeholders and its ecosystem of partners.
5 Levels of Autonomous Digital Enterprise
Autonomous Digital Enterprises go through various levels of transitional stages.
1. Basic Automation
Basic automations include automation of essential tasks and workflow automation. Companies leverage basic process automation tools like BPM and intelligent workflow automation. In this, there are several human interventions to guide manual steps to automate.
2. Human Directed
This includes emerging technologies like RPA, intelligent automation, process mining tools, machine learning, natural language processing, among others to enable human-directed automation of business processes.
3. Automation with Machine interventions
These are advanced-level automations that include the use of cognitive applications, neural networks, GANS models, contextual decisions, among others to deliver automations with occasional machine interventions. Humans are involved as standby but need not intervene for longer periods of time.
4. Fully Autonomous Enterprise
This, as the name suggests is the total automation of processes where machines take full control of the processes. Such enterprises leverage AI-driven smart services, self-learning, self-rectifying, and self-securing for total automation of processes.
5. Humans Optional
This is probably the most advanced and futuristic level of an autonomous enterprise. Currently, no organization has gained this level of automation maturity. This includes complete autonomous sentience, empowering precision decisions at scale. The necessity of human involvement here is totally optional.
Operating Model Characteristics of an Autonomous Digital Enterprise
Autonomous digital enterprises are self-driving organizations that leverage artificial intelligence, intelligent automation, and governance in streamlining operations and management. A fully autonomous enterprise is capable of configuring, monitoring, and maintaining itself independently. It is also able to learn and adapt to change.  For an organization to become an autonomous enterprise there are some operating model characteristics that companies need to consider while applying them to processes and operations across the enterprise.
1. Efficiency Driven tech-enabled work transformation
Modern autonomous enterprises bring forward work transformation initiatives that leverage technology for collaboration across digitally enabled functions.  This results in greater business efficiencies, enhanced productivity, better employee engagement, and satisfaction.
2. Know the Internal and External States
Companies looking to become autonomous digital enterprises observe and understand the internal and external state of processes, systems, and operations by investigating, interrogating, deducing, measuring, and monitoring data.
3. Data collection and mining
Enterprises should be able to integrate and share data across different sections, departments, or practices. Organizations should be able to aggregate this data to study the structural and behavioural aspects of processes, systems, and operations.
4. Intelligent Automation Everywhere
Organizations that are well on the path to becoming autonomous digital enterprises automate business processes, especially leveraging Intelligent Automation.  Intelligent Automation (IA) combines technologies like Structured Data Interaction (SDI), Robotic Process Automation (RPA), Machine Learning (ML), Natural Language Processing (NLP), among others. IA also integrates with supporting applications or tools such as Optical Character Recognition (OCR), AI, BPM, and more. Automating customer interactions and operations results in reduced costs and errors, much faster execution, fewer repetitive mundane tasks for employees, and in turn better customer experiences.
5. Data-driven business
Autonomous enterprises leverage advanced data and analytics to detect patterns, develop normal behaviour models, gain key insights, and proactively identify risks. Data can be captured from IoT, social media, and customer engagement systems, in addition to the tried and tested traditional data sources.
6. Streamlined communication systems
Autonomous enterprises enable communication systems involving collaboration, intelligent automation and more.
7. Centralized IT
Autonomous enterprises have a centralized IT responsible for digital transformation through Centers of Excellence (CoEs) that deliver technology to support transformation initiatives across the enterprise.
Conclusion
Automation of key backed-end operations and frontline processes has the potential to offer significant efficiencies. Your journey towards becoming an autonomous digital enterprise will not be immediate and easy, as it does require planning and a clear roadmap to leverage emerging technologies like intelligent automation, hyperautomation, AI/ML capabilities, advanced analytics, among others to evolve, mature and reinvent progressively to become more technology-enabled across the enterprise. The key will be to enable the convergence of people, processes, technologies, data, devices, and growing networks. Successful autonomous digital enterprises would value agility and customer-centricity, and use insights gleaned from data across the organization to scale further, become resilient, and reliable.
How 10xDS can help?
10xDS has the advanced know-how, expertise, and experience delivering automation solutions to enterprises worldwide across industries by leveraging Intelligent Automation, AI, ML, Analytics, and other emerging technologies. We have state-of-the-art technology CoEs, flexible solution deployment methodologies, and a full suite of offerings and services for every stage of an organization's path to becoming an Autonomous Digital Enterprise.
Aiming to become a growth-oriented enterprise?  Then talk to our experts to gear up to become an Autonomous Digital Enterprise.